IT Investment in Japan: Key Research Findings 2019
Yano Research Institute (the President, Takashi Mizukoshi) has conducted a survey on domestic IT investment at domestic private enterprises for FY2019 and the future trends.
Figure 1: Transition and Forecast of IT Market Size at Domestic Private Enterprises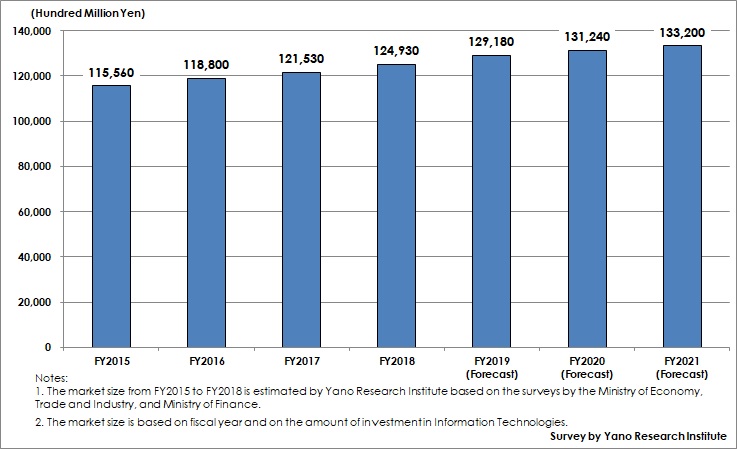 Figure 2: Software to Increase Investment during Next Three Years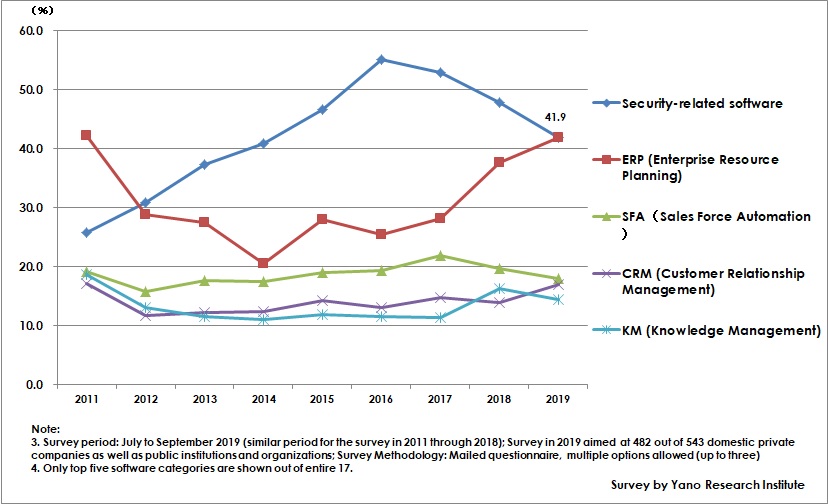 Market Overview
The market size of IT (including hardware, software and services) at domestic private enterprises in FY2018 was estimated to rise by 2.8% on a year-on-year basis to reach 12,493,000 million yen. The market is projected to rise by 3.4% on the same basis to achieve 12,918,000 million yen during FY2019, by 1.6% to attain 13,124,000 million yen in FY2020, and by 1.5% to reach 13,320,000 million yen in FY2021.

For FY2018 higher profitability at private enterprises and renewal of large-scale systems were prominent, in addition to the steady attempts of workstyle reforms. Also, companies were eager to replace Windows7 with Windows10, as the support of Windows7 coming to an end in January 2020. This tendency is projected to go on for FY2019.

Noteworthy Topics
For the First Time in 8 Years ERP Became No.1 Software to Increase Investment during Next Three Years
Our annually conducted questionnaire asks the companies about which software they consider increasing the investment to during the next three years. In the survey conducted in 2019, ERP (Enterprise Resource Planning) reached the top position for the first time in eight years, alongside security related software, both occupying 41.9%. (482 companies responded to the question in which up to three software categories were able to be chosen).

The reasons of ERP having attained the top position were the tendency of companies to renew the mission-critical system according to the changes in the management environment, the progress of cloud-base ERP packages, and the expiration of ERP maintenance support by SAP closing in to 2025.


Future Outlook
In recent years, the companies such as in the manufacturing industry have become motivated to enhance the global competitiveness. This has increased the investment to digital transformation, i.e., to support the business by using IT. In addition, IT investment in the financial industry that had contributed in IT investment continues being stable, as oppose to the forecast of no large growth expected, because diverse companies started participating in the industry and more companies began providing IT-used services (FinTech).

The IT market size (including hardware, software and services) at domestic private companies for FY2020 and beyond is likely to grow moderately, being affected by downturn from the recent rapid market growth, though the investment to 5G can be expected as its commercial services start from this fiscal year.


Research Outline
1.Research Period: July to October, 2019
2.Research Object: Domestic private companies, public organizations and institutions
3.Research Methogology: Mail-in registered questionnaire to private companies, public organizations, and institutions, and literature research
The IT Investment Market Size at Domestic Private Enterprises
Size of the IT investment market at domestic private enterprises in this research is calculated based on the amount of investment in IT at domestic private enterprises, being added with the information based on the surveys by the Ministry of Economy, Trade and Industry, and Ministry of Finance, together with the results of the questionnaire conducted by Yano Research Institute to domestic companies regarding IT investment.
*Period of Questionnaire Conducted: July to September 2019; Target Audience of the Questionnaire: 543 domestic private companies and public institutions; Methodologies: Mail-in Questionnaire.


<Products and Services in the Market>
IT investment at domestic private enterprises (hardware, software development from scratch, software package introduction and customization, outsourcing services for maintenance and operations, online services for ASP/cloud, access charges, consulting, etc.
Contact Us
©2019 Yano Research Institute Ltd. All Rights Reserved.
The copyright and all other rights pertaining to this report belong to Yano Research Institute.
Please contact our PR team when quoting the report contents for the purpose other than media coverage.
Depending on the purpose of using our report, we may ask you to present your sentences for confirmation beforehand.