Global Engineering Plastics Market: Key Research Findings 2019
Sales Volume of Global Engineering Plastics Exceeded 10 Million Tons in 2018
Yano Research Institute (the President, Takashi Mizukoshi) has conducted a survey on the global market of engineering plastics, and has found out the market trends by resin, the trends of market players, and the future perspectives.
Transition and Forecast of Global Engineering Plastics Market Size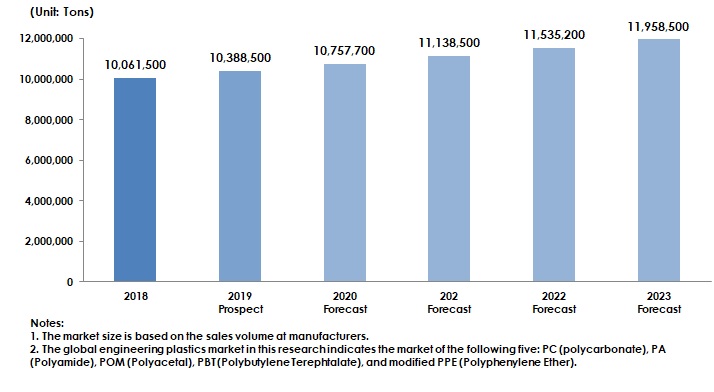 Market Overview
The global engineering plastics market (based on the sales volume at makers) in 2018 has attained 10,060 thousand tons, 103.7% of the size of the previous year. The demand of engineering plastics used for various products, including automobiles, home appliances and other electric products, electronic parts, construction materials, and sundries, has been growing steadily, expanding the market size just as the same growth rate as the global economy. The sales composition ratio of resin in 2018 has been estimated as PC (polycarbonate) 44.0%, PA (Polyamide) 28.8%, POM (polyacetal) 11.9%, PBT (Polybutylene Terephtalate) 11.6%, and modified PPE (Polyphenylene Ether) 3.7%.

Noteworthy Topics
As automobiles are needed to be lighter in weight and equipped with electronic components, PPS has become accepted to replace metals or/and engineering plastics. In recent years, the global PPS market has been on the rise, with annual growth rate estimated as around 6 to 7 % and the market size to exceed 120 thousand tons by 2018. For automobiles, PPS has been used for electrical components such as ignition coils, various sensors, and ECU control unit housing, as well as peripheral parts of the motors for HEVs and EVs. In addition, some heat- and water-resistant plastics and those plastics that will not be affected by cooling water have been developed to replace metals.


Future Outlook
Since the latter half of 2018, the global economy has slowed down, partly due to the Brexit issue and trade friction between the U.S. and China. With economic activities obviously becoming stagnant in China and European countries, it is highly possible for the global demand of engineering plastics to reduce the growth rate. However, as more engineering plastics to be used for automobiles, and as the global economy to recover somehow, the CAGR from 2018 to 2023 is projected to be 3.51%, with the global engineering plastics market for 2023 to attain 11,960 thousand tons (based on the sales volume at makers).


Research Outline
1.Research Period: February to May, 2019
2.Research Object: Manufacturers and molders of engineering plastics
3.Research Methogology: Face-to-face interviews by the specialized researchers and literature research
the Global Engineering Plastics Market
The global engineering plastics market in this research indicates the market of following five generally used plastics: PC (polycarbonate), PA (Polyamide), POM (Polyacetal), PBT (Polybutylene Terephtalate), and modified PPE (Polyphenylene Ether). Note that super engineering plastics such as PPS (polyphenylene sulfide), LCP (liquid crystal polymer), and PAEK (polyaryletherketone) is not included in this global market.


Contact Us
©2019 Yano Research Institute Ltd. All Rights Reserved.
The copyright and all other rights pertaining to this report belong to Yano Research Institute.
Please contact our PR team when quoting the report contents for the purpose other than media coverage.
Depending on the purpose of using our report, we may ask you to present your sentences for confirmation beforehand.