Continuous Inbound Demand and Strong Recovery of Domestic Customers Led Market Expansion for All Product Categories
Cosmetics Market in Japan: Key Research Findings 2018
Yano Research Institute (the President, Takashi Mizukoshi) has conducted a survey on the domestic cosmetics market for FY2017 and has found out the market trends by product category and by sales channel, the trends of market players, and future outlook.
Figure: Transition and Forecast of Domestic Cosmetics Market Size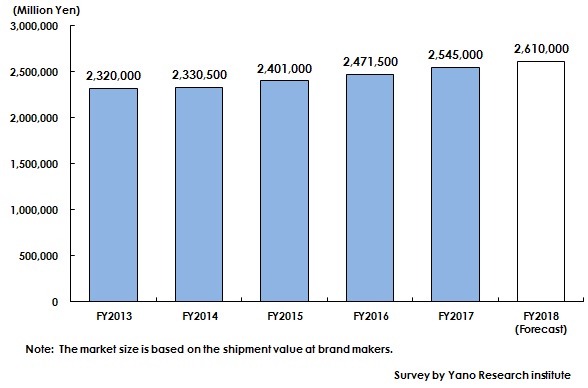 Market Overview
The domestic cosmetics market in FY2017 has attained 2,545,000 million yen, 103.0% of the size of the previous fiscal year, based on the shipment value at manufacturers. In association with growth of the entire market, all the product categories have exceeded the preceding year results. Not only the large influence of continuously increasing inbound tourism demand by foreign tourists but also increased purchase by domestic customers and improved awareness of highly functional products boosting the sales at cosmetic makers have contributed to market expansion.

When looking at the FY2017 domestic cosmetics market by product category, the category of skincare has dominated 46.6%, the largest component ratio of the entire market at 2,545,000 million yen, followed by the make-up category occupying 22.6% or 575,200 million yen, the third came the haircare accounting for 17.5% or 445,100 million yen, the next came men's cosmetics with 4.8% or 120,900 million yen, and fragrance at 1.2% or 30,300 million yen. Although the largest growth rate was attained by the category of make-up, skincare has driven the whole market as the primary category, now occupying 46.6%, almost half of the entire market share.

Noteworthy Topics
Skincare had already been the largest category in the entire cosmetics market, but functional serum/essence products released in FY2017 have developed into a great impact to flourish the market. Those skincare products primarily facial cleansers, toners, serums/essences, and masks acquired inbound tourism demand, which had temporarily slowed down in FY2016, have contributed to favorable sales. The items that attracted attention in FY2017 were functional serums/essences, cosmetics for sensitive skins, all-in-one gel, and natural/organic cosmetics.


Research Outline
1.Research Period: From June to September, 2018
2.Research Object: Cosmetic brand manufacturers; cosmetic contract manufacturers/OEM companies, cosmetic importers, raw material makers/trading firms, and distributors
3.Research Methogology: Face-to-face interviews by the expert researchers and survey by telephone
What is the Cosmetics Market?
The cosmetics market in this research consists of the following categories: Skincare, make-up, haircare, fragrance, and men's. The market size is calculated based on the shipment value at domestic brand makers. Cosmetics belonging to quasi-drugs and those imported cosmetics are included in the market.


Contact Us
©2019 Yano Research Institute Ltd. All Rights Reserved.
The copyright and all other rights pertaining to this report belong to Yano Research Institute.
Please contact our PR team when quoting the report contents for the purpose other than media coverage.
Depending on the purpose of using our report, we may ask you to present your sentences for confirmation beforehand.