Industrial PET Film Market in Japan: Key Research Findings 2018
Industrial PET Film Market in Japan: Key Research Findings 2018
Yano Research Institute (the President, Takashi Mizukoshi) has conducted a survey on the high-function film market of 2017 through 2018, and has found out the transition of shipment volume of industrial PET films at the leading makers in and out of the country, the market trends by product segment, and the trends of market players.
Table: Transition and Forecast of Shipment Volume of Industrial PET Films by Leading Makers (in Japan, South Korea and Taiwan) by Use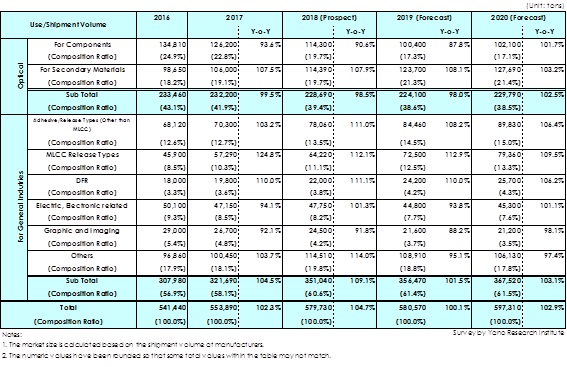 Market Overview
The industrial PET film market in 2017, based on the shipment volume at manufacturers, have risen to 102.3% of the previous-year results to attain 553,890 tons, out of which PET films for optical purposes used for display components as well as their secondary materials used in their production processes accounted for 41.9% or 232,200 tons, while general purposes other than optical occupied 58.1% or 321,690 tons.

Out of the above optical PET film market in 2017, the use for components occupied 54.3% or 126,000 tons, while the use for secondary materials accounted for the rest of 45.7% or 106,000 tons. When compared with the results of 2016 in which the components used to occupy 57.7% or 134,810 tons, and secondary materials 42.3% or 98,650 tons, the use of components declined whereas that of secondary materials rose in 2017. Optical components, mainly used for LCD backlight parts, have no longer become the important segment for the makers manufacturing high-functioned products in Japan, South Korea and Taiwan, because less LCD backlight parts are needed in displays nowadays due to the structural changes, and because low-price products by local Chinese makers have been expanding their production.

In addition, PET films market for general industries in 2017, out of which adhesive/release types occupy the largest composition rate, together with those for release films for MLCC and for other use, grew to 127,590 tons, 111.9% of the size of the previous year. Especially, those for MLCC release films largely expanded to 57,290 tons, 124.8% of the size of the preceding year, occupying as large as 44.9% of the shipment volume of all the adhesive/release-type PET films.

Noteworthy Topics
When looking at the state of the demand for optical PET films (used for components and secondary materials), those once used to be the primary products with high transparency and easy adhesion for optical components has shrunk at a pace close to a double digit decline annually, while those protection films and release films for secondary materials are growing stably to maintain the demand volume at the level of annual 230,000 tons.

Among those industrial films for optical components, the films for LCD backlight components (i.e., light diffusion films, prism sheets, and reflecting plates) and those for touchscreen components (i.e., ITO films and shatter proof films) have continued declining because of some changes in LCD backlight designs, decreasing number of smartphones with film sensors, and emerge of Chinese local makers superior in price competition. Only PVA protection films for polarizing plates have kept the sales to grow largely due to expanding adoption at some polarizing plate makers.

Those films used for secondary materials like protection films and release films show relatively stable growth, because polarizing plates, in which the films are mainly used, are growing steadily, and because of the films are highly demanding in optical isotropy, to be absolutely without foreign substances and without any flaws, so that no local Chinese makers can enter the market.


Research Outline
1.Research Period: From April to August, 2018
2.Research Object: Manufacturers of PET films, MLCC release films, PI films, and etc.
3.Research Methogology: Face-to-face interviews by the expert researchers and literature search.
What are High-Functioned Films?
High functioned films are defined as those films used for general industries (i.e., for display components, electronics, in-vehicle devices, adhesive, and releasing), and equipped with high functions as well as high-value added. In this research, they include the following: PET (polyester) films, release films for MLCC (Multi-Layered Ceramic Capacitor), PI (polyimide) films, CNF (Cellulose Nanofiber) films, barrier films for QD (Quantum dot) Sheets, and in-vehicle optical films.


Contact Us
©2019 Yano Research Institute Ltd. All Rights Reserved.
The copyright and all other rights pertaining to this report belong to Yano Research Institute.
Please contact our PR team when quoting the report contents for the purpose other than media coverage.
Depending on the purpose of using our report, we may ask you to present your sentences for confirmation beforehand.