03/28/18
Athleisure Market in Japan: Key Research Findings 2018
Research Outline
Yano Research Institute has conducted a study on the domestic athleisure market with the following conditions:
Research period: From January to March, 2018
Research targets: Manufacturers, wholesalers, and retailers of domestic sports goods, total and general apparel makers, distributors and retailers, etc.
Research methodologies: Face-to-face interviews by the expert researchers, surveys via telephone/email, and literature research
What is the Athleisure Market?
Athleisure is a new word combined with "athletic" and "leisure". It is a trend in fashion in which clothing designed for workouts and other athletic activities worn in the daily lives.
The athleisure market in this research indicates the market of sports brand apparel and shoes worn in everyday lives when going outside, and of apparel products with their concept being "sports" among the products of the general casual brands.
Summary of Research Findings
2017 Domestic Athleisure Market Size Projected to Attain 858,840 Million Yen
The domestic athleisure market in 2017, based on the retail amount, is likely to attain 858,840 million yen. While the category of sports shoes dominating 50.3%, almost half of the market, that of sports-style casual apparel products sold by general casual brands occupies 23.0%, almost a quarter of the market. The category of sports apparel products by sports brands accounts for 26.7%.
Athleisure Market Expects to Expand toward 2020
The demand of athleisure is regarded to be on the rise in association with increasing interest in exercising and sports by consumers toward the 2020 Summer Olympic/Paralympic Games to be held in Tokyo. The market is likely to expand in each of the categories, i.e., sports apparel, sports shoes, and casual apparel goods. The domestic athleisure market is expected to attain 892,635 million yen by 2020, based on the retail amount.
Athleisure Market Keeps Expanding, By Accepting Wide Range of Consumer Demand
Athleisure is about to be established as one of the fashion with sports/casual and lifestyle fused together. Because there is a wide range of consumer demand, including high interest in health maintenance by consumers and increased willingness to participate in sports events by seniors, the market is expected to go on growing for the future.
Figure 1: Transition of Domestic Athleisure Market Size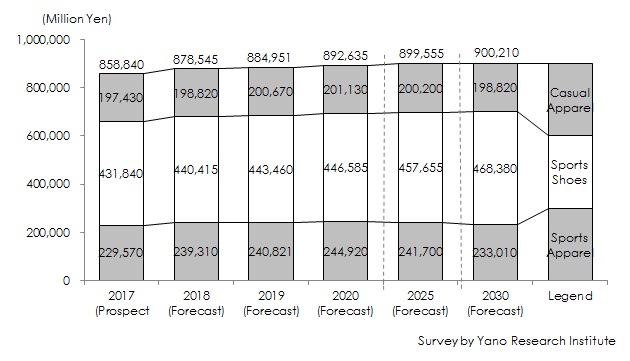 Published Report
*The information provided in the "Research Summary" is what is as of the date of announcement and could be altered or renewed without any prior notice.
Contact Us