01/19/18
Global Automotive Navigation System Market: Key Research Findings 2017
Research Outline
Yano Research Institute has conducted a study on the domestic and global market of automotive navigation systems, with the following conditions:
Research period: August to December, 2017
Research objects: Domestic and overseas manufacturers of automotive navigation systems, DA (display audio), automobiles (OEM), Tier 1, and etc.
Research methodologies: Face-to-face interviews with expert researchers, surveys via telephone/emails, and literature research
<What are automotive navigation systems?>
Automotive navigation systems are third party add-ons used to find direction in automobiles, mostly in this research are passenger cars, and are available by installing at a factory of an OEM automaker (which is called maker option), at a dealer (dealer option), and by buying at a specialized car accessory store. In this research, eCockpits embedded in instrumental panels or in center displays are included. Note that an eCockpit is an in-vehicle HMI (Human Machine Interface) system that integrates a center display, electronic instrument cluster, and an HUD in an automobile.
Summary of Research Findings
Size of Global Automotive Navigation Systems in 2016 Attained 22,960 Thousand, 110.3% on Y-o-Y Basis
The global market of automotive navigation systems is estimated to reach 22,961 thousand, 110.3% of the market size of the previous year, showing growth as number of automobiles sold has expanded. In order to improve attractiveness of a vehicle, the roles of infotainment systems that provide information and entertainment contents including distribution of music and images have been larger. The one that represents such systems that provide infotainment is an automobile navigation system. It is very likely that importance of infotainment systems, including automotive navigation systems, becomes even larger within the global automobile market in the future.
Diversification of Automotive Navigation Systems
Automotive systems are respectively developed in accordance of requirement at each type of automobiles, just like eCockpits introduced in high-end vehicles, DIN-standard automotive navigation systems in small-to-mid-size vehicles, DA (display audios) in popular cars developed in Asian countries and also in the vehicles that obey Kids Transportation Safety Act in US, and smartphone navigation applications and PND (Portable navigation devices) in automobiles for emerging countries. On the other hand, there is a possibility that automotive navigation systems are to be used differently in the future, according to the changes, if any, in the market environment, such as rise in acceptance rate of smartphones and popular car policies taken by the government at each country.
Prospect of Global Automotive Navigation System Market Projected to Expand to 31,170 Thousand by 2022
The automotive navigation system market is still on the rise from the global point of view. The market is projected to expand to 31,170 thousand by 2022. In the future, multiple types of in-vehicle terminals, i.e., eCockpit, automotive navigation systems, PND, DA, and smartphone navigation applications, are all respectively likely to co-exist, reflecting the characteristics and market environment at each country including culture, languages, and living environment and adapting to the local demand, by means of in-house development at automakers, integration into eCockpit, or alignment to smartphones.
Figure 1 :Transition and Estimated Size of Global Markets of Automotive Navigation Systems /PND/Display Audios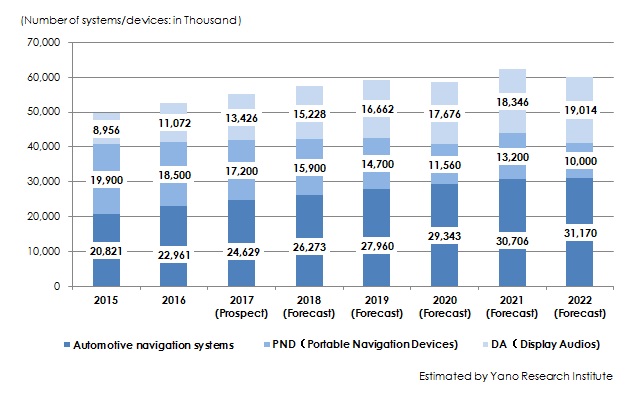 Published Report
*The information provided in the "Research Summary" is what is as of the date of announcement and could be altered or renewed without any prior notice.
Contact Us