09/19/17
Natural/Organic Cosmetics Market in Japan: Key Research Findings 2017
Research Outline
Yano Research Institute has conducted a study on the domestic natural/organic cosmetics market with the following conditions:
Research period: June to August, 2017
Research target: Natural/organic cosmetic manufacturers, retailers and other related organizations
Research methodologies: Face-to-face interviews with expert researchers, surveys via telephone/email, and consumer survey
<What are Natural Cosmetics?>
Natural cosmetics in this research indicate those cosmetics applicable to both of the following conditions: 1) Natural plants are used as chief ingredients; 2) Use of chemically-synthesized compounds is restrained.
<What are Organic Cosmetics?>
Organic cosmetics in this research indicate those cosmetics that fall into one of the following conditions: 1) Those certified as "organic" by a third-party institution, 2) Organic materials from in-house or tie-up farms are used in large part of ingredients, and 3) Organic materials are used in most of "brand lineup"
Summary of Research Findings
Natural/Organic Cosmetics Market in FY2016 Rose by 5.3% to Reach 123.7 Billion Yen
The natural/organic cosmetics market in FY2016 rose by 5.3% from the previous year to attain 123.7 billion yen, based on the shipment value at brand manufacturers. The functionality that had already been adopted in non-natural/organic cosmetics has begun being added also to natural/organic cosmetics by manufacturers in the market. This has attracted more customers including those who used to have no interest in natural/organic cosmetics, bringing about further market expansion.
Increasing Number of Natural Cosmetics Brands Enhances Promotion of Total Lifestyles
As competition becoming fiercer due to growing number of makers having entered the market, there has been a stronger tendency of natural cosmetic brands highlighting their uniqueness and superiority. While the cosmetic products are sure to be upgraded as technological innovation progresses, they are increasingly likely to be offered not only by appealing the product characteristics but also along with the idea of sophisticated lifestyles in the hope of differentiating the product superiority from other brands. With regard to natural cosmetic brands, their business is considered to be more developed by providing total ideas of lifestyles including food and household goods that match their brand stories and clear concept.
With Rising Tendency Continues, Natural/Organic Cosmetics Market Projected to Expand by 4.9% to Achieve 129.8 Billion Yen by FY2017, and to Rise by 4.2% to Attain 135.3 Billion Yen by FY2018
Expansion of sales channels and increase of online/real stores handling organic cosmetic brands have brought about broader access to customers and improved product awareness through frequent appearance in fashion and/or beauty magazines, which successfully gained both existing and new customers. Therefore, the natural/organic cosmetics market is expected to grow by 4.9% from the previous fiscal year to attain 129.8 billion yen by FY2017, and rise by 4.2% to achieve 135.3billion yen by FY2018 based on the shipment value at brand manufacturers.
Figure 1 :Transition and Forecast of Natural/Organic Cosmetics Market Size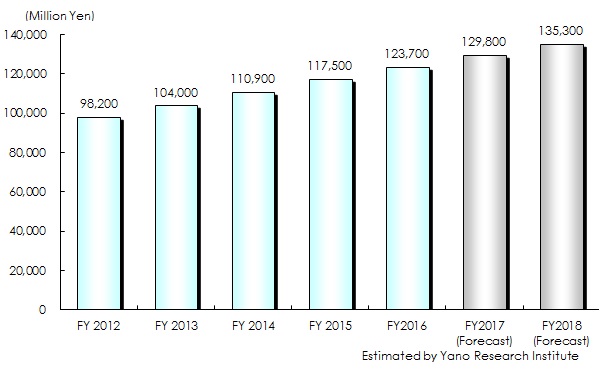 Published Report
*The information provided in the "Research Summary" is what is as of the date of announcement and could be altered or renewed without any prior notice.
Contact Us