07/14/17
Global Power Module Market: Key Research Findings 2017
Research Outline
Yano Research Institute has conducted a study on the global power module market with the following conditions:
Research period: From February to May, 2017
Research targets: Manufacturers of power semiconductors and power electronics devices
Research methodologies: Face-to-face interviews by the expert researchers, surveys via telephone/email, and literature research
What are Power Modules?
Power modules are used in industrial devices, new energy, automobiles, trains, etc., and are required for inverter/converter circuits in the devices mounted within. There are various types of products according to the circuit structures so that specifications of those modules, including pressure resistant/electronic current values, size and number of power semiconductors to be implemented, vary.
Power modules in this research include IGBT (Insulated Gate Bipolar Transistor) module, IPM (Intelligent Power Module,) and MOSFET (Metal Oxide Semiconductor Field Effect Transistor) module. An IGBT module is several IGBTs, which are power semiconductors needed for power exchange, packaged together with multiple diodes into a special case. (If MOSFET are packaged into a case with diodes, such a module is called a MOSFET module.) An IPM (Intelligent Power Module) is an IGBT module embedded with protection network to protect against excess current and excess heat.
Summary of Research Findings
Global Power Module Market in 2017 Projected to Achieve US$4.09 Billion
The global market of power modules in 2017 is expected to attain US$4.09 billion, up by 8.5% from the previous year, based on the shipment value at manufacturers. The demand of power modules had continuously been stagnant from the latter half of 2015 to the first half of 2016, but has turned for the better since the latter half of 2016 to 2017. Due to favorable sales in the first half of 2017, it is highly probable to attain positive growth when viewing the results throughout the year.
CAGR of Global Power Module Market from 2015 to 2020 Expected to be 9.1%, Achieving US$5.840 Billion by 2020
CAGR of the global power module market from 2015 to 2020 is expected to be 9.1%, attaining US$ 5.84 billion by 2020, based on the shipment value at manufacturers. The market is likely to be on the rise since 2017 and to achieve a double digit growth starting from 2018. The global power module market is likely to be led especially by the sectors of automobile, with PHVs and EVs likely to increase sales volume encouraged by the environmental regulations and their low-fuel consumption, and of major appliances (or so-called "white goods,") driven by wide acceptance in the market of emerging countries.
Global Demand of Power Modules Projected to Attain 210.562 Million in Volume by 2020
The global demand of power modules in 2020 is expected to reach 210.562 million in number. With the backdrop of major demands being favorable, the global demand of power modules in 2020 are likely to leap forward from 125.789 million what used to be in 2015.
Figure & Table 1: Global Power Module Market Size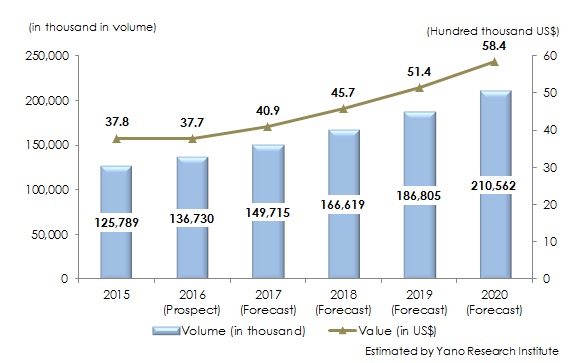 Published Report
*The information provided in the "Research Summary" is what is as of the date of announcement and could be altered or renewed without any prior notice.
Contact Us