04/20/17
Smartphone Game Market in Japan: Key Research Findings 2016
Research Outline
Yano Research Institute has conducted a study on the smartphone game market with the following conditions:
Research period: December 2016 to February 2017
Research target: Domestic leading smartphone game makers
Research methodologies: Face-to-face interviews by the specialized researchers, telephone/e-mail surveys, and literature research
What are Smartphone Games?
The smartphone games in this research indicate game application programs, namely native game applications or browser games, which can be played using smartphone devices.
What is the Smartphone Game Market?
Size of the smartphone game market in this research is calculated by totaling the payment billed to the users for smartphone games including the payment for the items that the users acquired in the games. No advertisement revenues included.
Summary of Research Findings
Domestic Smartphone Game Market in FY2015 Grew to 103.4% on Y-o-Y Basis to Attain 925.0 Billion Yen
The domestic smartphone game market, based on the sales amount at game makers, has grown steadily to 103.4% of the size of the previous fiscal year to achieve 925.0 billion yen in FY2015. In spite of stagnant sales of those game applications that had once attained smash hits, represented by 'Puzzle & Dragons' released in 2012 and beyond, continuous marketing of complete, in-house contents by some of large household video game makers, and emerge of multiple game titles making a certain level of success, though not mega hits, have led the domestic smartphone game market to a stable growth.
Smartphone Game Market Facing Oligopoly Due to Stern Environment for Developing Smartphone Game Applications
In the current situation where game titles becoming more difficult to make a hit year by year, smartphone game makers are required to be skillful in technology of development of games to the level sufficient enough to be the same as those of household gaming machine makers, and are needed to secure enough human resources. In addition, they are required to have multiple product lines to be developed and operated simultaneously. They also confront soaring expenses as the development period prolongs. The companies that can overcome such challenges are so limited that small companies are considered to be overwhelmed by larger companies, whcih may eventurally cause an oligopoly consisted of those leading game makers that possess profitable contents.
Domestic Smartphone Game Market Keeps Steady Growth, Projected to Achieve 960.0 Billion Yen by FY2017, 101.6% on Y-o-Y Basis
Many home video game makers have shifted to develop smartphone games. Because of those factors including Nintendo's full market entry since 2016 and an expectation of the company's eager development of successful contents, the domestic smartphone game market in FY2016, based on the sales amount at manufacturers, is projected to attain 945.0 billion yen, 102.2% on year-over-year basis, and to achieve 960 billion yen by FY2017, 101.6% on Y-o-Y basis.
Figure 1: Transition and Forecast of Domestic Smartphone Game Market Size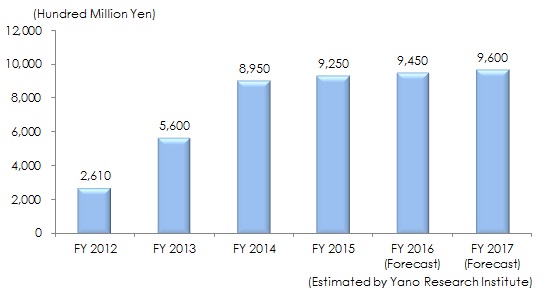 Published Report
*The information provided in the "Research Summary" is what is as of the date of announcement and could be altered or renewed without any prior notice.
Contact Us