07/14/16
Uniform Market in Japan: Key Research Findings 2016
Research Outline
Yano Research Institute has conducted a study on the domestic uniform market with the following conditions:
Research period: From April to June, 2016
Research target: Major uniform manufacturers
Research methodologies: Face-to-face research by the expert researchers, literature research, as well as collecting data
What is the Uniform Market?
The uniform market in this research indicates the following four categories: School uniforms, working uniforms (for manufacturing factories excluding food factories), office uniforms, and service uniforms (for hospitals, cleaning services, restaurants, food factories and etc.) The market size is calculated based on the shipment value at manufacturers.
Summary of Research Findings
Size of Uniform Market in FY2015 Reached 502.6 Billion Yen, 101.6% on Y-o-Y Basis
The domestic uniform market in FY2015 based on the shipment value at manufacturers attained 101.6% of the size of the previous fiscal year, exceeding 500 billion yen for the first time to achieve 502.6 billion yen.
Although the total domestic uniform market has maintained its slightly-rising tendency since FY2011, the category of school uniforms turned to a decrease, whereas all other categories, i.e., working, office and service uniforms, exceeded the previous fiscal-year values. All those categories, other than school uniforms, are likely to continue their marginal growth in spite of the fiercer competition. The domestic uniform market for FY2016 is projected to achieve 507.9 billion yen, 101.1% of the size of FY2015.
Uniforms for Medical Facilities Expand, Service Uniforms Showing Steadfast Market
Among various service uniforms, those for medical facilities (hospitals, nursing facilities, and etc.) are expected to grow, due to increasing working population at such facilities. With some manufacturers making uniforms of other industries having entered the market of medical uniforms in recent years, the market is facing severer competition. Especially conspicuous is the market of long-term care uniforms, where not only those existing manufacturers but also newly-entered makers have started publishing catalogs of the uniforms for long-term care personnel to promote their products to user companies.
Figure 1: Transition and Forecast of Uniform Market Size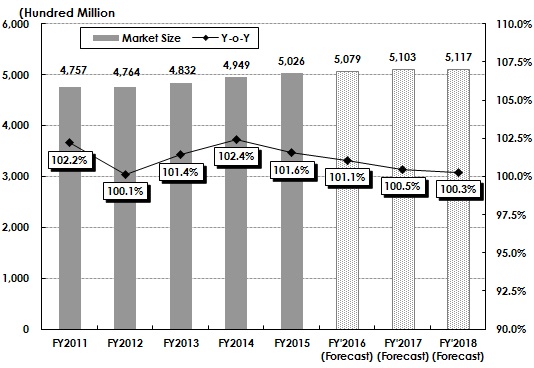 Figure 2: Component Ratio of Uniform Market by Category for FY2015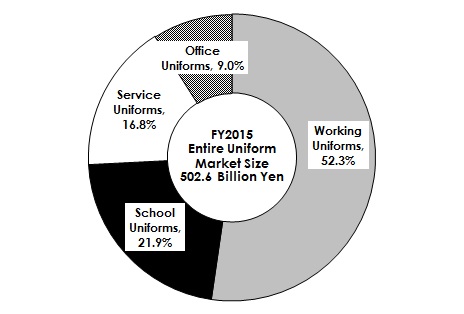 Published Report
*The information provided in the "Research Summary" is what is as of the date of announcement and could be altered or renewed without any prior notice.
Contact Us