07/12/16
Licensed Character Business in Japan: Key Research Findings 2016
Research Outline
Yano Research Institute has conducted a study on the domestic licensed character business with the following conditions:
Research period: From April to June, 2016
Research targets: Companies in the business using characters (e.g. manufacturers, licensers, licensees, and related companies of retailing and distributing industries)
Research methodologies: Face-to-face interviews by the specialized researchers, surveys via telephone, questionnaire to consumers, and literature research including statistics data published by the government and industrial organizations
What is the Character Business Market?
The licensed character business indicates merchandizing of characters through license agreements to use them for advertisement, entertainment and other objectives. For instance, those characters may be featured in some kinds of products, or used as a means of promoting some products, or used to develop them into other media such as movies, TV programs, Manga, and etc. Therefore, the character business in this research indicates a market of merchandizing rights and copyrights of characters.
Note that characters in this research indicate those from animation, manga, games, illustration, and etc., and do no indicate live actors and actresses.
Summary of Research Findings
Licensed Character Business in FY 2015 Rose for Three Consecutive Years, Bode Well for Another Robust Growth in FY2016
The licensed character business market (merchandizing rights and copyrights) in FY2015 increased slightly to attain 2,428.2 billion yen, 100.6% of the size in the previous fiscal year. Despite lack of big-hit characters, the market of FY2015 had been robust because of recurrence of some well-known, existing characters, and the enhanced media-mix strategy that strengthen the ability of the characters conveying messages/information, enabling to appeal and maintain their charms and novelty into diverse works using various media, which, in turn, prolongs the popularity of such characters.
Since many animation works have been generating more attractive characters, the licensed character business market in FY2016 is projected to continue being stable, up by 100.7% to achieve 2,445.6 billion yen.
Merchandizing Rights Market Decreased Slightly, Copyrights Market On the Rise
The clothing and apparel accessories categories of the merchandizing rights market, enhanced to attract more adults, have attained favorable sales. However, the entire merchandizing rights market recorded negative growth, due to stagnant toys category that occupies the largest, 48.4%, of the market share. Some attempts of the characters to collaborate with some apparel brands, pretended being the fashion models, were effective in receiving favorable responses from consumers.
The copyrights business market in FY2015 is on the rise, due to enhanced re-branding of the already-popular characters and proactive use of characters in sales promotion activities.
Figure 1. Transition of Size of Licensed Character Business Market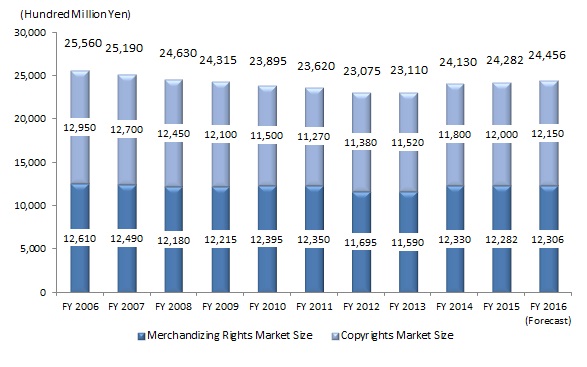 Figure 2: Component Ratio of Merchandizing Rights of Licensed Character Business Market by Category in FY2015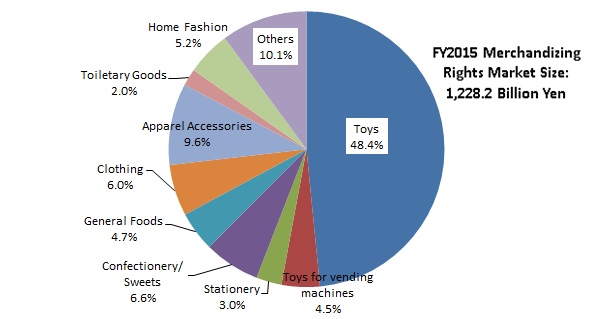 Published Report
*The information provided in the "Research Summary" is what is as of the date of announcement and could be altered or renewed without any prior notice.
Contact Us