11/17/15
Bio/Healthcare Ventures in Japan: Key Research Findings 2015
Research Outline
Yano Research Institute has conducted a study on the domestic bio/healthcare ventures with the following conditions:
Research period: From April to July, 2015
Research target: Bio/healthcare venture companies, bio/healthcare related pharmaceutical companies, and related organizations
Research methodologies: Face-to-face research by the expert researchers, surveys via telephone, and literature search
<What are Bio/Healthcare Ventures?>
Bio/healthcare ventures in this research indicate the venture companies that are launched based on the technologies of bio and healthcare in the field of drug development and reagents for studies.
Summary of Research Findings
Bio/Healthcare Venture Industry Flourishes Due to Favorable Investment Environment
Uniqueness and usability of the technologies by some of the domestic bio/healthcare ventures are attracting attentions of the leading life science companies within and outside of Japan, looking for business alliance and for introduction of such technologies. In particular, activities of those venture companies that carry out R&D for regenerative medicines have been flourishing, due to influence by deregulation and by the studies on iPS cells that won the Nobel Prize. The bio/healthcare venture industry is considered to draw more attention because of a series of such ventures having succeeded in being listed, and in concluding contracts for business alignment with the leading companies.
Joint Study and R&D Support by Government and Leading Enterprises Thriving
Multiple domestic leading companies have introduced a program to attract alignment of and public subscription for technologies in the bio/healthcare domain. The applications for such programs not only ranged from medicines and pharmacies, but also from chemical and engineering. With the recent nationwide tendency of trying to develop advanced medicines including regenerative medicines, the part of which led to launch of Agency for Medical Research and Development Research and Development, the roles of bio/healthcare venture companies have been increasing their presence.
Number of Domestic Bio/Healthcare Ventures on the Rise to Reach 607 as of July 2015
Number of domestic bio/healthcare venture companies rose to 607 as of July 2015. Ever since the research started in 2004, the number of the concerned companies has been on the rise. As for business sector, the largest sector comprising the industry is innovative drug development, accounting for 24.4%.
Figure 1: Transition of Number of Domestic Bio/Healthcare Ventures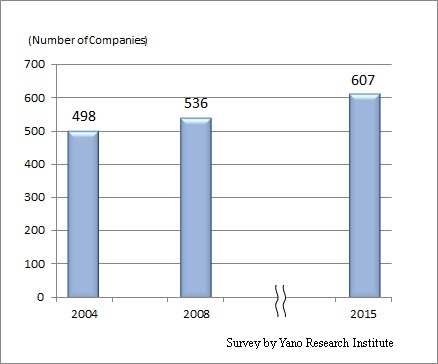 Published Report
*The information provided in the "Research Summary" is what is as of the date of announcement and could be altered or renewed without any prior notice.
Contact Us