10/09/15
Cosmetic Market in Japan: Key Research Findings 2015
Research Outline
Yano Research Institute has conducted a survey on the domestic cosmetic market with the following conditions:
Research period: From June to September, 2015
Research targets: Cosmetic brand manufacturers; cosmetic contract manufacturers, cosmetic raw material makers/merchandisers, and distributors
Research methodologies: Face-to-face interviews, survey by telephone, and literature research
Summary of Research Findings
Domestic Cosmetics Market in FY2014 Reached 2,330.5 Billion Yen, 100.5% of Size of Previous Fiscal Year
The domestic cosmetic market in FY2014 attained 2,330.5 billion yen, 100.5% of the size of the previous fiscal year, based on the shipment value at brand manufacturers. Sales of the expensive products in the first half of FY2014 was stagnant due to deteriorated consumer mind stemming from consumption tax increase. Restrained purchases were especially conspicuous in local areas and by those in their 30s and 40s, which slowed down the market. However, in the latter half of the fiscal year, flouring inbound tourism consumption by the foreign tourists backed by wider range of items having being exempted from taxation since October 2014, in addition to recovery of consumer confidence, raised the overall cosmetic market in FY2014 slightly.
Face Packs Sold Favorably in Skin Care Category Due to Increasing Bulk Products and Inbound Effect
The domestic cosmetic market size in FY2014 by product category showed that all the categories (i.e., skin care, make-up, hair care, fragrance and men's cosmetics) exceeded the results of the previous fiscal year for two years in a row.
Bulk products of face packs and special care products (including beauty liquid) in the skin care, BB and CC creams in the make-up, oil-combined products and scalp-care products in the hair care, the brands of "maison" and light fragrances in the fragrance markets have all showed favorable sales in the respective markets. Also, odor-caring haircare products and anti-aging skincare products targeting middle-aged men sold well in the men's cosmetic market.
Figure 1:Transition and Forecast of Domestic Cosmetic Market Size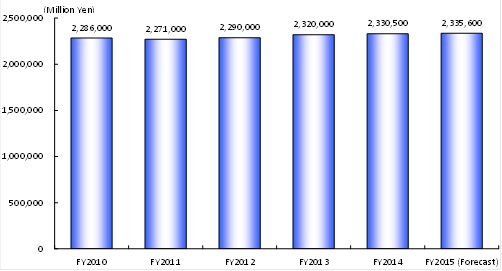 igure 2: Domestic Cosmetic Market Share by Product Category in FY 2014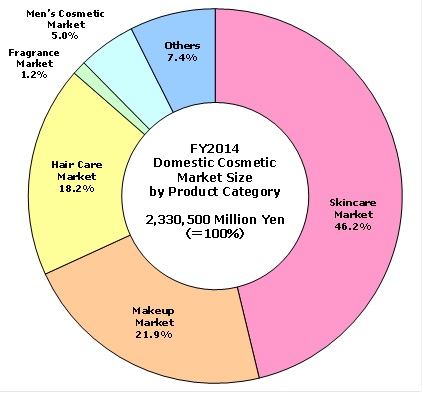 Published Report
*The information provided in the "Research Summary" is what is as of the date of announcement and could be altered or renewed without any prior notice.
Contact Us