Beverage Container Market in Japan: Key Research Findings 2022 Domestic Shipment Volume of Beverage Containers for 2022 Projected to Grow to 102.0% of the Previous Year to 75,630 Million Units
Yano Research Institute (the President, Takashi Mizukoshi) has conducted a survey on the domestic market of beverage and food containers, and has found out the trends by product segment and the trends of market players. This press release highlights the domestic shipment volume of beverage containers.
Transition of Beverage Container Market Size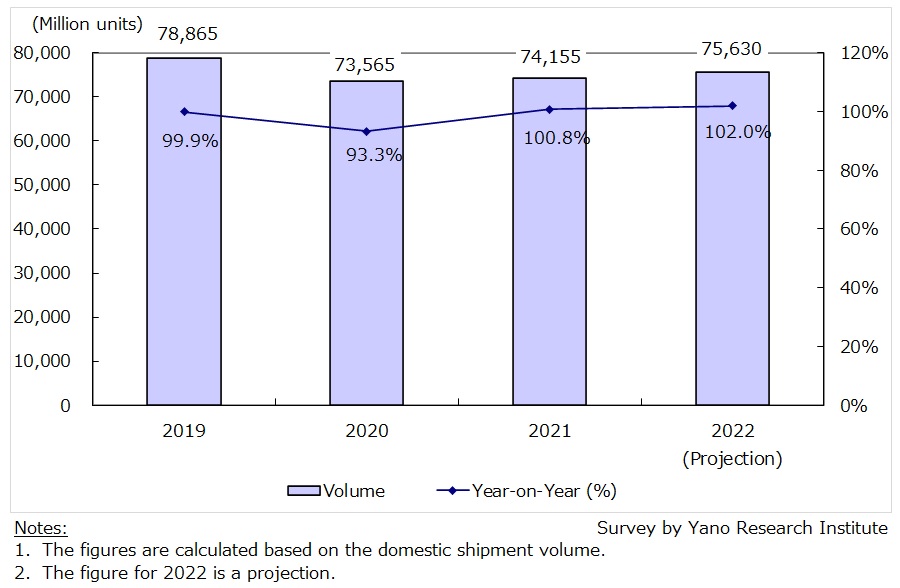 Transition of Beverage Container Market Size by Container Type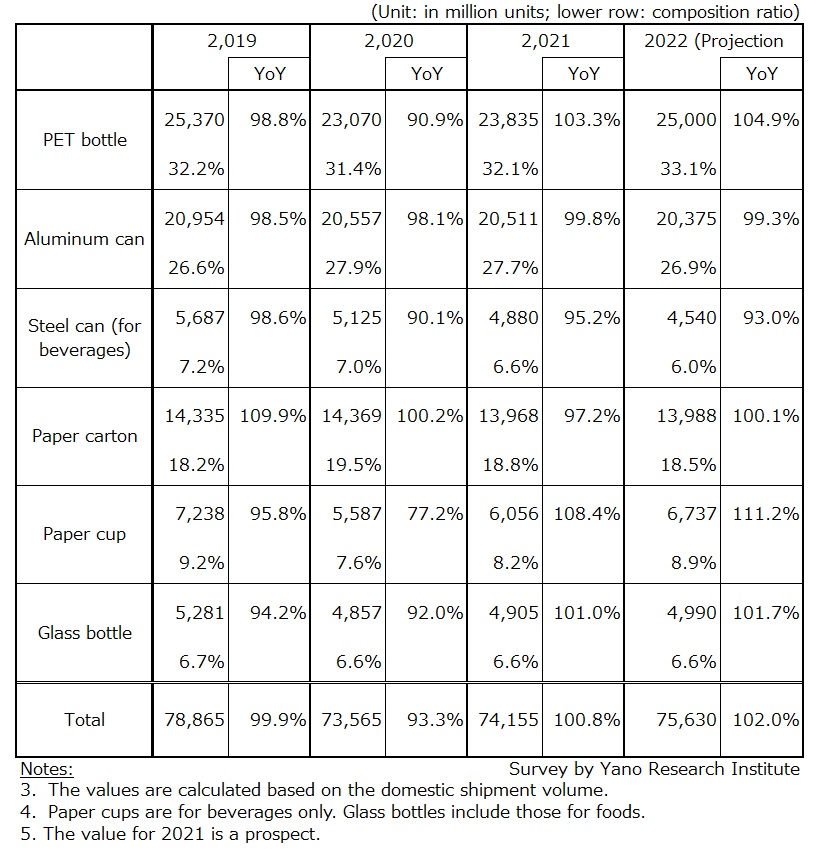 Market Overview
The market size of beverage containers for 2022 is projected to attain 75,630 million units, 102.0% of the size of the previous year (based on the domestic shipment volume).

Viewing by container type, the demand for paper cups is expected to increase significantly to 111.2% of the previous year, owing to the rise in demand not only at convenience stores and coffee chains but also at households, where paper cups are used at home parties, camping, and other leisure activities. The demand for PET bottles grew to 104.9% of the preceding year, due to the ease of pandemic restrictions and the impact of extremely hot summer. The demands for glass bottles and paper cartons are expected to show marginal growth, 101.7% and 100.1% of the previous year, respectively. Meanwhile, the demand for aluminum cans has indicated a slight decrease (99.3% YoY) due to consumers' return to bars and restaurants, which led to a drop in demand for canned alcoholic beverages. The demand for steel cans, which has been declining continuously for the past years, is also forecasted to drop to 93.0% on year-on-year basis.

Noteworthy Topics
Demand for Beverage Containers Stabilized for the First Time in 3 Years
COVID-19 crisis had considerable impact on the beverage container market. Nevertheless, it also presented certain new sales opportunities.

Declaration of a state emergency in 2020 that asked everyone to refrain from non-essential outings decreased the demand for light weight plastic containers, paper cups, small-sized PET bottles, aluminum cans for soft drinks and paper cartons.

On the other hand, sales increased for large-sized PET bottles, paper cartons for dairy products, as well as aluminum cans and paper cartons for alcoholic beverages that succeeded in adapting to the demand for at-home drinking.

Associated with the ease of restrictions in 2021, the market of containers that grew as "nesting demand" deteriorated, while the demand for containers that dropped in 2020 turned for the better. As consumer behavior returned close to pre-pandemic level in 2022, it is fair to say that the demand fluctuation affected by the "special demand" has come to an end for the first time in three years.


Future Outlook
The demand for environmental actions for container makers continued even during the pandemic.

Customer companies of container makers, such as brand owners and retailers like convenience stores and supermarkets, have been actively promoting sustainable aspects of the containers/packages they use, for they believe that eco-friendly containers/packages, the "face" of products, directly enhance their corporate image.

In addition, in line with the government policy to achieve carbon neutrality by 2050, business operators in Japan are requested to manage greenhouse gas (GHG) emissions for their entire supply chain, including Scope 3 emissions. Environmental consideration of containers/packages, demonstrated by the use of non-fossil-derived raw materials or recycled materials, has become an essential factor for user companies to decide on which container to use, sometimes considered more importantly than its prices.

In fact, it is only recently that both container makers and user companies started to align the use of "sustainable materials" to their business. For most companies, adoption of 'sustainable material' had been just a way of showing their social responsibility. Practically, they did not expect gaining profit out of adopting sustainable containers/packages.

However, as the mindset for global collaboration to solve environmental issues are shared and action plans are agreed, while consumers' environmental awareness increase on a global scale, the use of sustainable materials has become indispensable for container makers. To be competitive, container makers are required to develop and promote sustainable products that commit to reduction of CO2 emissions and further sustainable actions at user companies. The makers must expand the use of environmentally friendly plastics using sustainable materials, improve recyclability of containers (by reviewing its design and material composition), and propose the use of alternative materials to user companies. It may also become necessary for the makers to develop a pricing strategy reflecting the product sustainability as added value (i.e., enabling reduction of CO2 emission, recyclability, etc.).

Going forward, container manufacturers will be required to monetize on the use of sustainable materials, making most out of opportunities extended by "sustainability" through new product development and more client proposals.





Research Outline
1.Research Period: November to December 2022
2.Research Object: Manufacturers of beverage containers and food containers
3.Research Methogology: Face-to-face interviews by our expert researchers (including online interviews) and literature research
What is the Beverage Container Market?
The beverage container market in this research indicates PET bottles, aluminum cans, steel cans, and paper cartons, which are mainly for beverages, as well as paper cups (for beverages only) and glass bottles. The market size has been calculated based on the domestic shipment volume.


<Products and Services in the Market>
Light weight plastic containers (PSP containers, A-PET containers, OPS containers, PP filler containers, etc.), PET bottles, metal cans (aluminum cans, steel cans), paper containers (paper cartons, paper cups, paper dishes/plates), glass bottles
Contact Us
©2021 Yano Research Institute Ltd. All Rights Reserved.
The copyright and all other rights pertaining to this report belong to Yano Research Institute.
Please contact our PR team when quoting the report contents for the purpose other than media coverage.
Depending on the purpose of using our report, we may ask you to present your sentences for confirmation beforehand.