Golf Goods Market in Japan: Key Research Findings 2022 As Having Exceeded by Approx. 4% of 2019 Level, Domestic Golf Goods Market in 2021 Reevaluated during COVID-19 Crisis
Yano Research Institute (the President, Takashi Mizukoshi) carried out a survey on the domestic golf goods market, and found out the trends by product category, trends of leading companies, and future outlook.
Transition of Domestic Golf Goods Market Size by Item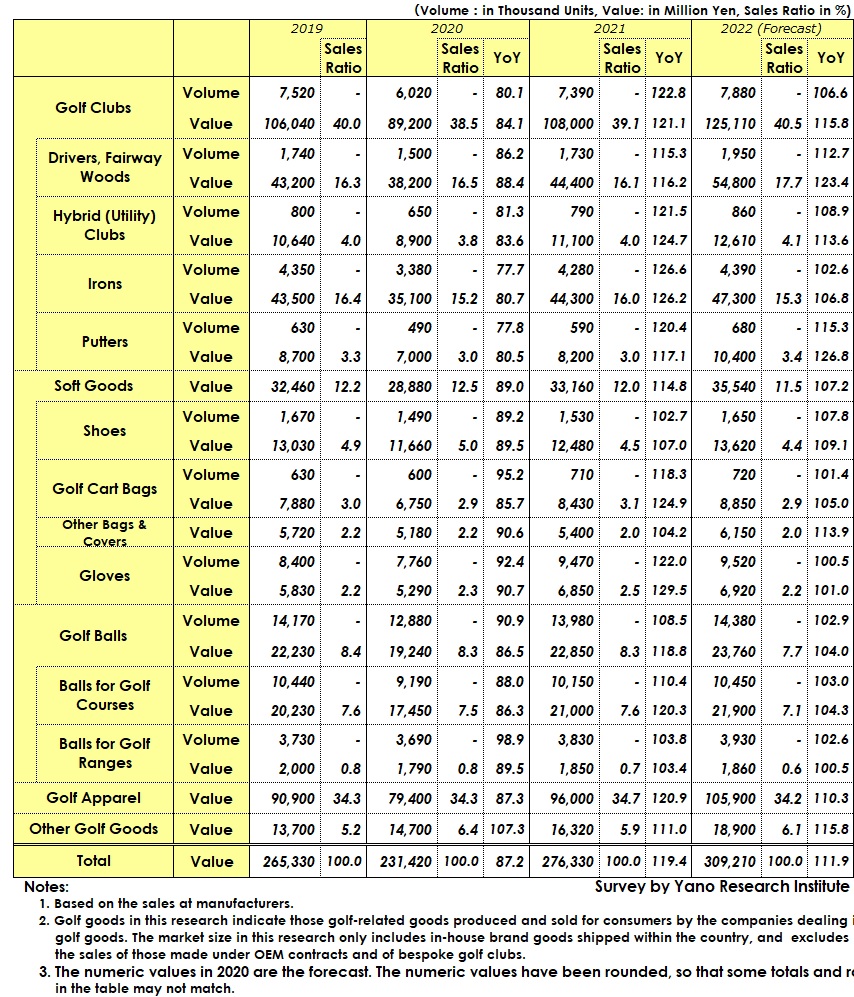 Market Overview
The domestic golf goods market size based on the sales at manufacturers in 2021 has risen by 19.4% to 276,330 million yen. While the growth from 2020, having heavily affected by COVID-19 pandemic, was in a sense quite natural, it has even surpassed the size of 2019 before COVID by approximately 4% or by 11,000 million yen.

Triggered by spread of the coronavirus infections, golf has begun being in the spotlight as an outdoor activity that can avoid so-called "3 closenesses (i.e., closed space, crowded places and conversations in close proximity)" and increased the number of new golfers who are mainly the young population as well as some of those "dormant" golfers who used to stop playing golf for a while, in addition to existing golfers becoming more active in playing golf have all contributed in expanding the golf goods market size.

Noteworthy Topics
Sales Trend of Golf Club Sets
Against the backdrop of the coronavirus pandemic, the domestic golf industry is booming. What symbolizes this is increase in the number of new golfers who are chiefly young people. In association with this, "club sets (a set of products includes a driver, a fairway wood, some irons and a putter, within a golf cart bag, mainly geared for beginners)" which never attracted attention in the domestic golf goods market has suddenly come to the fore.

In order to estimate the trend and calculate the market size of such club sets, the research has asked major golf club manufacturers regarding the sales volume of such club sets, but has unfortunately failed to obtain enough responses to estimate the entire market size.

Still, according to YPS Golf Data (the data accumulated and analyzed the real sales results at approx. 1,100 domestic golf goods retail stores) by Yano Research Institute, the sales volume of golf club sets (the total at approx. 800 stores) in 2021 has grown by 48.3% on a YoY basis, or remarkably by 64.6% against 2019 results, before COVID. The sales growth has been specifically noteworthy in club sets for women.

*The market size for club sets is overlapped with the sales volume of golf clubs by category.


Future Outlook
The domestic market size for golf goods for 2022 is projected to grow by 11.9% on a YoY basis to 309,210 million yen, over 300,000 million yen. The last time when the golf goods market exceeded 300,000 million yen was in 2001, so that if the market in 2022 reaches this figure, it should be the first time in almost 20 years.

The forecasts for the market size and YoY comparison by category for 2022 are as follows:

Drivers, fairway woods: 54,800 million yen (123.4% on YoY)
Hybrid (utility) clubs: 12,610 million yen (113.6% on YoY)
Irons: 47300 million yen (106.8% on YoY)
Putters: 10400 million yen (126.8% on YoY)
Balls for golf courses: 21900 million yen (104.3% on YoY)
Balls for golf ranges: 1860 million yen (100.5% on YoY)
Golf shoes: 13620 million yen (109.1% on YoY)
Golf cart bags: 8850 million yen (105.0% on YoY)
Other bags & covers: 6150 million yen (113.9% on YoY)
Golf gloves: 6920 million yen (101.0% on YoY)
Golf apparel: 105900 million yen (110.3% on YoY)
Other golf goods: 18900 million yen (115.8% on YoY)

While the growth rate differs by category, all the categories are expected to grow. Among them, the two markets with large sales amount, i.e. drivers & fairway woods and golf apparel, are expected to attain two-digit growth, which is projected to drive the entire market expansion. On the other hand, there also is a characteristic that those categorized as "consumables", such as balls for golf courses and golf gloves, are expected to increase only slightly.


Research Outline
1.Research Period: May to August 2022
2.Research Object: Domestic enterprises dealing in golf goods (manufacturers, trading firms, wholesalers, and retailers)
3.Research Methogology: Face-to-face interviews (including online) by expert researchers and questionnaire via email or mailed
What are Golf Goods?
Golf goods in this research indicate those golf-related goods produced and sold for consumers by the companies dealing in golf goods. The market size in this research only includes in-house brand products shipped within the country, and excludes the sales of those made under OEM contracts and of bespoke golf clubs.

"Other Golf Goods" refers to the following items sold for consumers including 1) tees/markers, 2) practicing devices (including digital gadgets), 3) competition prizes & gifts, 4) portable golf rangefinders (laser/GPS), 5) others (umbrellas, name tags, towels, etc., that are not included in the above 1) to 4). Measuring instruments and golf simulators installed at some retailers by golf goods manufacturers are not included.


<Products and Services in the Market>
Golf clubs (Drivers/Fairway woods, hybrid clubs, irons, putters, golf balls (for golf courses or for golf ranges), golf goods (golf shoes, golf cart bags, other bags and covers, golf gloves, golf clothing/apparel, other golf goods (tees/markers, practicing devices, competition prizes, and portable golf rangefinders, others)
Contact Us
©2021 Yano Research Institute Ltd. All Rights Reserved.
The copyright and all other rights pertaining to this report belong to Yano Research Institute.
Please contact our PR team when quoting the report contents for the purpose other than media coverage.
Depending on the purpose of using our report, we may ask you to present your sentences for confirmation beforehand.