ERP Market in Japan: Key Research Findings 2022 ERP Solution Package License Market in 2021 Achieved Double-Digit Growth to 127,800 Million Yen
Yano Research Institute (the President, Takashi Mizukoshi) carried out a survey on the domestic ERP (Enterprise Resource Planning) solution package license market and found out the trends of market players and user companies, and future perspectives.
Transition and Forecast of ERP Solution Package License Market Size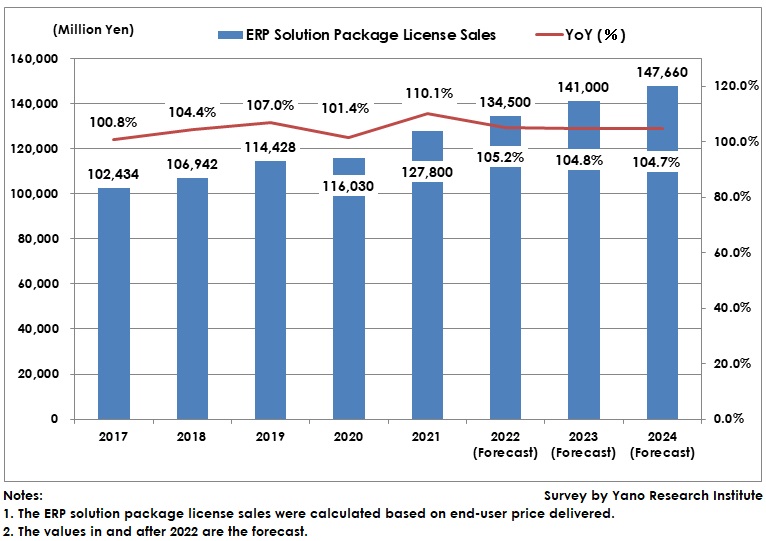 Market Overview
The ERP solution package license market in 2021 rose by 10.1% from the previous year to 127,800 million yen, based on the end-user price delivered. While 2020 saw the market to almost level off with 1.4% of rise on a YoY due to a number of suspended implementations caused by deteriorated sales performance at user companies stemming from COVID-19 pandemic, the market showed double digit growth in 2021.

In 2021, in addition to the negative impact of COVID-19 pandemic becoming smaller, many of postponed cases in 2020 have eventually commenced auspiciously and have been added to the sales in 2021, boosting the market. The ERP solution package license market has overcome the temporary sluggishness and has been back on the growth orbit. As digitalization of business activities has been propelled by the pandemic, the companies using ERP on cloud are increasing steadily.

Noteworthy Topics
In 2022 Compliance with Act on Electronic Preservation System for Books & Documents and with Qualified Invoice System Attracted Attention
In 2022, the attention to legal systems is high, such as the Act on Electronic Preservation System for Books and Documents, and the Qualified Invoice System. The Act on Electronic Preservation System for Books and Documents was amended in January 2022 to ease the requirements, and has allowed two years of grace period to mandate the electronic storage for electronic transactions until the end of December 2023. The Qualified Invoice System is to be in effect by October 2023, and ERP solution package vendors plan to make their solutions to conform to the legal systems including the invoice system during this grace period.

The functional changes in ERP solution packages to respond to the revised legal systems are mostly provided free of charge or at low price as a part of the maintenance support, not bringing about special demand in the ERP solution package license market. Still, because user companies are interested in the changes in the legal systems, holding seminars and campaign on the theme for customer attraction is expected to invigorate the market.


Future Outlook
The ERP solution package license market in 2022 is projected to grow by 5.2% from the previous year to 134,500 million yen.

After 2021 the growth rate of the market may decline from when there used to be special demand for the postponed projects in 2020 being implemented and added to the sales, but there still are needs for replacement of aging legacy systems and enhancement of business platforms as a part of digital transformation, which are expected to support the market. Accelerated deployment of cloud (ERP implementation on cloud) in the COVID-19 pandemic has become the continuous trends in ERP deployment, and shift to cloud is projected to be in progress furthermore. While IaaS and PaaS are used as business platform, use of SaaS is also expected to expand.

The growth inhibitors can be the exacerbation in external environment such as soaring prices of natural resources and products affected by the Ukraine situation, and rapidly declining Japanese yen. Even so, positive attitudes are observed at user companies to invest in ERP as a method to be able to respond to whatever changes occur in the business environment, which is projected not to directly connect to freezing or reduction of budgets for ERP investment, even if recession occurs.


Research Outline
1.Research Period: April to June 2022
2.Research Object: ERP solution package vendors
3.Research Methogology: Face-to-face and online interviews by the specialized researchers, and literature research
What is the ERP (Enterprise Resource Planning) Solution Package License Market?
ERP is a software package to integrate and streamline corporate mission-critical processes across finance, HR, sales administration, production management and others, which used to have been managed separately within the company.

The ERP solution package license market size in this research is the software/solution license sales (including cloud subscription sales) at ERP package vendors and calculated based on the end user price. No peripheral sales such as consulting, SI, or maintenance services fees are included.


<Products and Services in the Market>
ERP solution package
Contact Us
©2021 Yano Research Institute Ltd. All Rights Reserved.
The copyright and all other rights pertaining to this report belong to Yano Research Institute.
Please contact our PR team when quoting the report contents for the purpose other than media coverage.
Depending on the purpose of using our report, we may ask you to present your sentences for confirmation beforehand.