Home Renovation Market in Japan: Key Research Findings 2022 Home Renovation Market Size Projected to be Worth 6.9 Trillion Yen in 2021 and 6.5 Trillion Yen in 2022
Yano Research Institute (the President, Takashi Mizukoshi) carried out a survey on the domestic home renovation market and found out the current status, trends of market players, and future outlook.
Home Renovation Market Size Transition and Forecast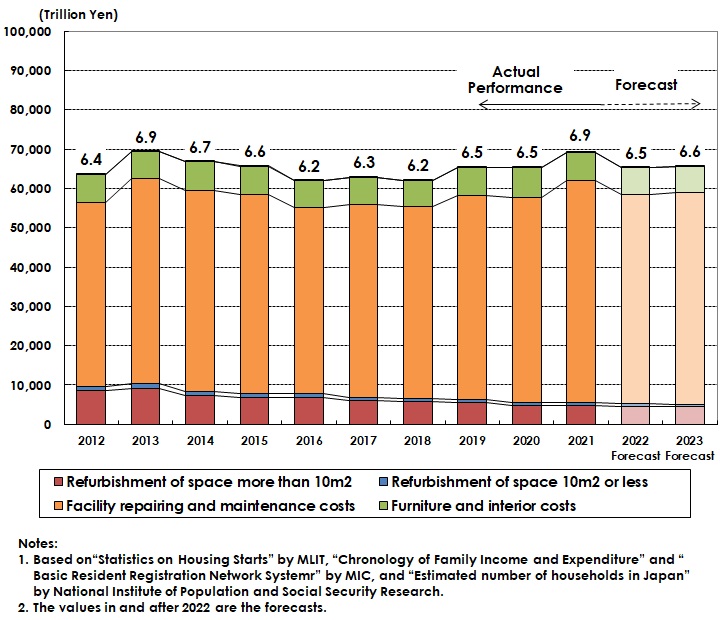 Long-Term Forecast for Home Renovation Market Size Until 2030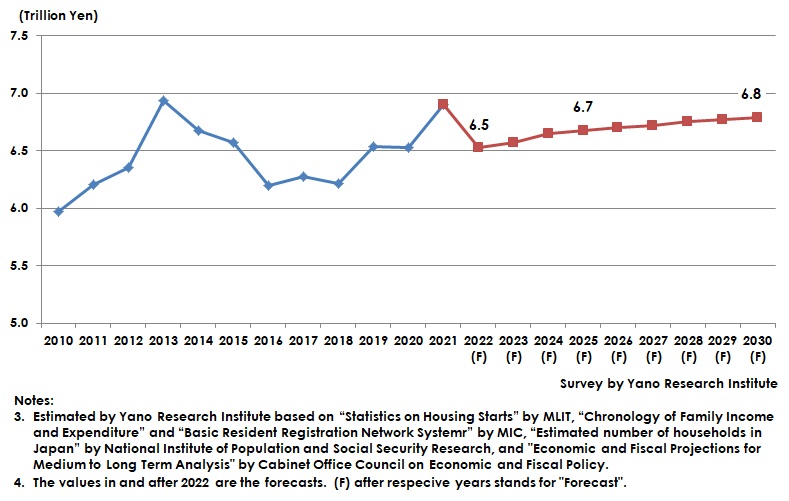 Market Overview
Home renovation market in 2021 was estimated to have reached 8,903.4 billion yen, a rise by 5.7% from the previous year. When observing this by category, "Refurbishment costs (of space both more than 10m2 and 10m2 or less)" decreased by 2.2% on a YoY, and "Facility repairing and maintenance costs" increased by 8.6% on a YoY. Once boomed "Furniture and interior costs" stemming from self-imposed curfew as well as working at home at the time of initial expansion of coronavirus infections stabilized in 2021, which led this category to decrease by 8.3% on a YoY.

The situation in 2021 where self-quarantine continued, due to the repeated declaration of state of emergencies and semi-state of emergency measures whenever coronavirus infections spread, worked positively to the market, as people stayed longer hours at home and increased interests in dwelling spaces, in spite of some negative influences.

Noteworthy Topics
Concerns over Decline in Demand for Home Improvement Due to Soaring Building Materials
With announcement of raising prices by each material manufacturer, many of home renovation businesses are striving to reduce cost, but are also passing on prices to those that cannot absorb them by their own efforts. Rise of home renovation costs may contribute to expansion of market size if orders are received, but can slow down the market if consumers refuse to accept price rise and decline to order home improvement.

The influence to receiving orders is still small at this time, but demand for refurbishment may decrease from the long term perspectives, in conjunction with price rise in consumer goods including food. There already are some cases to suspend or postpone the renovation plans. Therefore, home renovation businesses need to stimulate the demand by appealing the advantages such as richer lives and improved comfort more than ever before, and by suggesting prices based on utilization of subsidies by the government and financial services that each company provides.


Future Outlook
The home renovation market is projected to generate 6.5 trillion yen in 2022, down by 5.5% on a YoY, and 6.6 trillion yen in 2023, up by 0.7% on the same basis.

In 2022, tourism stimulus packages and other measures may boost outward consumption (tourism, food services, etc.,) which is considered to reduce home renovation demand. In addition, because higher prices of food, daily necessities, and other consumer goods are likely to diminish the entire household spending, associated with decrease in non-essential and non-urgent expenditure and rise in home refurbishing costs caused by soaring building materials, the market shrinkage seems to be unavoidable.

In 2023, renovation demand tends to be on the rise as the Dankai Junior generation (baby boomer juniors in Japan, born from 1971 to 1974) enters the right age to renovate their homes, but as the entire number of households starting to peak out, the market growth is expected to slow down.


Research Outline
1.Research Period: April to June, 2022
2.Research Object: Companies in the business of home renovation
3.Research Methogology: Face-to-face interviews by the expert researchers, supplementary survey via telephone, and literature research
What is the Home Renovation Market?
The home renovation market in this research is defined as the market of renovations conducted for and paid by residents. Therefore, renovations carried out by the owners of the residence to attract tenants, company-owned residence, nondwellings, and large-scale repair works of entire apartment building by use of reserve fund for repairs are not included. The home renovation market in this research indicates the following four categories:
1) Refurbishment of space more than 10m2, 2) Refurbishment of space 10m2 or less,
3) Facility repairing and maintenance costs, 4) Furniture and interior costs.


<Products and Services in the Market>
Refurbishment of space more than 10m2, Refurbishment of space 10m2 or less, Facility repairing and maintenance costs, Furniture and interior costs.
Contact Us
©2021 Yano Research Institute Ltd. All Rights Reserved.
The copyright and all other rights pertaining to this report belong to Yano Research Institute.
Please contact our PR team when quoting the report contents for the purpose other than media coverage.
Depending on the purpose of using our report, we may ask you to present your sentences for confirmation beforehand.