Aesthetic Medicine Market in Japan: Key Research Findings 2022 Domestic Aesthetic Medicine Market Valued at 399,000 Million Yen in 2021, 101.8% of the Previous Year
Yano Research Institute (the President, Takashi Mizukoshi) has conducted a survey on the aesthetic medicine market in Japan, and has found out the market overview and the demand trends.
Transition of Aesthetic Medicine Market Size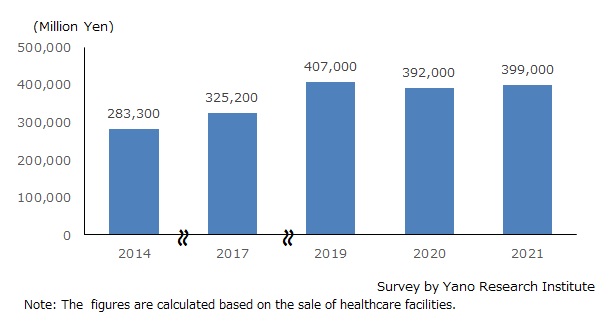 Market Overview
Affected by the spread of novel coronavirus infections, the market size of domestic aesthetic medicine fell to 96.3% of the preceding year in 2020 to 392,000 million yen (based on the revenues of medical facilities). Nonetheless, as the market saw demand recovery, it turned for the better in 2021 to attain 399,000 million yen, 101.8% of the preceding year.

Noteworthy Topics
Market Trends in Aesthetic Medicine
Medical procedures in aesthetic medicine can be categorized into surgical procedures and nonsurgical procedures. These treatments are available not only at aesthetic medicine clinics, but also at other medical facilities like plastic surgery clinics, dermatology clinics, and cosmetic dermatology clinics. Providing aesthetic medicine procedures, nonsurgical cosmetic treatments in particular, has become a trend among medical facilities that are primarily specialized in other fields of medicine. In recent years, an increasing number of hospitals have opened in Tokyo, Kansai, and Tokai area, where the population is concentrated. While medical facilities that promote regenerative medicine for anti-aging and reinforce sales of doctor-developed cosmetics increase, clinics that specialize in medical hair removal are also growing rapidly.


Future Outlook
The market of aesthetic medicine is forecasted to expand continually hereafter. While surgical procedures are seeing decline, nonsurgical cosmetic dermatology procedures are on the rise proportionately. The demand is particularly promising for "hair removal", "Botox injection", "treatment of acne and acne scars", "skin beautification/rejuvenation", "double eyelid surgery (buried suture method)", "dark spots/birthmark/mole removal", and "chemical peeling".


Research Outline
1.Research Period: April to June 2022
2.Research Object: Medical facilities related to aesthetic medicine, commodity sales businesses, etc.
3.Research Methogology: Face-to-face interviews by our expert researchers (including online interviews), surveys via telephone, and literature research
What is the Aesthetic Medicine Market?
Aesthetic medicine is defined as the medical treatments, surgeries, and other medical procedures for cleansing or beautifying human skins, transfiguring human bodies, reducing weight, and whitening teeth. In this research, size of the aesthetic medicine market in Japan is calculated based on the revenues of medical facilities.


<Products and Services in the Market>
Aesthetic medicine
Contact Us
©2021 Yano Research Institute Ltd. All Rights Reserved.
The copyright and all other rights pertaining to this report belong to Yano Research Institute.
Please contact our PR team when quoting the report contents for the purpose other than media coverage.
Depending on the purpose of using our report, we may ask you to present your sentences for confirmation beforehand.