Sporting Goods Market in Japan: Key Research Findings 2022 Domestic Sporting Goods Shipment Values for 2021 Anticipated to Generate 1,550,470 Million Yen, 110.7% on YoY
Yano Research Institute (the President, Takashi Mizukoshi) carried out a survey on the domestic sporting goods market and found out the market trend by product segment, trends of market players, and future perspectives.
Transition of Domestic Sporting Goods Market Size by Category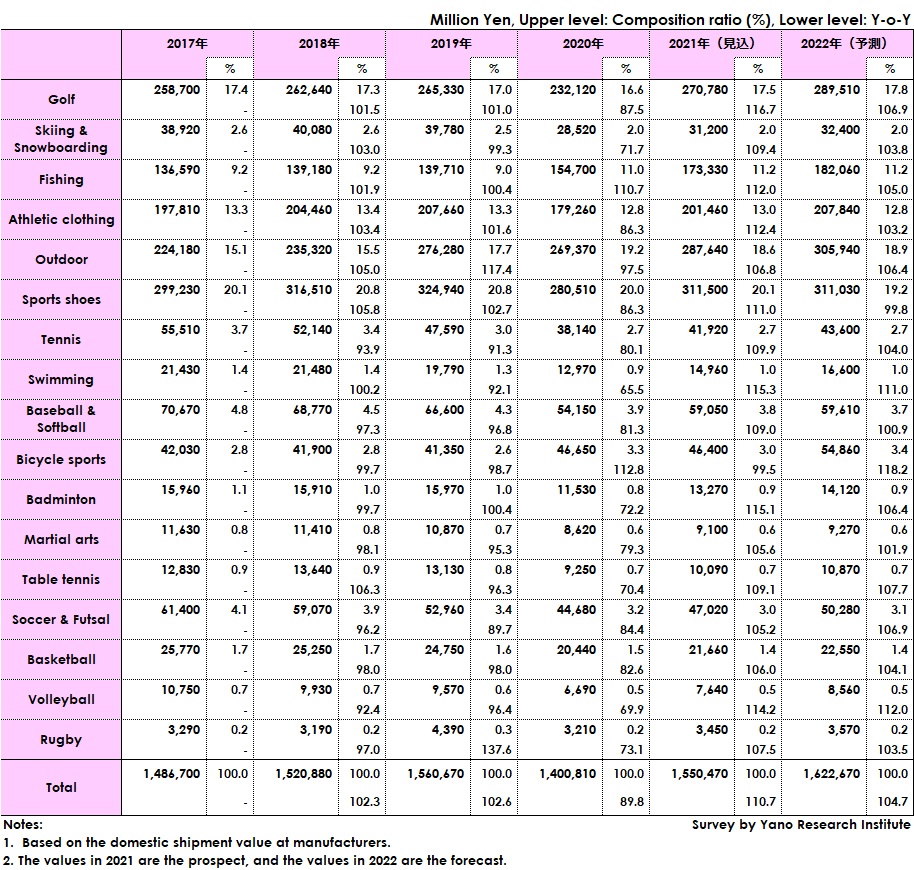 Market Overview
The domestic sporting goods market size in 2021, based on the domestic shipment value, is projected to rise to 1,550,470 million yen, 110.7% of that of the previous year. While the market in 2020 has considerably declined because sports events were suspended or postponed in the coronavirus crisis, the upsurge in demand is likely to bring about double digit growth in 2021. While there still are some restrictions for activities, sports events and school club activities have resumed to have stimulated the demand for sporting goods. In addition, due to lower risks of being infected, golf, outdoor activities, fishing, and bicycle sports have gathered attention and increased entry players who bought the goods relating to these sports and have driven forth the entire market growth.

Nevertheless, other than these categories, shipment of many sporting goods does not reach the level of 2019, making full-scale recovery of the market to be on hold. In addition, the influence of lockdown at major production countries of Southeast Asia, etc. has disrupted the supply chains for sporting goods. Normalization of supply chains is likely to take long, slowing down the market recovery.

Noteworthy Topics
With Total Floor Size 12,279 m2, Japan's Largest-Scale Sporting Goods Store Opened in Shinjuku, Tokyo
Alpen, a major sporting goods retailer opened a flagship store "Alpen TOKYO" in Shinjuku on April 1, commemorating the 50th anniversary in July 2022. The store has 10 levels of floors from the second basement to the 8th, with the total floor size 12,279 square meters, which is one of the largest in Japan.

The location is a minute walk from the east exit of Shinjuku Station, and at the intersection of major arterial roads, i.e. Shinjuku Street and Yasukuni Street. The floors are divided into "Sports Depo Flagship Store Shinjuku," "Alpen Outdoors Flagship Store Shinjuku," and "Golf 5 Flagship Store Shinjuku." Each store deals in the brands that no other Alpen group stores transact and starts new services to distinguish.

The focus hereafter will be whether or not other sporting goods retailers, such as Xebio Group that has stores in Shinjuku, Shibuya, and Ikebukuro, countermeasure by floor expansion, refurbishment, or new rollout of stores. It is possible for major sporting goods retailers to newly open a large store, which can bring about fierce competition in the metropolitan area centered on Shinjuku. In the future, a new sporting goods town may be born, outperforming Kanda Ogawacho in Tokyo.


Future Outlook
The sporting goods market is gradually returning to a brighter outlook for consumption recovery, with the market size expected to rise by 4.7% on a YoY basis to 1,622,670 million yen, a growth for the second consecutive year. The potential risks for downtrend are re-expansion of coronavirus infections, delay in rectification of supply chains, and some sporting goods manufacturers considering raising prices due to sharp rise in raw material prices.


Research Outline
1.Research Period: January to March 2022
2.Research Object: Sporting goods/sports gear manufacturers, importers, wholesalers, and retailers
3.Research Methogology: Face-to-face interviews (including online) by expert researchers, and mailed questionnaire
What is the sporting goods market?
The sporting goods market in this survey refers to the market of equipment and goods used in the following 17 sports categories: Golf, Ski/Snowboard, Fishing, Athletic clothing, Outdoor, Sports shoes, Tennis, Swimming, Baseball/Softball, Bicycle sports, Badminton, Martial arts, Table tennis, Soccer/Futsal, Basketball, Volleyball, and Rugby. The market size is calculated based on the shipment value (domestic shipment) at manufacturers.

Among the categories shown above, "Athletic clothing" includes clothing for training, lifestyle (casual wear), fitness, running and other field athletics. "Sports shoes" include running shoes, walking shoes, multi-purpose shoes (including casual sneakers), kids' shoes, training shoes (including fitness shoes), and sports sandals.


<Products and Services in the Market>
Golf goods, Ski/Snowboard gear, Fishing gear, Athletic clothing, Outdoor gear, Sports shoes, Tennis goods, Swimming goods, Baseball/Softball goods, Bicycle sports items, Badminton goods, Martial arts items, Table tennis goods, Fitness items, Soccer/Futsal goods, Basketball gear, Volleyball goods, and Rugby gear
Contact Us
©2021 Yano Research Institute Ltd. All Rights Reserved.
The copyright and all other rights pertaining to this report belong to Yano Research Institute.
Please contact our PR team when quoting the report contents for the purpose other than media coverage.
Depending on the purpose of using our report, we may ask you to present your sentences for confirmation beforehand.