Global 3D Printing Materials Market: Key Research Findings 2022 Global 3D Printing Materials Market Grew by 19.3% in 2021 on Year-on-Year Basis to 311,153 Million Yen
Yano Research Institute (the President, Takashi Mizukoshi) has conducted a research on the global 3D printing materials market, and found out the trends by printing process, the trends of market players, and future perspectives.
Transition and Forecast on Global 3D Printing Materials Market Size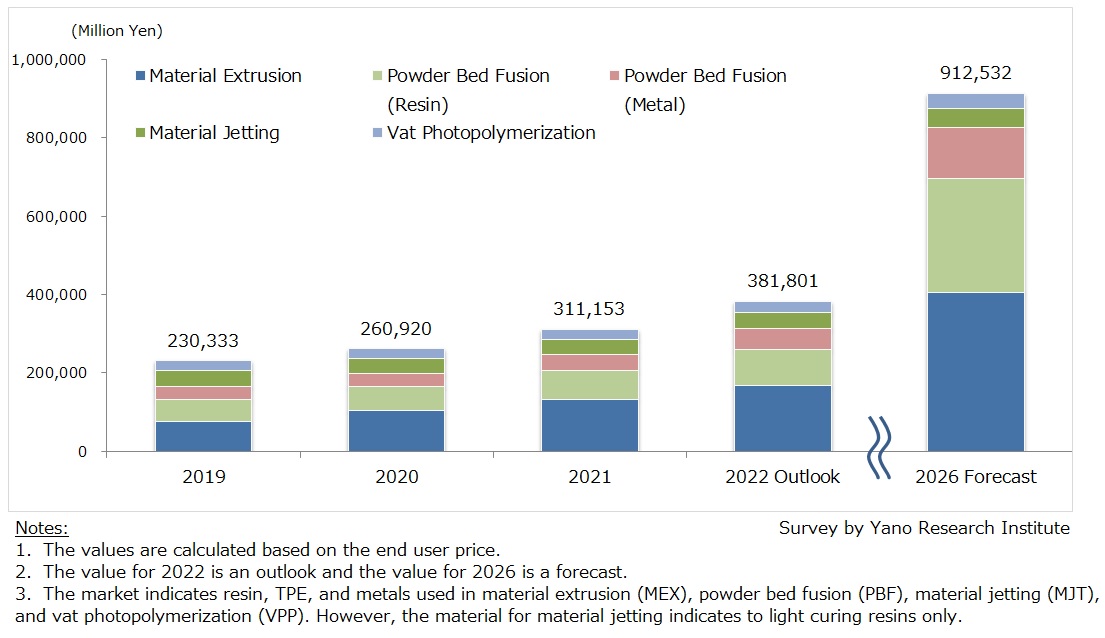 Market Overview
The global 3D printer materials market for 2021 is estimated 311,153 million yen (119.3% of the market size of the previous year, based on the end user price).

Viewing by printing process, MJT (material jetting), the technology chiefly used for prototyping, was impacted the most by the spread of novel coronavirus infections, and thus the demand for materials for this process diminished. Demand for materials used in creating prototype by VPP (vat photopolymerization) also decreased, however, the demand in medical sector underpinned the growth. The demand for MEX (material extrusion) printing turned for the better for industrial applications and stayed strong in consumer goods industry and medical industry. For PBF (powder bed fusion) technology, while the demand for PBF using metal power declined due to the slump of aerospace industry, the largest demander, the demand for PBF using resin powder increased for jigs, tools, and production parts.

Noteworthy Topics
Market Trends of Materials for MEX (Material Extrusion) 3D Printing
As 3D printers become affordable, users are expanding among consumers and in the consumer industry. In 2020, special demand rose for facial masks and face shields because of the spread of COVID-19 from the start of the year. In addition, demand for DIY and hobby items grew rapidly as people continued to stay home. The growth continued to the first half of 2021.

For industrial applications, material manufacturers have been releasing super engineering plastic materials like PEEK (polyether ether ketone) and PEI (polyetherimide), as well as glass fiber (GF)/carbon fiber (CF) reinforced high-performance filaments for 3D printing of production parts. Although the market was impacted by the lower operation rate of customer's manufacturing plants during the pandemic, the demand for the GF/CF reinforced 3D printing filaments is turning for the better from the latter half of 2021.


Future Outlook
Together with a faster printing speed, enhancement of materials in terms of mechanical properties and heat resistance expands adoption of 3D printing technology for making prototypes, jigs, tools, and other items of small- to medium-lot production.

Therefore, the global 3D printing materials market is projected to grow at compound annual growth rate (CAGR) of 24.0% between 2021 and 2026, reaching 912,532 million yen by 2026.


Research Outline
1.Research Period: January to March 2022
2.Research Object: Businesses related to 3D printers (device manufacturers, material makers)
3.Research Methogology: Face-to-face interviews by the expert researchers (including online interviews) and literature research
What is the 3D Printing Materials Market?
Various materials suited to each type of 3D printing processes are being developed and put to practical use. The main materials as such are resin, thermoplastic elastomers (TPE), metals, ceramics, wax, and gypsum. Furthermore, various kinds of additives are used in 3D printing, including binding fluids (to bond powdered materials) for binder jetting (BJ), reinforcing agents, conductive agents, and colorants.

In this research, the 3D printing materials refer to resin, TPE, and metals used in four types of 3D printing process, namely, material extrusion (MEX), powder bed fusion (PBF), vat photopolymerization (VPP), and material jetting (MJT), and the size of the 3D printing materials market is calculated accordingly. Nonetheless, the material for material jetting indicates to light curing resins only.





<Products and Services in the Market>
Resin, thermoplastic elastomers (TPE), metals
Contact Us
©2021 Yano Research Institute Ltd. All Rights Reserved.
The copyright and all other rights pertaining to this report belong to Yano Research Institute.
Please contact our PR team when quoting the report contents for the purpose other than media coverage.
Depending on the purpose of using our report, we may ask you to present your sentences for confirmation beforehand.