Global Flying Car Market: Key Research Findings 2022 Global Flying Car Market Expected to Expand to Over 120 Trillion Yen by 2050
Yano Research Institute (the President, Takashi Mizukoshi) has researched on the global market of flying cars, and found out the trends by area and/or country, by market players, and future outlook.
Global Flying Car Market Size Forecast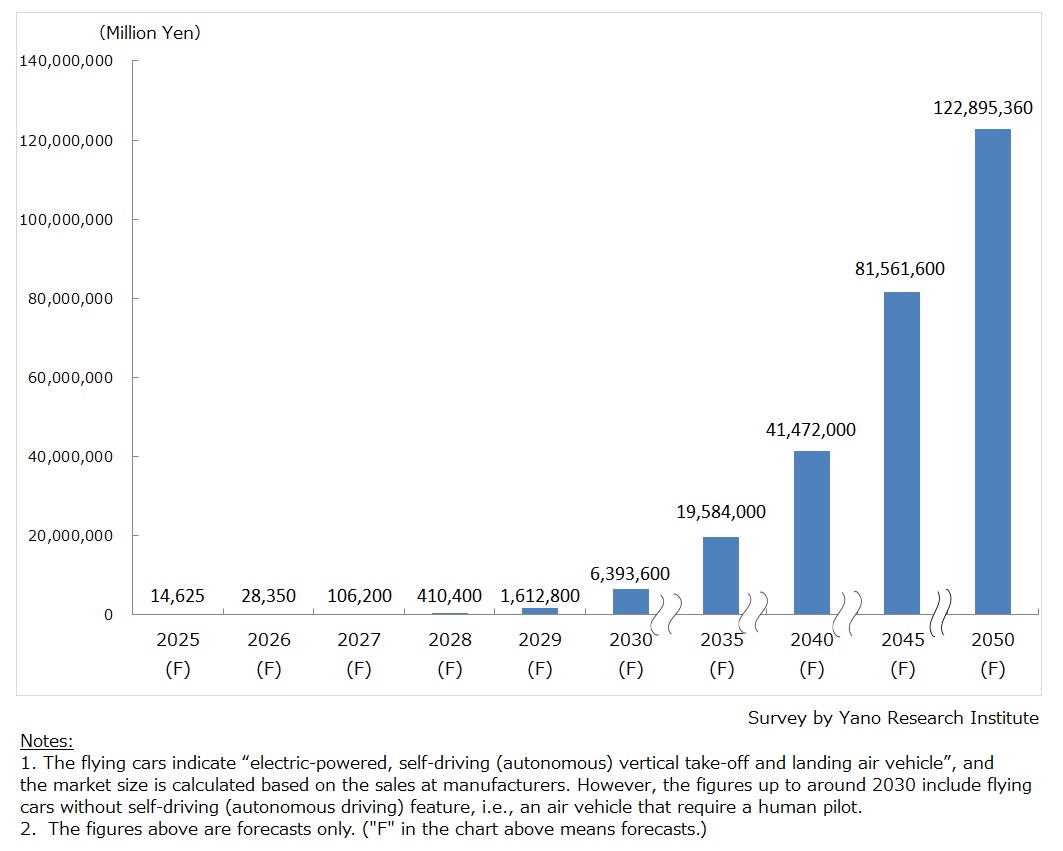 Market Overview
Since the release of business plan titled as "Uber Elevate White Paper" by an American service provider, Uber Technologies, Inc., based on which the company has been pursuing development of air vehicles vigorously, the flying car market has been expanding rapidly and is about to reach the commercialization phase.

Europe, North America, and China are the forerunners making a step ahead in the development of flying cars because small-size aircrafts are well recognized in these areas, and companies in these areas are speedy in proofs-of-concept. With drastic development of airframes and implementation of infrastructure, a number of flying car businesses are expected to launch in these areas from 2025.

In view of the situations and consideration for what may happen in each region, the global flying cars market (5 major world regions, including Japan and other areas) is predicted to generate 14,625 million yen by 2025. Nonetheless, this is considered to be just the beginning of enormous growth of a new industry.

Noteworthy Topics
Operational Standards Discussed for the First Domestic Commercial Flying Car to be Unveiled in Expo 2025
Commercial flying cars in Japan is also expected to launch in 2025, as it is planned to make a debut at "Expo 2025 Osaka, Kansai, Japan (Expo 2025)".

While Japan's Ministry of Economy, Trade and Industry (METI) and the Ministry of Land, Infrastructure, Transport and Tourism (MLIT) co-hosts the "Public-Private Committee for Advanced Air Mobility" (which announced the "Roadmap for the Air Mobility Revolution"), Osaka Prefectural Government kicked off the "Air Mobility Revolution Social Implementation, The Osaka Round Table" to accelerate the initiative. A group of stakeholders participate in the roundtable to exchange opinions actively and determine what should be done for actualizing commercialization of flying cars in the Osaka Bay area. Having discussed on enroute and terminal airspace configuration for individual use cases and listed issues to be addressed, the Osaka roundtable announced detailed action plan as a roadmap on March 23, 2022.

In line with the roadmaps, the Japanese government plans to expand the legal landscape for commercialization of flying cars by Expo 2025 and promote business growth further in the coming years.


Future Outlook
Flying cars is not just another vehicle for air transportation. Compared to traditional vehicles for tourism or racing purposes, the development of flying cars produces added value across various industries. Commercialization of the flying cars has a huge potential for expanding revenue growth at sectors both directly and indirectly related to the development of flying cars.

While implementation of necessary conditions for commercialization, like "increasing social acceptance", "advancing vehicle development", "constructing infrastructure and air traffic control system", and "expanding regulatory framework" are underway, the flying cars are expected to take off as a new transportation vehicle from 2030 to 2035, not only in leading areas in Europe, North America, and China, but also in Japan and other areas. The industry is forecasted to balloon globally as rapid increase of users are expected. As demand for flying car as private (personal) vehicle rises in 2040s, following the penetration of flying cars as public transportation, further expansion of the market is anticipated. Considering the outlook, the global flying car market is predicted to grow stably to reach over 120 trillion yen by 2050.

Although the flying cars industry faces a wide range of challenges, such as improving technology further for vehicle development and increasing social acceptance, none of this is impossible to deal with. To expand the market, it is also essential that we, the prospective customers, take an interest in new air vehicles and create social environment favorable for advancement of flying cars.


Research Outline
1.Research Period: November 2021 to March 2022
2.Research Object: Domestic and foreign manufacturers of flying cars, related makers, industry associations, government institutions, etc.
3.Research Methogology: Face-to-face interviews by the expert researchers (including online interviews) and literature research
What is the Flying Car Market?
The term "flying car" mostly refers to eVTOL (Electric Vertical Take-Off and Landing aircraft) overseas, which basically means "self-driving (autonomous) electric-powered vertical takeoff and landing air vehicle". Specifically, there are several types of such vehicles, including: 1) rotary-wing aircraft (rotorcraft) and fixed-wing aircraft, which are categorized as flyable piloted plane, 2) passenger drone, which is a type of drone (which generally indicates unmanned aerial vehicle piloted autonomously or remotely) with passengers on board, and 3) car body of electric vehicle (EV) provided with propellers and autonomous driving control system.

Flying car in this research indicates the "electric-powered, self-driving (autonomous) vertical take-off and landing air vehicle", and the market size is calculated based on the sales at manufacturers. However, the figures up to around 2030 includes a type of flying car without self-driving (autonomous driving) feature, i.e., an air vehicle that require a human pilot.


<Products and Services in the Market>
Flying cars (advanced air vehicle) only
Contact Us
©2021 Yano Research Institute Ltd. All Rights Reserved.
The copyright and all other rights pertaining to this report belong to Yano Research Institute.
Please contact our PR team when quoting the report contents for the purpose other than media coverage.
Depending on the purpose of using our report, we may ask you to present your sentences for confirmation beforehand.