Wedding Market in Japan: Key Research Findings 2022 Wedding Market (Total of Major Six Categories) for 2021 Forecasted to Recover to 117.6% of Previous Year to 1,494,500 Million Yen
Yano Research Institute (the President, Takashi Mizukoshi) has conducted a survey on the domestic wedding market, and found out the trends by major categories, the trends at market players, and future outlook.
Transition of Wedding Market Size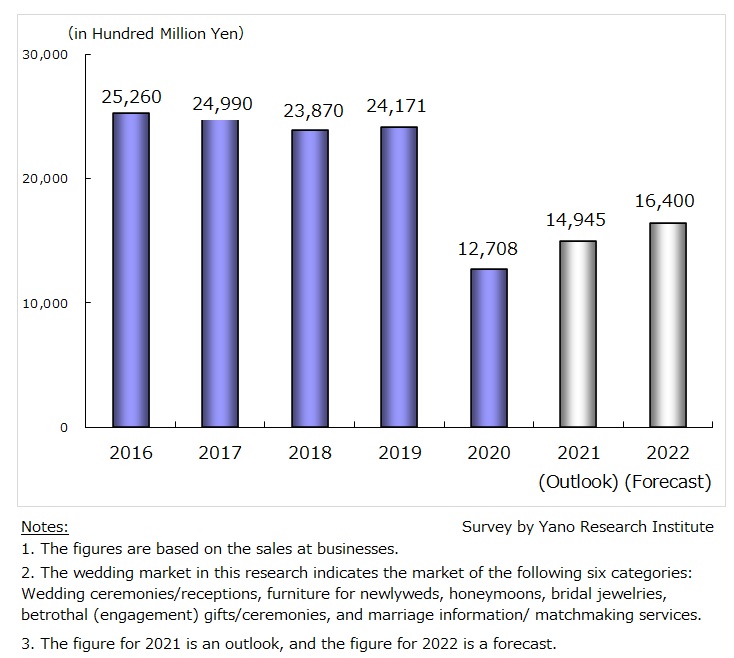 Market Overview
The wedding market (major six categories) is expected to reach 1,494,500 million yen in 2021, which is 117.6% of that of the previous year.

Although the industry revenue dipped from two billion yen in 2020, the level which had been sustained for years, the market turned for the better in 2021 due to influx of wedding ceremonies and receptions, the main category that represents at least 50% of the industry revenue. Per wedding ceremony and receptions, despite signs of recovery booming earlier than forecasted in the 2021 research, neither the number of ceremonies/receptions nor spending per couple has aligned back fully to the pre-pandemic level.

While the concept of "With Corona" has becoming more widespread, the market recovery is seen in the marriage information/matchmaking services category. People find spouses via in-person matchmaking parties and events incorporating thorough health and safety measures against the spread of coronavirus, which is offered jointly with online matchmaking menus.

Noteworthy Topics
New Businesses/Diversification of Wedding Venue Operators
Leading domestic wedding venue operators had been exploring another pillar of business as early as before the outbreak of COVID-19.

Major examples of the new businesses include overseas wedding planning service (for Japanese couples and local non-Japanese couples), food service, and small-sized hotel business. Although some companies have already established business foundation in food service, these cases are still partial. Incidentally, all of the new businesses were massively affected by the COVID-19 crisis.

In fact, there are already a few cases of new business, such as marriage matchmaking (spouse-hunting) service known as konkatsu service, marriage proposal planning service, and wedding photography service, which may be chosen as an alternative to wedding ceremonies by engaged couples. Except for the konkatsu service, these businesses had been relatively simple to initiate for the wedding venue operators, because the services can be operated with resources common to their main business.

Starting a completely new business needs huge capital investment and human resources. Considering the time required for training necessary personnel, medium- to long-term viewpoint is crucial. To tap into konkatsu business, the wedding venue operators are currently working in partnership with existing konkatsu service providers while they take M&A into consideration.


Future Outlook
The wedding market (total of six major categories) for 2022is projected to increase by 93.7% from the preceding year to 1,640,000 million yen.

While the spread of infection since the beginning of the year has caused some uncertainty, there is a positive outlook for 2022 as reservations for wedding ceremonies/receptions are robust into fall wedding season. Guest count, which directly affects total wedding spending, is also on an increasing trend.

Although small-sized celebrations continued to show popularity regardless of the COVID-19 crisis, an average guest size is expected to work its way closer to pre-pandemic numbers. On an assumption that (the rest of) the ceremonies and receptions booked in 2021 take place on the planned date, and the impact of decline in guest count stay minimal, the wedding market can expect a double-digit growth from the previous year, a recovery that is better than projected.


Research Outline
1.Research Period: January to March 2022
2.Research Object: Enterprises and organizations in the business of wedding services and product sales
3.Research Methogology: Face-to-face interviews by the specialized researchers (including online interviews), surveys via telephone and email, and literature research
What is the Wedding Market?
The wedding market in this research indicates the market of the following six categories: Wedding ceremonies/receptions, furniture for newlyweds, honeymoons, bridal jewelries, betrothal (engagement) gifts/ceremonies, and marriage information services/ matchmaking services. The category of wedding ceremonies/receptions include sales of overseas ceremonies planned and arranged in Japan.


<Products and Services in the Market>
Wedding ceremonies/receptions, furniture for newlyweds, honeymoons, bridal jewelries, betrothal gifts/ceremonies, and marriage information/matchmaking services
Contact Us
©2021 Yano Research Institute Ltd. All Rights Reserved.
The copyright and all other rights pertaining to this report belong to Yano Research Institute.
Please contact our PR team when quoting the report contents for the purpose other than media coverage.
Depending on the purpose of using our report, we may ask you to present your sentences for confirmation beforehand.