Global Cellulose Nanofiber (CNF) Market: Key Research Findings 2022 Global Cellulose Nanofiber (CNF) Market in 2022 Projected to Produce 80tons to Attain Shipment Value of 7,200 Million Yen
Yano Research Institute (the President, Takashi Mizukoshi) has conducted a survey on the global cellulose nanofiber (CNF) market for 2022 and has found out the market trends, the trends of market players, and future perspectives.
Forecast of Global CNF Market Size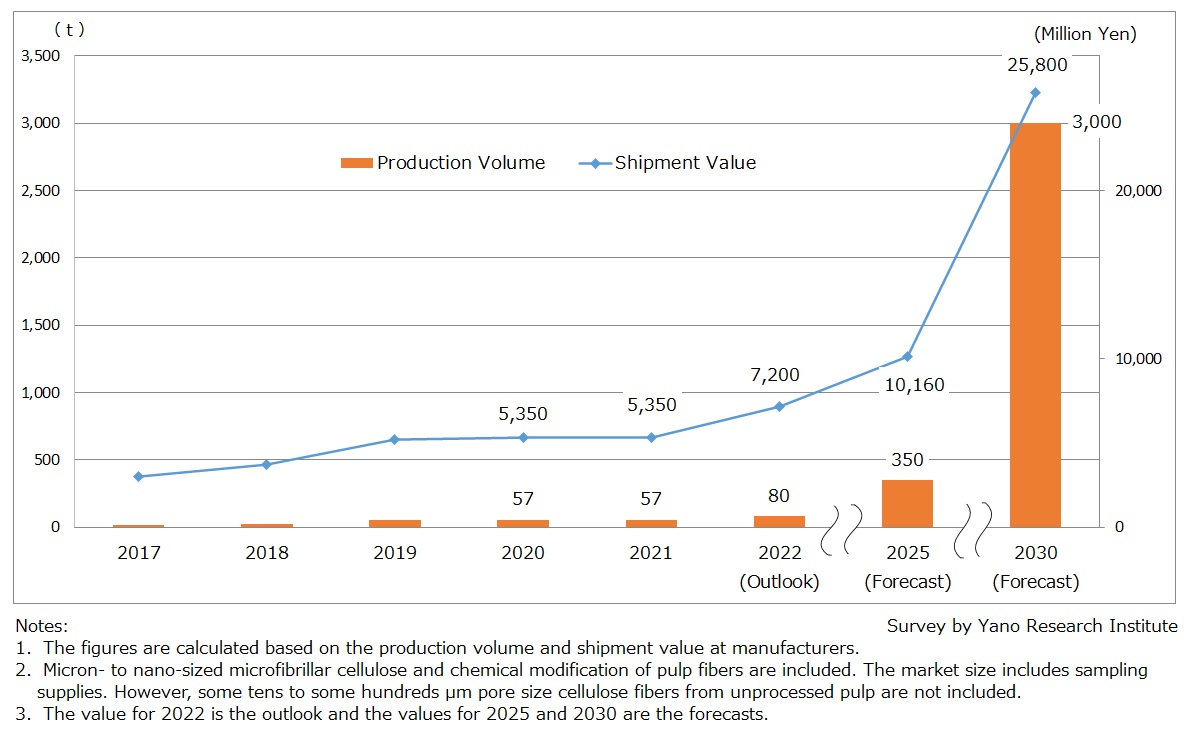 Market Overview
The global production volume of CNF in 2022 including sampling supplies (which covers micron- and nano-sized microfibril cellulose and chemically modified pulp by the "Kyoto process") is projected to reach 80tons, 140.4% of the previous year. By shipment value, it is expected to attain 7,200 million yen, 134.6% of the preceding year.

While CNF manufacturers gained momentum in the application development from the second half of 2021 onto 2022, production volume has been growing compared to previous years. Use of CNFs as functional additives for commercial products has been growing, particularly in areas as cosmetics, foods, and painting materials. As makers increasingly provide sampling supplies that are prototyped under conditions similar to actual production, and with six years of experience since the first commercial use of CNF, user companies (demanders) have tried using CNFs and acknowledged its advantages, such as dispersion stability and thixotropy, and therefore the use cases of CNFs in regular production are expanding.

However, although the combined production capacity of facilities owned by domestic CNF manufacturers exceeds 1,000 tons/year, the current utilization rate has not even reached 10%. To boost CNF production volume and raise utilization rate, manufacturers are required to develop and present CNFs that meets user companies' needs in terms of price, performance, and usability. Manufacturers are expected to introduce a broad range of applications to move on to mass production.

Noteworthy Topics
Progress in R&D to Improve Impact Resistance of CNF-reinforced Material for Automotive Components
CNF for constructional material of automotives and building materials are seen as the most promising application, as large quantities of CNFs are used for such materials. Meanwhile, to change from conventional material to resin, having strong impact resistance is a prerequisite from safety perspective, especially for automotives.


However, while CNF-reinforced composite resins are better in flexural modulus and bending strength compared to composite resins without CNF, it has an issue of reduced impact resistance. CNF manufacturers and CNF composite resin manufacturers are working to improve impact resistance for use in structural materials for automobiles, the main focus of their business.





Future Outlook
In addition to the features like light weight, high stiffness, and low thermal expansion coefficient, CNF's unique property of forming a network of nano-sized fibers provide performances that are not attainable by other materials. By utilizing these features, performance and usability of new products an be improved to the level that brings surprises to users.


Commercialization of new materials such as CNF depends on how to put through "surprising" promotions that go beyond users' imaginations without being constrained by conventional frameworks, in addition to novel performance and added-value suggestions that outperform the existing competitive materials. In order for CNF makers to successfully expand demand and to generate a new market, proposals with "excitement" that exceeds the users' and the market's expectations are necessary.


Research Outline
1.Research Period: January to March 2021
2.Research Object: Cellulose nanofiber makers (paper manufacturers, chemical manufacturers, etc.) and R&D institutions
3.Research Methogology: Face-to-face interviews by the expert researchers (including online interviews) and literature research
Cellulose nanofibers (hereinafter referred to as CNF/CNFs) are cellulose fibers included in pulp or wooden chips that are defibrated into nano size.
There are mainly three methods to extract CNFs from cellulose fiber included in plants: (1) Chemical disintegration method where hydrogen bond of molecular chains are loosened via catalyst or acid as a pretreatment of machine grinding; and Mechanical disintegration methods which can be categorized again into the (2) method using machines like high-pressure homogenizers to continuously break down cellulose fibers, grinding and refining until a desired level of fines is achieved in the resultant slurry of cellulose nanofiber; and the (3) method where nanofiber is obtained through cellulose-dispersed liquid collided with kinetic energy of water at high speed (aqueous counter collision method).


<Products and Services in the Market>
Cellulose nanofiber (CNF), products that are using CNF as an additive agent or as a reinforcement
Contact Us
©2021 Yano Research Institute Ltd. All Rights Reserved.
The copyright and all other rights pertaining to this report belong to Yano Research Institute.
Please contact our PR team when quoting the report contents for the purpose other than media coverage.
Depending on the purpose of using our report, we may ask you to present your sentences for confirmation beforehand.