Smart City Market in Japan: Key Research Findings 2022 Domestic Smart City Market Roadmap Forecasted until FY2030
Yano Research Institute (the President, Takashi Mizukoshi) carried out a survey on the domestic smart city market, and found out the trends and future perspectives of local government as well as the market players. This press release discloses the roadmap until FY2030 for the smartcity development led by local governments.
Roadmap of Smart City Market Development Led by Local Governments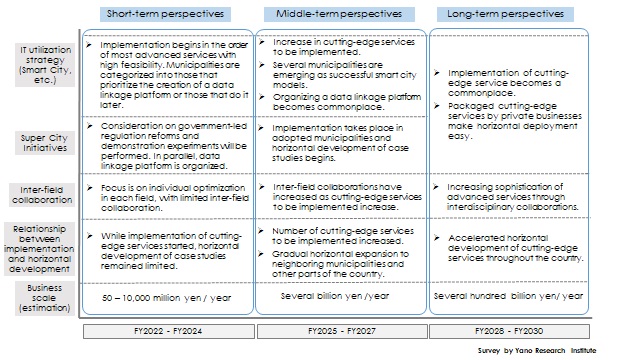 Summary of Research Findings
The Super City Initiative, promoted by the government as a pilot project of a future society to be achieved by around 2030, has triggered some movements in the smart city market participated by municipalities. As a roadmap of the domestic municipal smart city market, this research forecasts the trends through FY2030 for the following items: IT utilization strategy, Super City Initiatives, inter-field collaborations, the relationship between implementation and horizontal deployment, and business scale (approximate).

In the short-term perspective (FY2022-2024), some precedents are expected to be created at the municipalities designated to implement the Super City Initiative that the government promotes. With the support by way of government-led regulation reforms and subsidies, commencement of services using cutting-edge technologies such as AI, IoT and big data analysis as well as creation of a data linkage platform (city OS) are planned to be implemented. The smart city market advances furthermore, as some efforts are to be made at districts other than those designated for the Super City Initiative.

In the middle-term perspective (FY2025-2027), by disclosing the results of the Super City Initiative, introduction of cutting-edge services is anticipated to gradually spread to neighboring municipalities and then nationwide. By then, organizing of a data linkage platform (city OS) is likely to be a commonplace in the municipalities that promote smart cities. In addition, the data linkage platform (city OS) encourages data across multiple fields to be used proactively, which are likely to further improve the solutions.

In the long-term perspective (FY2027-2030), utilization of IT technologies for solving local problems and improving services for residents at local governments is expected to be natural. It is because the private businesses package the cutting-edge services by which to make them easy to deploy horizontally to nationwide. It is expected that data linkage platform (city OS) and cutting-edge services will be implemented broadly at many municipalities, regardless of population size.

Noteworthy Topics
While Efforts at Municipalities in Progress, Issue of Budgets Is an Obstacle

For the open calls to be Super Cities, 31 municipalities (a common proposal by multiple organizations is counted as one) applied with their proposals, but the government asked for resubmission in August 2021, which have not yet been adopted as of February 2022. In such a situation, each municipality has hammered out its own policy to implement the measures using IT to solve local issues, regardless of whether the proposals will be adopted or not.



In the situation of stringent finance in the aging society with decreased number of children and rural depopulation, the common issue for municipalities is securing of budgets. There are many municipalities suffering from budget shortage in initial cost for the smart city project as well as running costs to continuously pressing ahead with the measures.

Private businesses that involve in smart cities, on the other hand, are currently in the process of exploring business models by conducting demonstration experiments, as there are many solution areas where it is difficult to establish business with the budget from municipalities alone. They are required to establish a monetization method to make the business sustainable.

Research Outline
1.Research Period: November 2021 to January 2022
2.Research Object: Local govenments, smartcity-related solutions providers
3.Research Methogology: Face-to-face interviews (online included) by expert researchers, and literature research
Municipal Smart City Market
The municipal smar city market in this research refers to the market of municipality-led smart city projects (including super cities), with the business size calculated from the solutions utilizing various cutting-edge technologies regarding designing, consulting, data linkage platform, city OS, telecommunication infrastructure. This research does not include those smart city projects led by private businesses.


<Products and Services in the Market>
Designing of smart city (including super cities), consulting, data linkage platform, City OS, telecommunication infrastructure, Solutions using state-of-the-art technologies using IoT/AI/Big data analysis in the fields of transportation / distribution of goods / payment / administration / medical care & long-term care / energy / disaster prevention / and tourism
Published Report
Contact Us
©2021 Yano Research Institute Ltd. All Rights Reserved.
The copyright and all other rights pertaining to this report belong to Yano Research Institute.
Please contact our PR team when quoting the report contents for the purpose other than media coverage.
Depending on the purpose of using our report, we may ask you to present your sentences for confirmation beforehand.