Market of IT Solutions for Local Governments in Japan: Key Research Findings 2021 Market Size of Municipal IT Solutions Shrinks by 3.1% to 664,550 Million Yen in FY2021
Yano Research Institute (the President, Takashi Mizukoshi) has conducted a survey on the domestic market of IT solutions for local governments, and found out the market overview, future perspectives, and the trends at service providers.
Transition of Market Size of IT Solutions for Local Governments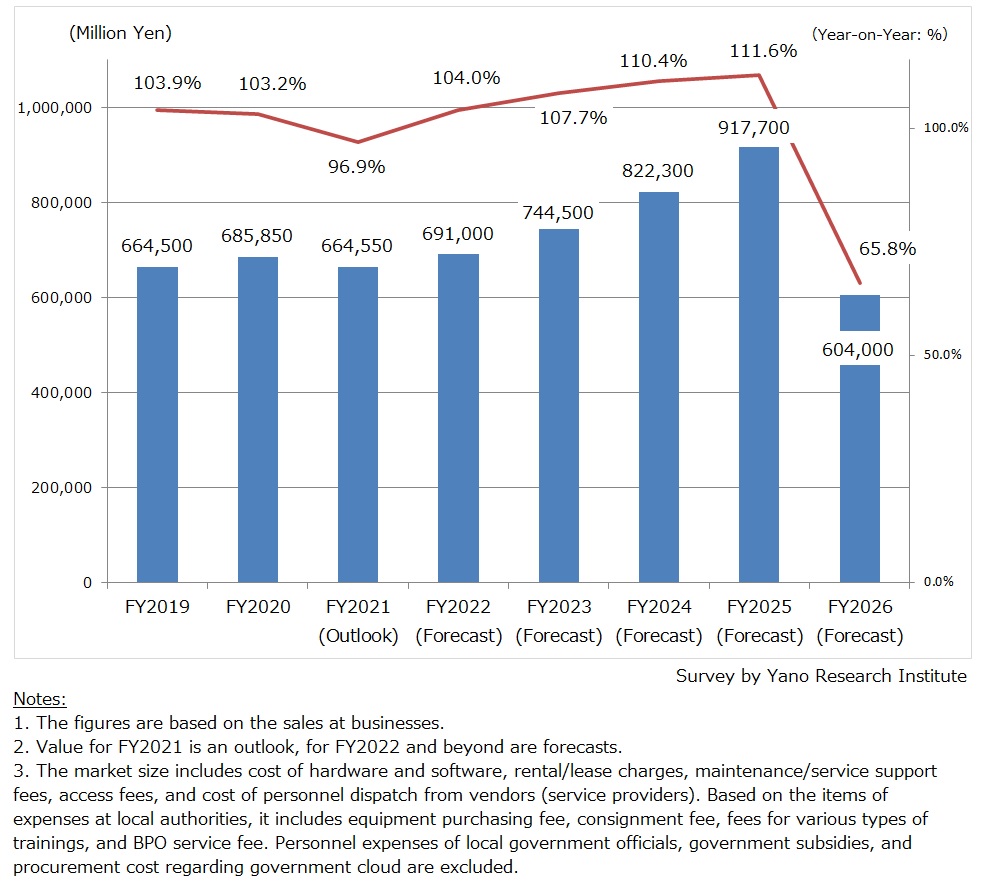 Market Overview
The domestic market size of IT solutions for local governments for FY2020 is valued at 685,850 million yen (up 3.2% from the previous fiscal year). Because the government made an announcement to standardize/commonize IT systems of municipalities, many local governments refrained from investing on renewal of their mission critical systems, and therefore the market shrank. Meanwhile, the use of business process outsourcing (BPO) has expanded because of various policies during the coronavirus outbreak, including special cash handout for households and subsidies, which required additional system installations, administrative agencies, and correspondence solutions.

Considering that local governments continue to wait on the standardization specifications for mission critical systems, and that pandemic-related demands have diminished compared to FY2020, the market for FY2021 is forecasted to drop by 3.1% from the preceding fiscal year to 664,550 million yen.

Noteworthy Topics
Standardization of Mission-Critical Systems as Focal Point for FY2022-2025
As the government designated 20 business operations as the targets for standardization of municipal information systems, system specifications have been announced successively. New systems compliant with the specifications will be provided by vendors, and migration to the new system is expected to be in full swing around FY2023-2024. Standardization will be done concurrently with the migration to government cloud, a common government cloud service. Although it is a not obligatory, many municipalities are likely to use the government cloud because it is eligible for a government subsidy.


For these reasons, the market growth is foreseen; however, there are quite a few challenges. The schedule may be too tight for both local governments and vendors to comply with the standard specifications by FY2025. On the vendors side, there is an urgent need to address the lack of resources to support system migration at municipalities.


Future Outlook
Due to the standardization of mission critical systems and migration to the government cloud, which temporarily increases the system cost for local governments, the market is expected to grow between FY2023 and 2025 by around 10% year-on-year, during the period when the transition reaches its peak. As the transition is complete, then it will decline significantly; in FY2026, it is projected to fall by 34.2% from the previous fiscal year to 604,000 million yen. In fact, the government's objective to promote standardization and migration to government cloud is to cutdown the budget of IT system deployment at local governments. The slowdown is exactly as planned.


In order to compensate for the decline in sales of conventional information systems business, providers of IT solutions for local governments need to develop business strategies to capture new demands for service business like BPO, DX-related projects at municipalities led by the government, the Smart City/Super City initiatives, and 'Digital Garden City State Concept' (extension of digital infrastructure to rural areas).


Research Outline
1.Research Period: October 2021 to January 2022
2.Research Object: Providers of municipal IT solutions
3.Research Methogology: Face-to-face interviews by the specialized researchers (including online interviews) and literature research
The solutions for local governments in this research indicate IT systems deployed by local authorities. The market size is based on purchase cost of hardware and software, rental/lease fee, maintenance/service support fee, network access fee, and fees for vendor personnel dispatch (service providers).
Based on the items of expenses at local authorities, it includes equipment purchasing fee, consignment fee, fees for various type of trainings, and BPO service fee. Personnel expenses of local government officials, government subsidies for local governments, and procurement cost of government cloud are excluded.


<Products and Services in the Market>
Mission-critical solutions, internal information systems, field solutions, and DX solutions for local governments
Published Report
Contact Us
©2021 Yano Research Institute Ltd. All Rights Reserved.
The copyright and all other rights pertaining to this report belong to Yano Research Institute.
Please contact our PR team when quoting the report contents for the purpose other than media coverage.
Depending on the purpose of using our report, we may ask you to present your sentences for confirmation beforehand.