Cold Chain Logistics Market in Japan: Key Research Findings 2021 Cold Chain Logistics Market Size for FY2020 Attained 1,750 Billion Yen (98.3% YoY)
Yano Research Institute (the President, Takashi Mizukoshi) has conducted a survey on the cold chain logistics market in Japan and has found out the market size, trends of market players, and future perspectives.
Transition and Forecast of Cold Chain Logistics Market Size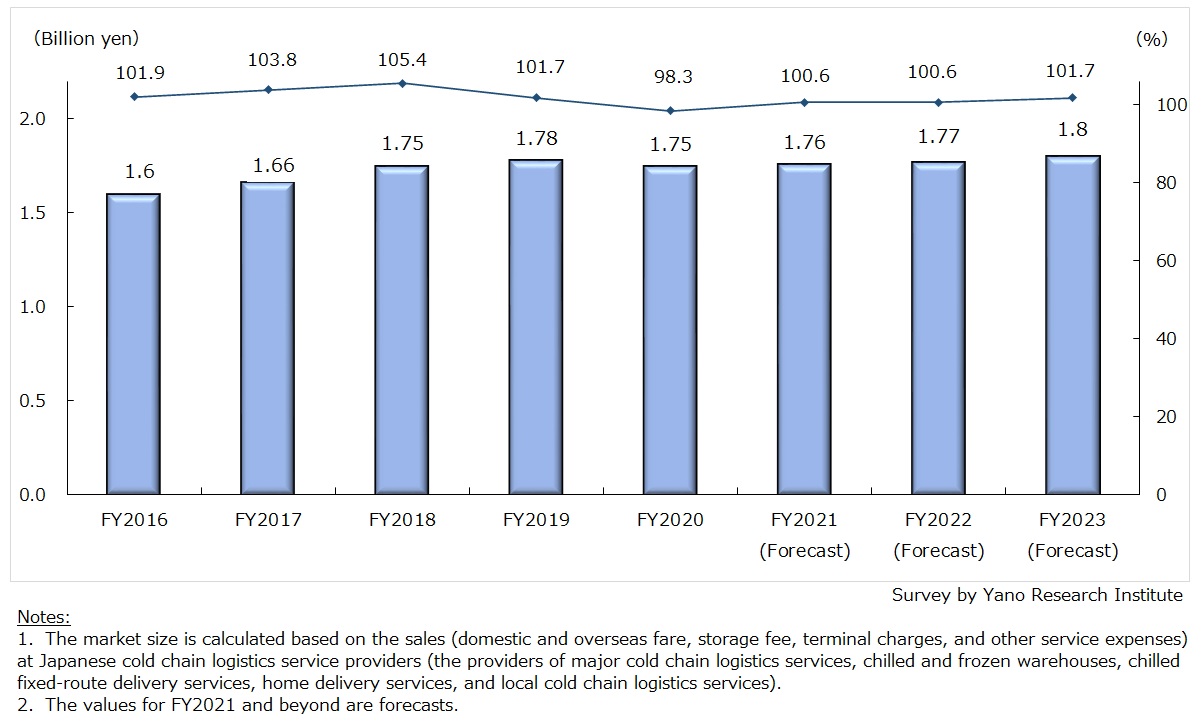 Market Overview
The cold chain logistics market size for FY2020, calculated based on the domestic and overseas sales at Japanese cold chain logistics service providers, was valued at 1,750 billion yen, 98.3% of the size of the previous year. Despite the stable growth until FY2019, it turned for the worse in FY2020.

The decline attributes mostly to the slump of the dining industry due to voluntary lockdown and decrease of inbound tourism demand (demand spurred by foreigners visiting Japan) during COVID-19 crisis. The situation caused the demand for professional-use frozen foods to diminish. Although the rise of cocooning demand boosted the demand of frozen foods for household, it was not enough to cover a decrease in sales of frozen foods for business use. Scale down of the consumption of frozen foods (for business and for household) was one of the reasons for the shrinkage of the cold chain logistics market.



Noteworthy Topics
Urgent Need to Solve Truck Driver Shortage
The new regulation that caps overtime at 960 hours a year for truck drivers will be effective from April 2024. In anticipation of the "2024 issues" worsening driver shortage, companies are prepared with countermeasures. A noteworthy characteristic of the measures taken at cold chain logistics companies is how they place importance on shortening per driver travel distance by relay trucking or a modal shift.


The relay trucking indicates the transportation method of 'sharing' a single freight with multiple drivers. Modal shift refers to a change of transportation method from trucks to coastal vessel transport and/or railway, which is also expected to be effective as a way of reducing CO2 emission. Moreover, acquisitions of local refrigerated carriers by large and mid-size cold chain logistics companies, for the purpose of expanding trucking capacity, are becoming rather conspicuous. Further acquisitions are expected hereafter to solve a shortage of truck drivers.





Future Outlook
The market size of cold chain logistics is projected to reach 1,760 billion yen by FY2021, 100.6% of the size of the previous fiscal year, based on the domestic and overseas sales at Japanese cold chain logistics service providers.


Rising popularity of mail-order foods, expansion of business operations at service providers, and increase of budget for logistics at customers may contribute to the market expansion. On the other hand, the constructive efforts by the cold chain logistics industry to streamline transportation may reduce the distribution expenses at customers, which may, ironically, impede the market growth.





Research Outline
1.Research Period: September to December 2021
2.Research Object: Logistics companies, wholesalers, makers in cold chain logistics, and the competent authorities
3.Research Methogology: Face-to-face interviews by the expert researchers (including online interviews), surveys via telephone, and literature research
Cold Chain Logistics Market
The cold chain logistics market in this research refers to a logistics system with the temperature controlled throughout the supply chain from production to consumption. In the system, the temperature must not deviate either from the following fixed ranges, i.e., constant temperature (5°C to 18°C), chilled (-18°C to 10°C), or frozen (-18°C or less).


The cold chain logistics market in this research is calculated based on the sales (domestic and overseas fare, storage fee, terminal charges, and other service expenses) at Japanese cold chain logistics service providers (the providers of major cold chain logistics services, chilled and frozen warehouses, chilled fixed-route delivery services, home delivery services, and local cold chain logistics services). However, the sales of major trading houses, wholesalers specific to perishable foods, major food wholesalers, and other wholesalers are not included. Those mid-and-small size and individual service providers that mainly receive transportation/delivery orders are also excluded.





<Products and Services in the Market>
Cold chain logistics of food and (some) chemicals
Contact Us
©2021 Yano Research Institute Ltd. All Rights Reserved.
The copyright and all other rights pertaining to this report belong to Yano Research Institute.
Please contact our PR team when quoting the report contents for the purpose other than media coverage.
Depending on the purpose of using our report, we may ask you to present your sentences for confirmation beforehand.