Call Center Service & Contact Center Solution Markets in Japan: Key Research Findings 2021 FY2020 Call Center Service Market Grew by 4.6% YoY to Attain 1,042,100 Million Yen, Contact Center Solution Market Rose by 1.5% YoY to Yield 513,800 Million Yen
Yano Research Institute (the President, Takashi Mizukoshi) has conducted a survey on the domestic markets of call center services and contact center solutions, and has found out the market trend by service, the trend of market players, and future perspectives.
Transition and Forecast of Domestic Call Center Service Market Size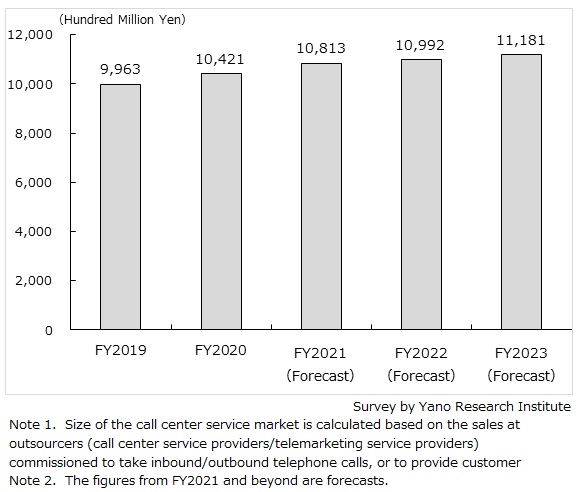 Transition and Forecast of Domestic Contact Center Solution Market Size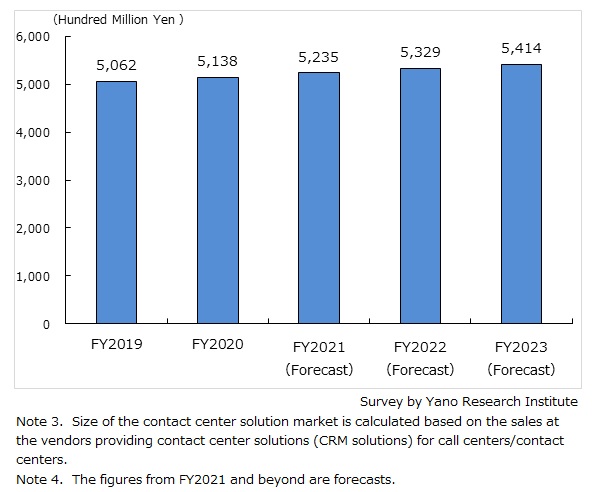 Market Overview
The domestic call center service market in FY2020 grew by 4.6% from the preceding fiscal year to attain 1,042,100 million yen (based on the sales at call center service providers).

A large need for hotlines and call centers in the public sector and government agencies related to the COVID-19 pandemic contributed to the market expansion in FY2020. Higher demand for call center outsourcing was witnessed in private sectors, too, against the background of labor shortage and amendments to the Worker Dispatch Act.

The domestic contact center solution market in FY2020 rose by 1.5% from the previous fiscal year to attain 513,800 million yen (based on the sales at contact solution service vendors).

Despite the restrictions in economic activity on the spread of COVID-19, all in all, the market has shown consistent growth for FY2020. In general, contact solution vendors saw stable growth.

One of the market drivers was the increased investments in contact center solutions by industries such as e-commerce, retail, mail-order, public sector and medical institutions. The COVID-19 situation added importance and significance to call center as a touchpoint to engage customers without face-to-face interactions.

Noteworthy Topics
COVID-19 Situation Increasing Importance of Call Center as Customer Touchpoint
In the COVID-19 outbreak situation, user companies have no choice but to change their customer communication methods (from in-person) to contactless and touchless ways. For this aspect, call center is playing an important role as a contactless customer communication tool.


Under the circumstances where increasing number of user companies aim to improve customer experience (CX), call center is expected to become a critical customer touchpoint. As has been said in the last couple of years, the role of call center is transforming from reducing cost to improving customer engagement; in other words, it is changing from cost center to profit center.


Future Outlook
Fueled by the start of new projects in the public sector and government agencies against the backdrop of COVID-19, the call center service market enjoyed good sales in the first half of FY2021. At user companies, demand for call center outsourcing is growing due to labor shortage and amendments to the Worker Dispatch Act.


Another factor that motivates the use of outsourcing service is that increasing number of call centers have become multichannel, not relying solely on phone calls but also on chat, social media, and emails. This trend has been accelerated by COVID-19 crisis.


On the other hand, unfavorable situations are also witnessed amid COVID-19: deterioration of business performance at user companies and increasing uncertainty of business environment has led to shrinkage of business deal size, while increase of operation from home and non-phone operation diminished the unit price per deal.


Considering these facts, it is assumed that the call center service market will continue to grow stably from FY2021.


As companies are strongly aware of the importance of contact center as a contactless customer touchpoint during the pandemic, investment on contact center is projected to continue in FY2021 and beyond.


Rise of the composition ratio of cloud-based contact centers in the market during COVID-19 situation leads to the drop in the service unit price. Nevertheless, it also opens up opportunity to spread the contact center service to SMEs that had not been the core users and to expand multichannel operations. Moreover, system development to improve customer experience in multitude of touchpoints will be enhanced.


For these reasons, the role of contact center increases as a contactless customer touchpoint. The contact center solution market is forecasted to stay strong.


Research Outline
1.Research Period: July to October 2021
2.Research Object: Call center service providers and contact center solution (CRM solution) vendors
3.Research Methogology: Face-to-face interviews by the expert researchers (including online), surveys via telephone/email and literature research
Size of the call center service market in this research is calculated based on the sales at outsourcers (call center service providers/telemarketing service providers) commissioned to take inbound/outbound telephone calls, or to provide customer support services through web/fax.


Size of the contact center solution market in this research is calculated based on the sales at the vendors providing contact center solutions (CRM solutions) for call centers/contact centers.


<Products and Services in the Market>
Call center services (inbound, B2B outbound, B2C outbound, temporary staffing, commissioned service, outsourcing, helpdesk, customer service, sales support, reminder service [demand notice], customer support services through web/fax/social media), contact center solutions (hardware, software, SI/service/support, SaaS [Software as a Service])
Contact Us
©2021 Yano Research Institute Ltd. All Rights Reserved.
The copyright and all other rights pertaining to this report belong to Yano Research Institute.
Please contact our PR team when quoting the report contents for the purpose other than media coverage.
Depending on the purpose of using our report, we may ask you to present your sentences for confirmation beforehand.