Human Resources Business Market in Japan: Key Research Findings 2021 Three Major Categories in HR Business Rose by 0.3% on YoY to 8,222.5 Billion Yen for FY2020
Yano Research Institute (the President, Takashi Mizukoshi) carried out a survey on the domestic human resources business market and found out the trends by service category, the trends of market players, and the future outlook.
Transition of Market Size of Three Major Categories within HR Business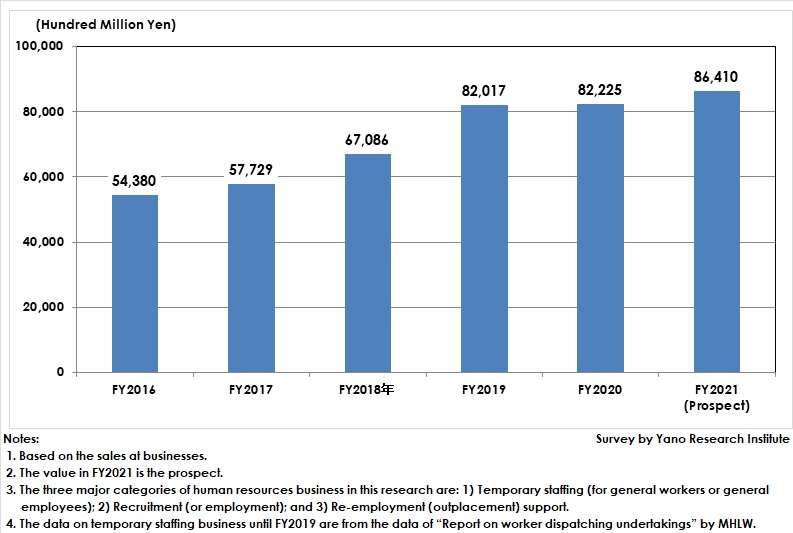 Market Overview
The major three categories of human resources (HR) business market (i.e. temporary staffing, recruitment, and re-employment/outplacement support) based on the sales at the service providers in FY2020 grew by 0.3 percent on a year-on-year basis to have attained 8,222,500 million yen. In details, temporary staffing rose by 0.9 percent on a YoY to 7,940,000 million yen, recruitment down by 18.2 percent on a YoY to have generated 252,000 million yen, and re-employment/outplacement support rose by 23.0 percent on a YoY to 30,500 million yen.

While the demand for manpower considerably declined due to stagnant economic activities stemming from the COVID-19 calamity, many businesses in the temporary staffing market managed to secure sales because the client companies maintained the employment and because of the increased unit price charged per dispatched staff due to the equal pay for equal work system.

Just like the case of temporary staffing, the recruitment market saw a decline in demand, as companies became more cautious in their hiring activities due to the stagnation of economic activity caused by the COVID-19 pandemic, which diminished the market size from the previous year.

The outplacement market continued to expand from the previous fiscal year, as the COVID-19 pandemic caused many companies to implement early and voluntary retirement to reduce their workforce, which increased the demand for the service concerned.

Noteworthy Topics
Status of Digitalization and Digital Transformation in Major Three HR Categories
As a part of Work Style Reform, the companies in HR business that address digitalization or digital transformation have increased from several years ago. Affected by expansion of the COVID-19 infections since 2020, people were recommended to stay at home as much as possible and to reduce the opportunities to contact with each other, and were discouraged to commute. Such a status has accelerated digitalization and digital transformation at corporate systems, service provisions, etc. Those companies planning to deploy or develop various digital tools have achieved earlier deployment and releases than their schedules.

The common actions taken at each category are "continuous promotions of telework," "RPA (Robotic Process Automation) of workflows," "implementation of communication tools including chat," and "continuous online interviews."

To reduce workloads of internal business operations, the documents of contracts, billing, and other application papers are becoming increasingly digitalized and paperless, while RPA is introduced as needed for input of data in back-office operations. For the communication with service users (temporary staff, job seekers, etc.,) handy tools such as chat bot and online interviews are effective methods to help reduce both workloads at the service providers and users.

There have been many attempts of encouraging digitalization at user companies through provision of various business support tools. By utilizing the knowhow that has been accumulated through the experiences of making sales activities and back office operations to be online, there are companies that have developed and are promoting those sales support tools for making target lists, HR support/visualization tools, and project management tools to contribute in streamlining of work even in the telework environment.


Future Outlook
The major three categories of human resources (HR) business market (i.e., the services of temporary staffing, recruitment, and re-employment or outplacement support) in FY2021 is expected to rise by 5.1% on a YoY basis to reach 8,641,000 million yen based on the sales at the service providers.

Though many businesses are still feeling uneasy about the vague future, the prospect of recruitment demand being on the recovery from the latter half of FY2020 and expanding use being expected for re-employment support services aiming at older persons and for career support services, all the major three categories in the market are projected to expand.


Research Outline
1.Research Period: June to September 2021
2.Research Object: Agencies and companies in temporary staffing service providers (mainly for office works), recruiting firms that handle white-collar-jobs and office works, and outplacement agencies
3.Research Methogology: Face-to-face interviews by the expert researchers, mailed questionnaire, and literature research
The Human Resources Business Market?
The three major categories of human resources business in this research are: 1) Temporary staffing (for general workers or general employees); 2) Recruitment; and 3) Re-employment (outplacement) support. The data on temporary staffing business until FY2019 are from the data of "Report on worker dispatching undertakings" by MHLW.


<Products and Services in the Market>
Temporary staffing, Recruitment, Re-employment (outplacement) support
Contact Us
©2021 Yano Research Institute Ltd. All Rights Reserved.
The copyright and all other rights pertaining to this report belong to Yano Research Institute.
Please contact our PR team when quoting the report contents for the purpose other than media coverage.
Depending on the purpose of using our report, we may ask you to present your sentences for confirmation beforehand.