Corrugated Fiberboard Market in Japan: Key Research Findings 2021 Recovery Still Uncertain for Corrugated Fiberboard Market
Yano Research Institute (the President, Takashi Mizukoshi) has conducted a survey on the corrugated fiberboard market in Japan, and found out the trends by market players, the trend by application, by region, and future perspective.
Transition and Forecast of Domestic Corrugated Fiberboard Market Size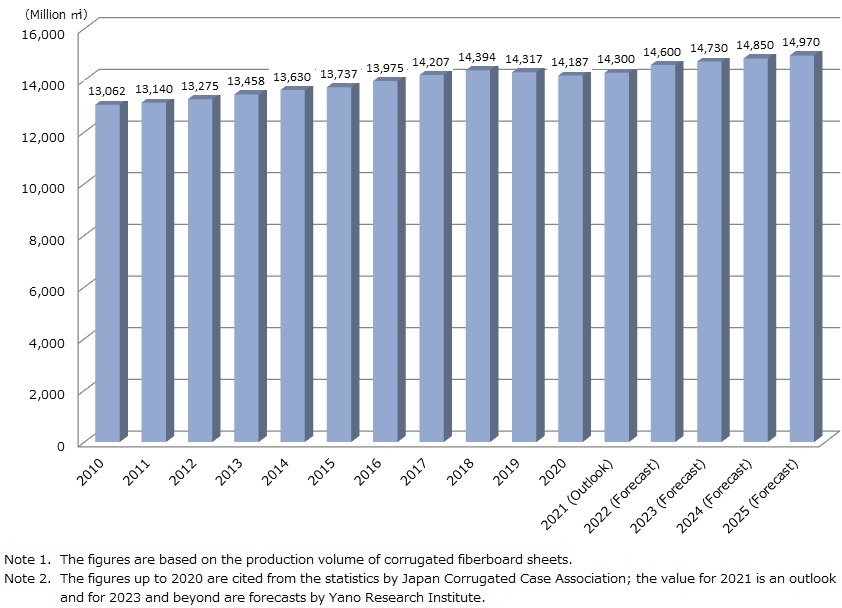 Market Overview
According to the statistics of Japan Corrugated Case Association, the domestic production volume of corrugated fiberboards in 2020 was 14,187.35 million square meters. Since the demand of corrugated fiberboards relates closely to economic trends, stagnation of economic activities led by voluntary lockdown during COVID-19 pandemic had a serious impact. As per packaging for processed foods (including beverages), which is the largest application of corrugated fiberboards, demand for packaging of products for vending machines and convenience stores plummeted. Meanwhile, the volume of packaging for green grocery distributed to businesses fell not only by the pandemic but also by torrential rain. Moreover, as disruption in supply chain shrank exports mainly in automobile industry, the demand for packaging of electric machine and appliances showed a highest rate of decline in the demand field. Fewer outpatient visits to clinics, reduced access to medications, and sharp drop in the number of foreign tourists visiting Japan caused a downturn in the volume of corrugated fiberboard packaging for drugs, detergents, and cosmetics.

Noteworthy Topics
Containerboard Price Increase Anticipated Due to Rise in Export Prices of RCP and OCC
Disrupted by the COVID-19 pandemic, the production of paper/paperboard decreased, which also led to decline in the volume of recovered paper (RCP) and old corrugated containers (OCC). Combined with the high domestic demand for corrugated fiberboards in the US market and shortage of shipping containers, the export of RCP/OCC from Southeast Asia is slowing down. While expansion of e-commerce market is stimulating the demand for corrugated fiberboards in China and Southeast Asia, scarcity of supply is anticipated in the global market. Because of the situation, the prices of RCP/OCC that dropped significantly in 2019 have been increasing from 2020 to 2021. Since the tight supply of RCP/OCC is likely to continue, there is a possibility of containerboard price increase.


Future Outlook
Despite the delays in some fields, the overall market of corrugated fiberboards for 2021 is seeing recovery from the previous year, and is expected to surpass last year's results. Nevertheless, negative factors, such as the impact of torrential rains in the latter half of August due to "senjo kosuitai" (linear rain bands) on the shipment of green grocery, supply shortage of semiconductors that put a brake on the automobile industry, and possibility of sixth wave of COVID-19 infections in winter may decelerate the recovery of Japanese economy. It is still uncertain if the market will get back to the pre-pandemic level, as in 2018 or in 2019.


Full scale recovery of demand for corrugated fiberboards is forecasted in 2022. From then on, the market is expected to grow moderately. The production volume of corrugated fiberboards for 2025 is projected to rise by 5.5% from 2020 to reach 14,970 million square meters.


Research Outline
1.Research Period: July to September 2021
2.Research Object: Corrugated fiberboard manufacturers, material paper manufacturers, end user companies, trading firms, and distributors
3.Research Methogology: Face-to-face interviews by the expert researchers, interview by telephone, mailed questionnaire and literature research
Values from 2010 to 2020 is cited from the statistics by Japan Corrugated Case Association; the value for 2021 is an outlook and for 2022 and beyond are forecasts by Yano Research Institute, respectively.


<Products and Services in the Market>
Corrugated Fiberboard Sheets
Contact Us
©2021 Yano Research Institute Ltd. All Rights Reserved.
The copyright and all other rights pertaining to this report belong to Yano Research Institute.
Please contact our PR team when quoting the report contents for the purpose other than media coverage.
Depending on the purpose of using our report, we may ask you to present your sentences for confirmation beforehand.