Next Generation Mobility Market in Japan: Key Research Findings 2021 Driven by Social Problems, Domestic Sales of Next Generation Mobility (Electric Trikes, Electric Mini Cars, Ultra-Compact Mobility Cars) is Forecasted to Increase to 102,700 Units by 2030
Yano Research Institute (the President, Takashi Mizukoshi) has conducted a survey on the next generation mobility market, and found out current status of the domestic market, the overview of overseas markets that have similarity to the domestic market, and the business strategies at leading manufacturers. This press release announces forecasts on the domestic sales of next generation mobility vehicles up to 2030.
Domestic Sales Forecast of Next Generation Mobility (Electric Trikes, Electric Mini Cars, Ultra-compact Mobility Cars)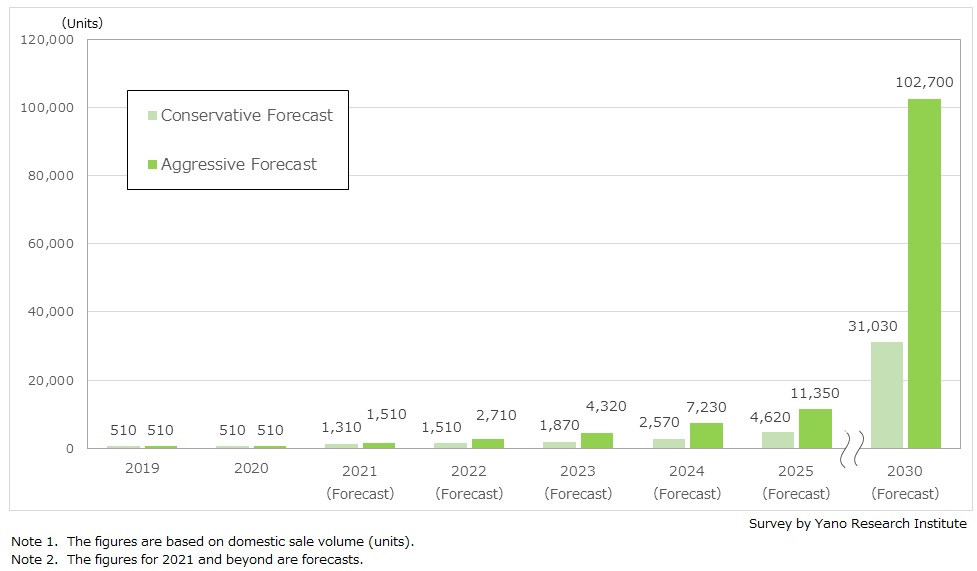 Outline of Next Generation Mobility in This Research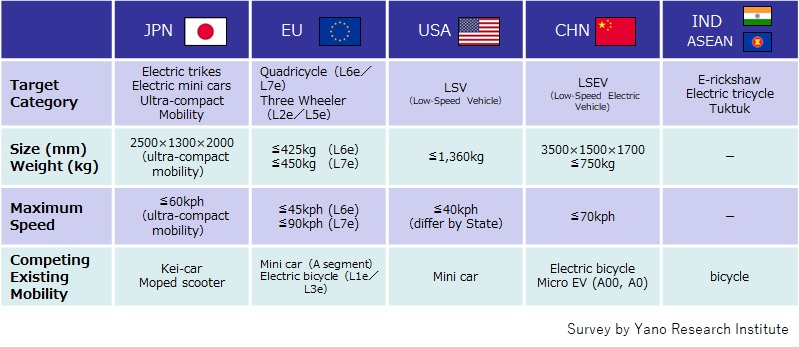 Market Overview
Movements to transcend from a system that is heavily dependent on energy consumption to a system that decouples economic development from environmental impact is spreading globally as a concrete direction in the era of VUCA (Volatility, Uncertainty, Complexity, and Ambiguity). Apart from CSR (corporate social responsibility) based on charities and donations, automobile makers are eager to create shared value (CSV) with their main business, i.e., creating economic value to tackle social problems. Compact and easy to drive, the next generation mobility has an important role in solving various problems, especially in relieving traffic congestion, solving logistic issues, and providing means of transportation for areas without any public transportation. However, compared to existing small vehicles such as light motor vehicle ("kei-car") and motorcycle, the next generation mobility has a mountain of challenge in terms of price advantage and marketability.

In Japan, the market expansion expected mainly owes to the sales of "ultra-compact mobility cars", which has been categorized as one of the light motor vehicle in 2020. In Europe, the market of quadricycle (four-wheeled microcars), which had been a niche market with annual sales volume of 40 to 50 thousand units till then, is garnering attention as SEAT and Citroen entered the market following one another, while Renault also released a new model. On the contrary, the market environment changed drastically for LSEV (Low Speed Electric Vehicle) market in China; in addition to the tightened safety regulations due to repeated serious incidents and restrictions imposed on new market entries, the micro EV (A00 segment) market typified by Hongguang Mini saw a significant growth.

Noteworthy Topics
Challenges for Next Generation Mobility in Japan
Since the next generation mobility at current is "much like bicycles in function but priced as high as light motor vehicle" without many distinctive advantages, there are many challenges to overcome in order to become more popular. Although trikes and mini cars have an advantage for reducing running costs tax-wise, users cannot expect the same benefit from owning ultra-compact mobility car as it is categorized as a light motor vehicle.


To reduce car running costs, favorable tax rate and lower vehicle inspection cost are important. Nonetheless, despite the fact that the tax rate for ultra-compact mobility car was expected to be set in between the tax rates for mini cars and light motor vehicles to make users feel it is a "good buy", the actual tax rate imposed was equivalent to that of light motor vehicle. Similarly, the vehicle inspection cost for ultra-compact mobility car is equal to that of light motor vehicle. As a result, it gave a competitive edge to mini cars. Moreover, while it is mandatory for owners of ultra-compact mobility cars to obtain the certification of parking space because it is categorized as a light motor vehicle, mini cars aren't required. Taking into account that a space needed to park a mini car is equivalent in size to a space needed for an ultra-compact mobility car, it makes no sense. The inconsistency aroused a controversy in the current accreditation system, and it was brought up to a discussion table in the proposal on national strategic special zone led by Regional Revitalization Promotion Office of Cabinet Office (October 2017). According to the National Police Agency, certification for parking space is necessary for all vehicles categorized as light motor vehicles. However, they are flexible about the parking space for ultra-compact mobility cars; as long as the whole vehicle fits in, they are willing to accept smaller parking space.


The idea of "good buy" is an issue also in respect of voluntary insurance. There is an insurance called 'specified policy for family motorcycle' that applies to a vehicle with 125cc engine or a category II motorcycle with pink license plate that has 1.0kW rating output. At present, the insurance covers 50cc engine mini cars, but not ultra-compact mobility cars. Demand for ultra-compact mobility cars may rise if standards are relaxed and coverage of specified policy extends to ultra-compact mobility cars. Being "small", the next generation mobility is expected to demonstrate its strength in parking on the streets, which is often surrounded by physical constraints. On the other hand, considering the use of next generation mobility as a means for free-floating car sharing, not only relaxation of regulations for parking on the streets, but also development of parking space on the sides of local roads, as well as allocating plenty of ready-to-ride vehicles (taking into account the distribution of vehicles for not having fixed stations), will be required. Under the circumstances, it seems likely that micro mobility such as e-scooter may be sufficient for short distance ("last mile") transportation.


Future Outlook
In view of the fact that the next generation mobility does not compete with existing vehicles in tangible aspects, it should be evaluated based on how it serves as a tool to solve various social problems and how it improves economy by fulfilling requirements for intended use. In the consumer market, a certain period of time is needed for individual users to understand these and for makers to lower the prices.


Meanwhile, the market anticipates continuous growth to 2030 through the expansion in demand for business-use. Against the background of feverish promotion toward realizing carbon neutrality in recent years, the government and municipalities funded by public financial resources including national subsidies are replacing state-owned cars. Stemming from the needs to meet CSR targets, private companies also shift business-use vehicles like company cars and delivery trucks to next generation mobility.


Based on the current status of each type of next generation mobility, the growth scenario, and the competition against light motor vehicle and light truck, the domestic sales volume of the next generation mobility market (electric trikes, electric mini cars, and ultra-compact mobility cars) is projected to reach 102,700 units on aggressive forecast, 31,030 units on conservative forecast.


Research Outline
1.Research Period: July to September 2021
2.Research Object: Next generation mobility (vehicle) makers, business operators of services related to next generation mobility (vehicles)
3.Research Methogology: Face-to-face interviews by the expert researchers (including online), interviews by telephone, and literature research
Next Generation Mobility Market
To achieve net zero carbon society and improve transportation efficiency, demand is on a rise for vehicles that are not just superior in environmental performance but also smaller (than traditional automobiles with one or two passengers), suitable for short distance travel, and easy to drive on narrow roads. Such vehicles are called next generation mobility.


In this research, the domestic market of next generation mobility indicates vehicles categorized as in-between EV and electric motorcycle, including electric trikes (motorcycle with a side car), electric mini cars (motorized four-wheeled vehicle), ultra-compact mobility cars, and micro mobility (such as Segway).


Meanwhile, in respect of the overseas market, the next generation mobility indicates Category L vehicles (L2e, L5e, L6e, L7e) in Europe, and LSEV (Low Speed Electric Vehicle) in China. In the market of other Asian regions, those which may affect the market trend hereafter, such as tricycles, are included.


<Products and Services in the Market>
Japan: Electric trikes, electric mini cars, ultra-compact mobility cars, e-scooter; Europe: Category L vehicles (L2e, L5e, L6e, L7e) ; China: LSEV (Low Speed Electric Vehicle)
Contact Us
©2021 Yano Research Institute Ltd. All Rights Reserved.
The copyright and all other rights pertaining to this report belong to Yano Research Institute.
Please contact our PR team when quoting the report contents for the purpose other than media coverage.
Depending on the purpose of using our report, we may ask you to present your sentences for confirmation beforehand.