Medical Information Systems (EMR &EHR) Market in Japan: Key Research Findings 2021 Medical Information Systems Market Size for FY2021 to Decline by 4.0% on YoY to 267,677 Million Yen
Yano Research Institute (the President, Takashi Mizukoshi) carried out a survey on the domestic medical information systems market and found out the market trends by segment, trend of market players and future perspectives.
Medical Information Systems (EMR &EHR) Market Size Transition and Forecast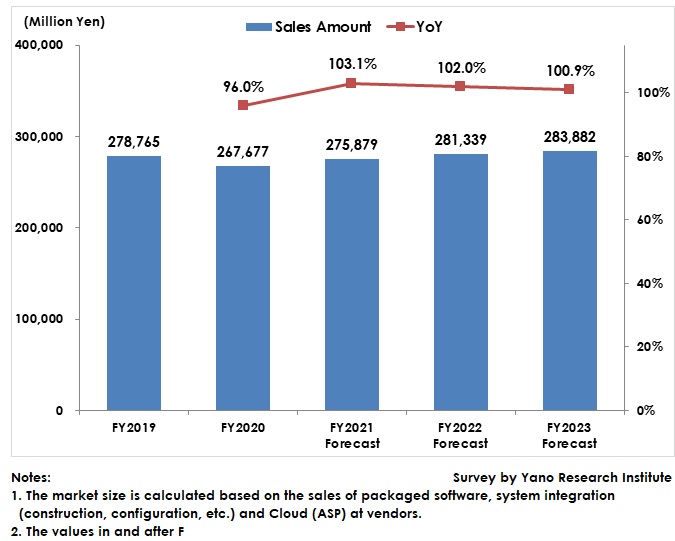 Market Overview
Medical information systems, including EMR (Electronic Medical Record) and HER (Electronic Health Record), are deployed at medical institutions (hospitals and general clinics) in order to streamline the workflows and to facilitate communications. In the situation where digitalization is indispensable in renovating medical care, the market of medical information systems, with electronic medical records playing the central role, continues being important not only for digitalization in the Community Medical Partnership System and the Community-based Integrated Care System, but also for achieving team medicine and critical path at a single institution.

In 2010, the ban on external storage of medical records has been lifted, allowing private companies to store medical information in data centers, etc. The market for cloud-based electronic medical records and medical imaging systems (PACS) has also been formed and has become widespread.

Noteworthy Topics
The COVID-19 Pandemic Affected the Market to Temporary Diminish
Before the COVID-19 pandemic, the market size of medical information systems had been on the rise by approximately 1 to 2% on a YoY basis for several years. However, since around March 2020, the influence of the pandemic started becoming obvious, as many sales opportunities were lost at system vendors, and as some delays occurred at examinations for and work processes of the system deployment. Though the influence gradually quietened down, the situations did not completely recover throughout 2020, which led the market size in FY2020 to decline by 4.0 percent to 267,677 million yen.

When observing the market by category, all the systems showed negative growth, with the system that recorded the largest decline suffered from close to 20% down from the previous fiscal year.


Future Outlook
The medical information systems market is expected to gradually recover from the drop in the FY2020 and to rise by 3.1 percent on a YoY basis to reach 275,879 million yen in FY2021 and to increase by 2.0 percent on a YoY basis to 281,339 million yen by FY2022, exceeding the FY2019 level (278,765 million yen).

While each category does not grow considerably, because the growth is caused by replacement demand, cloud-based electronic medical records have increased the presence within the electronic medical record market. One of the characteristics of cloud-based electronic medical records is small initial cost for deployment, which contributes in adoption at relatively small hospitals and clinics which had difficulty in deploying such systems.


Research Outline
1.Research Period: July to September 2021
2.Research Object: Domestic medical information system vendors
3.Research Methogology: Face-to-face interviews by the expert researchers (online interviews included) and survey via telephone
What are Medical Information Systems?
Medical information systems (including EMR [Electronic Medical Record] and HER [Electronic Health Record]) refer to overall systems for streamlining the workflows at medical institutions (hospitals and clinics) and to facilitate communications within and beyond a single institution, and are comprised of core systems such as electronic medical records (including ordering systems,) medical accounting, etc., and of departmental systems such as radiology, clinical testing, etc. They are built differently according to the size and demand at institutions.

The market size is calculated based on the sales of packaged software, system integration (construction, configuration, etc.) and Cloud (ASP) at vendors.


<Products and Services in the Market>
Electronic medical record, electronic medical records for each department (psychiatry, gynecology,) medical accounting, medical imaging system (PACS,) radiology information system (RIS,) clinical inspection system, physiological inspection system, surgical operation information management system, medicine dispensing system, nutritional management system, clinical information management system, the Community Medical Partnership System, rehabilitation support system
Contact Us
©2021 Yano Research Institute Ltd. All Rights Reserved.
The copyright and all other rights pertaining to this report belong to Yano Research Institute.
Please contact our PR team when quoting the report contents for the purpose other than media coverage.
Depending on the purpose of using our report, we may ask you to present your sentences for confirmation beforehand.