Mail-Order Food Business Market in Japan: Key Research Findings 2021 Mail-Order Food Business Market for FY2020 Rose to 4,305,700 Million Yen, Up 13.1% from Previous Fiscal Year
Yano Research Institute (the President, Takashi Mizukoshi) has conducted a survey on the domestic mail-order food business market for FY2021 and has found out the market trends, the trends of market players, and the future perspectives.
Transition and Forecast of Mail-Order Food Business Market Size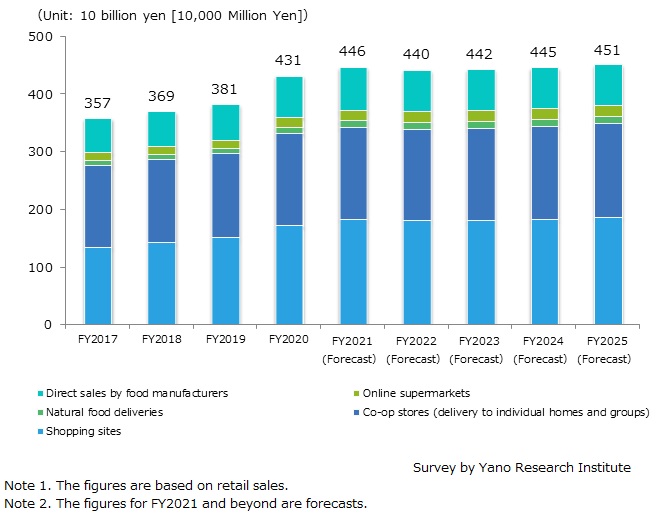 Mail-Order Food Business Market Share by Channel (FY2020)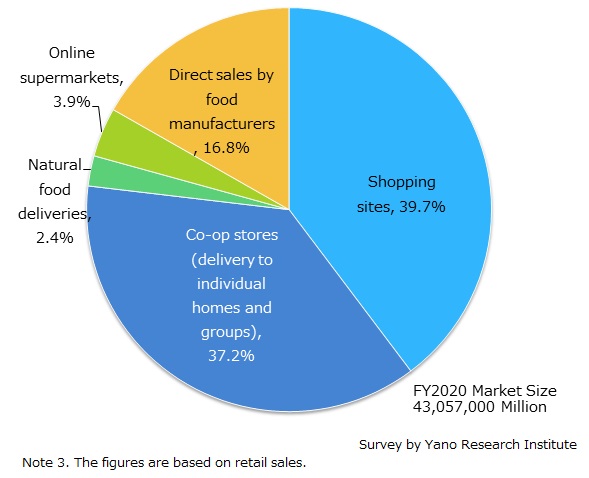 Market Overview
The mail-order food business market in FY2020 made a double-digit growth from the previous fiscal year based on retail sales, exceeding four trillion yen (13.1%, 4,305,700 million yen). All in all, the market was boosted by voluntary lockdown due to COVID-19 crisis, which increased opportunities to eat at home (instead of dining out) and spend at home.

At-home spending and bulk-buying expanded rapidly in particular, during the first national state of emergency from April to June 2020. Significant growth was seen in the sales of long-life foods, such as rice, beverages, dry noodles, retort-packed foods, ready-to-serve foods, and cereals. Moreover, extension of voluntary lockdown stirred consumers to spend more to improve their home environment. Demand rose for mail-order foods that are tastier/higher in quality compared to what they normally buy, and this is an ongoing trend in FY2021.

Noteworthy Topics
Newcomers Rush to Food E-Commerce Market
Since April 2020, for the first time in several years, the food e-commerce market saw an unparalleled number of newcomers. Consequently, the market is stimulated while competition intensified.


New market entries are noteworthy especially in 'gourmet' e-commerce sites such as websites of department stores, mail-order portal sites that brings various gourmet foods from all over the country, and e-commerce of fresh foods and liquors. While restaurant industry is severely hit by COVID-19 crisis, there is an increasing trend at restaurants toward turning their menus into frozen ready-to-eat meal to sell via e-commerce, and green grocery producers selling D2C (directly to consumers) by promoting reduction of food waste. Similar situation is witnessed in the liquors market, i.e., while demand plunged at restaurants and bars, a shift to D2C through e-commerce has been accelerated by the expansion of at-home drinking.


Future Outlook
The special demand from the first half of FY2020 is cooling down in FY2021. Nevertheless, owing to the national state of emergency and quasi-emergency measures due to recurring waves and outbreaks of infections, overall, people are still urged to refrain from going out and the ratio of people who telework remains high.


Accordingly, the demand for mail-order food business remains high, and performance of businesses related to food is ahead of their initial plan. With the continuance of trend from FY2020, size of the mail-order food business market for FY2021 is projected to grow by 3.5% year on year to achieve 4,457,600 million yen. For FY2022, the market is estimated to shrink as a reaction to a growth in FY2021 which attributes to the special demand carried over from FY2020.


Research Outline
1.Research Period: June to September 2021
2.Research Object: Mail order businesses, food-related businesses, Co-op, food retailers, food wholesalers, and etc.
3.Research Methogology: Face-to-face interviews by the specialized researchers (including online interviews), questionnaire, surveys via telephone, and literature research
Mail-Order Food Business
The mail-order food business market in this research indicates the following categories: 1) Shopping sites (including both online-order and catalog-order business), 2) Co-op delivery services (weekly delivery to individual homes and groups), 3) Natural food delivery services, 4) Online supermarkets, 5) Direct sales by food makers.
The merchandises are: Fresh food (fishery, livestock meat, and vegetables & fruits), rice, beverages (mineral waters are included, but not the home-delivered water), liquors, confectionery & sweets, health food, and other processed food. No sundries are included.


<Products and Services in the Market>
Mail-order foods (fresh foods [fishery, livestock meat, and vegetables & fruits], rice, beverages, liquors, confectionery & sweets, health food, and other processed food)
Contact Us
©2021 Yano Research Institute Ltd. All Rights Reserved.
The copyright and all other rights pertaining to this report belong to Yano Research Institute.
Please contact our PR team when quoting the report contents for the purpose other than media coverage.
Depending on the purpose of using our report, we may ask you to present your sentences for confirmation beforehand.