Imported Luxury Brand Market in Japan: Key Research Findings 2021 Imported Luxury Brand Retail Market Dropped by 25.2% YoY in 2020 Due to the Corona Shock
Yano Research Institute (the President, Takashi Mizukoshi) has conducted a survey on the imported luxury brand market in Japan, and has found out the current status, trends of imported luxury brands, and future outlook.
Transition of Imported Luxury Brand Retail Market Size (Major 15 Items)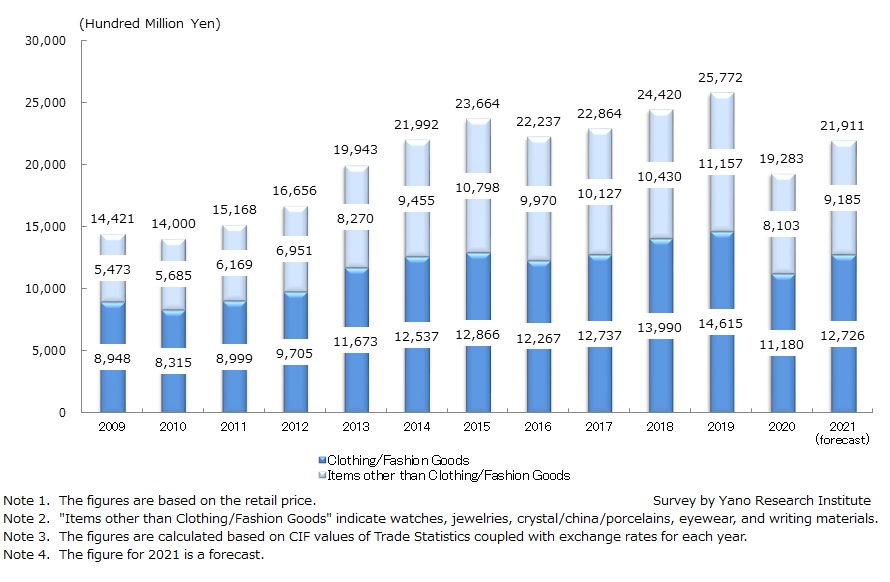 Market Overview
The retail market size of domestic imported luxury brands (major 15 items) in 2020 fell by 25.2% from the previous year to attain 1,928,300 million yen. The corona shock in 2020 forced most brands not only to close the stores voluntarily for almost two months but also to resume operations in pandemic throughout the year. With hardly any inbound tourists visiting Japan, the market witnessed unprecedented predicaments.

Despite the economic decline due to the COVID-19 calamity, the rise of stock price in recent years has made the domestic wealthy population become richer than ever. Having the affluent population shift their consumption on 'experience', such as overseas travel and dining out, to spending on luxury brands, the imported luxury brand retail market managed to maintain its size.

Viewing at the sales of each brand, most of the brands fell short of the previous year. Still, the trend shows that the decline was marginal on brands favored by domestic wealthy population, while the brands strongly favored by inbound tourists have suffered a major blow. Since new customer acquisition by engaging customers at physical stores was difficult, affordable brands (categorized as luxury brands, yet reasonably priced compared to high-end brands) that pitch trendiness and does not have solid customer base faced a difficult situation. Meanwhile, the luxury brands that had been eager to open new stores or create collaboration lines even during the corona crisis performed solidly.



Noteworthy Topics
The Pandemic Forces Digital Acceleration
While the coronavirus continued to spread in 2020, e-commerce was the only channel that made remarkable expansion. In the state where physical stores have difficulty engaging customers and have been losing sales, e-commerce helped sales at brands enormously, especially for those that have launched/reinforced in-house e-commerce channel prior to the spread of the pandemic. Moreover, as the corona crisis contributed to improvements in consumers' digital literacy, customer segment broadened more than ever; besides, as consumers go online more often, using SNS for instance, effectiveness of digital promotion increased.


Since new customer acquisition in physical stores has become difficult, more brands opened online stores on leading e-commerce platforms that have high ability to attract customers, such as ZOZOTOWN and Rakuten Fashion. In the COVID-19 calamity, increasing number of brands introduced online tools like ZOOM and LINE as means of remote customer service, a new sales method to avoid store closures and to practice social distancing. The brands are reinforcing personal connection with customers.





Future Outlook
For the retail market of imported luxury brands, the circumstances brought about by the corona shock was significantly different from that of the Lehman shock. Although the drop of GDP were equally bad, whereas stock price plunged at the Lehman shock and economy fell into the doldrums for several years, this time the decline in stock price stopped after a while, and recovered to high levels. With ballooning financial assets and restrictions in spending on 'experience', domestic wealthy population shifted their consumption to 'things', particularly to luxury brand items that are expensive and have high asset values.


Owing to the fact that the inbound tourism consumption accounted for significant portion of sales in recent years and the stores closed down for two months in 2020, size of the imported luxury brand retail market for 2020 fell sharply by 25.2% year on year. Nonetheless, since Japanese wealthy population continues to spend domestically, it is safe to say that the market for 2021 expects to exceed the size of the previous year.


Meanwhile, since the fifth wave of COVID-19 is emerging as of August 2021, there is a concern over closures of department stores, the main channel of imported luxury brands. Under the circumstances, it is for sure that customer traffic slows down and consumption by everyday customer makes a downturn. Even though the core customer of the imported luxury brands is affluent population, since its customer segment also consists of quite a few middle-income consumers and millennials, the situation has a negative impact on the market.


Considering the market environment, the retail market of imported luxury brands (major 15 items) for 2021 is projected to rise by 13.6% from the previous year to reach 2,191,100 million yen.





Research Outline
1.Research Period: May to August 2021
2.Research Object: Trading firms, manufacturers, retailers that import and sell products such as clothing, accessories, watches, jewelry, crystals/china/porcelains, eyewear, and writing materials, produced by the European and U.S. brands, and Japanese subsidiaries of imported luxury brands
3.Research Methogology: Face-to-face interviews by the expert researchers (including online interviews), survey via telephone, and literature research
Imported Luxury Brands Market
Imported Luxury Brands Market in this research refers to the market including the following 15 items, adding 5 new categories to the conventional 10 categories: (1) women's clothing, (2) men's clothing, (3) babies clothing, (4) bags/leather goods, (5) shoes, (6) ties, (7) scarves/shawls/handkerchiefs, (8) clothing made from leather, (9) belts, (10) gloves, (11) watches, (12) jewelries, (13) crystal products/china, (14) eyewear, and (15) writing materials. Note that luxury brands are only those imported from Europe or the United States.


<Products and Services in the Market>
Women's clothing, men's clothing, babies clothing, bags/leather goods, shoes, ties, scarves/shawls/handkerchiefs, leather wear, belts, gloves, watches, jewelries, crystal products/china, eyewear, and writing materials
Contact Us
©2021 Yano Research Institute Ltd. All Rights Reserved.
The copyright and all other rights pertaining to this report belong to Yano Research Institute.
Please contact our PR team when quoting the report contents for the purpose other than media coverage.
Depending on the purpose of using our report, we may ask you to present your sentences for confirmation beforehand.