Cloud Services Market (IaaS/PaaS) in Japan: Key Research Findings 2021 Cloud Service Market for 2020 Attained 850,000 Million Yen, 123.2% of Previous Year
Yano Research Institute (the President, Takashi Mizukoshi) has conducted a survey on the cloud services market (IaaS/PaaS) in Japan, and found out the market size transition/forecast, the trends at cloud vendors, and the current status of how widely new services are being adopted.
Transition and Forecast of Cloud Services (IaaS/PaaS) Market Size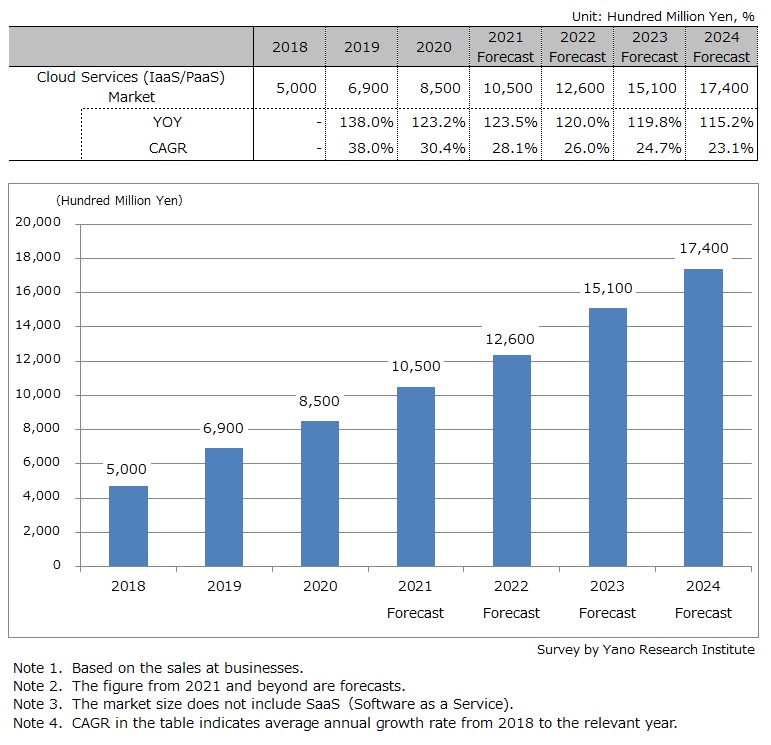 Market Overview
Spread of the novel coronavirus affected the market of cloud services in 2020, causing temporary stagnation in some service businesses. Nevertheless, the "lift and shift" of mission-critical systems from on-premises to cloud, which had been a driver of the market growth, stayed strong; although some projects were cancelled or postponed due to its lengthiness and scale, companies that secured their budgets carried out the migration on schedule. Therefore, the market could avoid being seriously impacted by the pandemic.

Considering a year-round trend of shift toward remote work, establishment of system environment to adapt swiftly to changes such as digital transformation, and rise in demand for orchestration to manage rapidly increasing traffic in video streaming sites and e-commerce sites, it is assumed that the size of the cloud services (IaaS/PaaS) market has reached 850,000 million yen, which is 123.2% of the previous year (based on the sales at businesses).

Against the background of active investments to digital transformation (DX), user companies' growing interest toward data utilization via cloud-based platform, deployment of hybrid-cloud environment, and increasing consciousness toward emergency measures like BCP (Business Continuity Planning), the cloud services market is projected to grow steadily.



Noteworthy Topics
Cloud Managed Services Market Bifurcated
As this research covers IT outsourcing services related to cloud services, it also summarizes the market tends of outsourcing services and cloud managed services offered by system integrators and consulting firms, i.e. contracted services for user companies to use cloud-based system, including system design, implementation, migration, monitoring, and operation (incl. support for implementation/utilization).


While cloud migration becomes common, due to increased frequency of updates, as well as shorter intervals of adding new functions/new services, increasing number of user companies suffer from the cost of implementation/operation. To lessen the burden, there is an expanding trend among user companies, especially large enterprises and manufacturers, to consider introduction of cloud managed services.


Driven by the popularity of cloud services stemming from the increasing demand for promotion of digital transformation and security management, the cloud services market anticipates stable growth, and is anticipated to reach 785,000 million yen by 2025.


Behind the growth of the cloud managed services market, the market players bifurcate into two groups; those that see themselves as ' in good shape', and others 'not growing as expected'. One of the factors that create the divide is the range of service menus; whether or not the company can provide comprehensive services.


In accordance with the market growth, businesses that provide new services and new market entries are on the rise. What is in common among them is a capability to manage multi-vendor cloud environment. That being said, many businesses believe it is enough to adapt to big three services, namely, Amazon Web Services (AWS), Microsoft Azure, and Google Cloud Platform. Upskilling to follow up with and accumulating knowledge of the new functions and services by the big three give a competitive edge to a company in the marketplace.


Future Outlook
While the migration from existing infrastructure to IaaS increases further, the key for market growth is the expanded use of cloud services in digital transformation and in public sector.


In October 2020, the announcement was made on the adoption of AWS cloud services for the second common government platform by Ministry of Internal Affairs and Communications. It gave an impression that AWS got a step ahead of others in providing cloud services in public sector. However, the 'white space' (domain to be migrated to cloud) in public sector, including government ministries and agencies, is huge; there is a high chance of other cloud services to be deployed hereafter.


In addition, while the market changes drastically, for private companies it is imperative that they promote digital transformation to maintain and improve competitiveness. That being said, digital transformation is not a one-off project; it is never-ending process that needs to be carried out in accordance with the business environment and company's condition. Still, there are many user companies that cannot promote digital transformation as expected due to complications in internal information systems. For this reason, cloud-related vendors are required to have a good understanding of business processes upstream to develop information systems, and there are cloud service providers that are capable of working together with major system integrators and consulting firms. The collaboration with system integrators and consulting firms is expected to boost the growth of the cloud services market.





Research Outline
1.Research Period: February to August 2021
2.Research Object: Domestic vendors related to cloud services (providers of public cloud and its peripheral services), third-party maintenance vendors, PaaS providers, domestic private companies, etc.
3.Research Methogology: Face-to-face interviews by the expert researchers (including online interviews), survey via telephone and email, mailed questionnaire to corporations
What is the Cloud Service (IaaS/PaaS)?
IaaS (Infrastructure as a Service) and PaaS (Platform as a Service) in this research refers to cloud computing environment managed on public cloud (cloud services by service providers) that provides virtualization, automation, and other technologies via internet.
Size of the cloud service market is calculated based on the sales at cloud vendors (service providers). However, SaaS (Software as a Service) is not included.


<Products and Services in the Market>
IaaS, PaaS, cloud-managed services, iPaas, third-party maintenance service
Contact Us
©2021 Yano Research Institute Ltd. All Rights Reserved.
The copyright and all other rights pertaining to this report belong to Yano Research Institute.
Please contact our PR team when quoting the report contents for the purpose other than media coverage.
Depending on the purpose of using our report, we may ask you to present your sentences for confirmation beforehand.