Global Wide-Bandgap Semiconductor Single Crystal Market: Key Research Findings 2021 Global Wide-Bandgap Semiconductor Single Crystal Market Expected to Reach 32,500 Million Yen by 2027
Yano Research Institute (the President, Takashi Mizukoshi) carried out a survey on the global wide-bandgap semiconductor single crystal market, and found out the trends by product segment, the trends of market players, and the future outlook.
Global Wide-Bandgap Semiconductor Single Crystal Market Size Transition and Forecast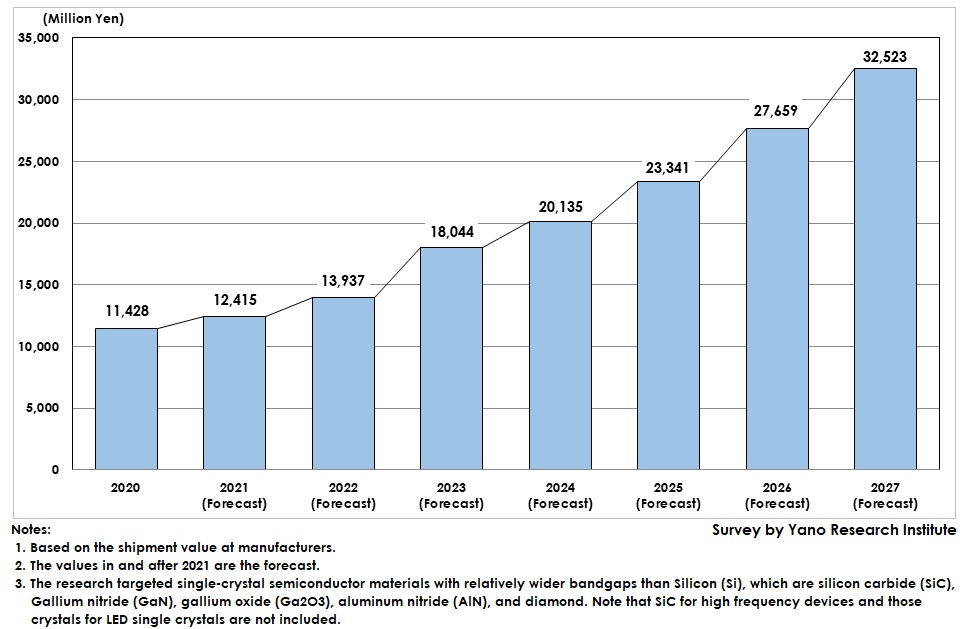 Market Overview
The global wide-bandgap semiconductor single crystals market has kept on growing both in value and in volume, with its adoption in progress, especially in power devices. The market size forecast is 11,131,720 square centimeters (cm2) in shipment volume and 12,415 million yen in shipment value at manufacturers.

When observing the market by material, silicon carbide (SiC) shows that it is about to be at a full-fledged growth stage, with its wide range of applications. The market is projected to attain a sharp growth after 2023 depending on adoption of automotive applications.

Gallium nitride (GaN), mainly for lighting applications such as LED and LD, is the next promising material following SiC, as it is anticipated to grow hereafter as an excellent material in power devices and high-frequency applications. In addition, a sign of improvement is shown in its challenge of creating larger-diameter wafers.

A rapid growth is expected for gallium oxide (Ga2O3), the next promising material. With its high potential in cost and performance, diverse research and development have been in progress at various companies in the market, including creating of larger-diameter wafers, development of SBD (Schottky Barrier Diode) devices, etc., which led to shipment of samples.

Aluminum nitride (AlN) is attracting attention for its use in deep ultraviolet (DUV) light-emitting diodes (LEDs). As 2-inch-diameter products already released and as sterilization and disinfection demands expanding in the COVID-19 calamity, the products have begun being widely used. In addition, as the performance of UV LEDs of the type using a sapphire substrate is improving, it is projected to be deployed in applications that take advantage of the universal wavelength using AlN as the underlying substrate.

Diamond is highly expected as an ultimate semiconductor material. Now that mass production of 2-inch-diameter products showing favorable perspectives, studies on device applications have been in progress.

Noteworthy Topics
As Concept of Hygiene Changed by Pandemic, Demand for AIN Diversifying
Despite a long history of being a study subject, aluminum nitride (AIN) single-crystal substrate is said to have plenty of room for research and development which has suddenly proceeded rapidly in the COVID-19 pandemic. While there was a certain demand for AIN for sterilization and disinfection, the level of demand was regarded as the same as other applications.

The concept of hygiene, however, is about to be considerably changed by the global pandemic, which has led the development of DUV LEDs for sterilization and disinfection applications to be diverse and demanding. Such sterilization and disinfection functions are expected to be applied not only to water, the surface of an object, or to space, but also to analyzers and inspection equipment, which is likely to induce vigorous applications development.

Furthermore, with high bandgap, the studies of AIN in high-frequency applications areas where power devices and existing materials cannot handle are anticipated to be flourishing. In the future, AlN is likely to expand the applications such as high-density optical recording and resin hardening that is essential for molding and printing ink due to its selectable wavelength.
The main application of AIN single crystal substrate is sterilization, but it is also recognized as a unique light source in analysis and research that wants to take advantage of the universal wavelength of 265nm.


Future Outlook
As power devices popularize, and as adoption and deployment to applications increase and diversify, the global wide-bandgap semiconductor single crystals market based on the shipment value at manufacturers is projected to generate 32,523 million yen by 2027.

When observing the details by material, the anticipated market size of SiC is 23,704 million yen (accounting for 72.9 %), GaN 5,400 million yen (16.6%), Ga2O3 1,900 million yen (5.8%), AIN 1,080 million yen(3.3%), and diamond 439 million yen (1.3%).

Together with increasing demands for R&D application, each of the materials will be adopted and deployed in each application. SiC, the most advanced material in application development, is increasing the application ratio of 6-inch-diameter wafers, in conjunction with the manufacturing of 8-inch-diameter wafers being about to start. On the other hand, while new entry is increasing, the competition is likely to be fiercer among companies, and while the materials are regarded to replace silicon (Si), they also cause struggle for supremacy in the market, which can lead to the a battle not only against Si, but also the battle of performance and cost.


Research Outline
1.Research Period: April to August 2021
2.Research Object: Manufacturers of wide-bandgap semiconductor single crystals, related companies, research institutions, etc.
3.Research Methogology: Face-to-face and online interviews by the expert researchers
What are Wide-Bandgap Semiconductor Single Crystals?
Wide-bandgap semiconductor single crystals in this research refer to silicon carbide (SiC), Gallium nitride (GaN), gallium oxide (Ga2O3), aluminum nitride (AlN), and diamond, which are single-crystal semiconductor materials with relatively wider bandgaps than Silicon (Si). They are expected to be the next-generation materials for power semiconductors.

Note that SiC for high frequency devices and those single crystals for LED single crystals are not included.


<Products and Services in the Market>
Wide-bandgap semiconductor single crystals
Published Report
Contact Us
©2021 Yano Research Institute Ltd. All Rights Reserved.
The copyright and all other rights pertaining to this report belong to Yano Research Institute.
Please contact our PR team when quoting the report contents for the purpose other than media coverage.
Depending on the purpose of using our report, we may ask you to present your sentences for confirmation beforehand.