Golf Goods Market in Japan: Key Research Findings 2021 Domestic Golf Goods Market in 2020 Declined to 87.5% on YoY, Heavily Affected by COVID-19 Pandemic
Yano Research Institute (the President, Takashi Mizukoshi) carried out a survey on the domestic golf goods market and found out the trends by product category, trends of leading companies, and future outlook taking account the influence of COVID-19 pandemic.
Transition of Domestic Golf Goods Market Size by Item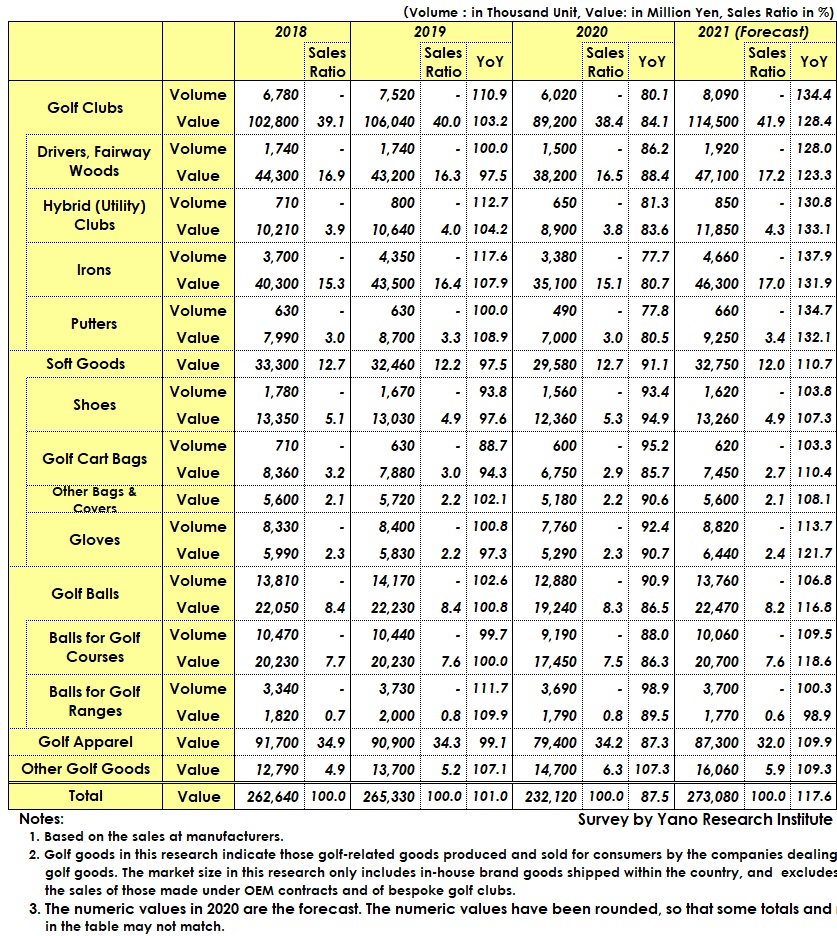 Other Golf Goods Market Size Transition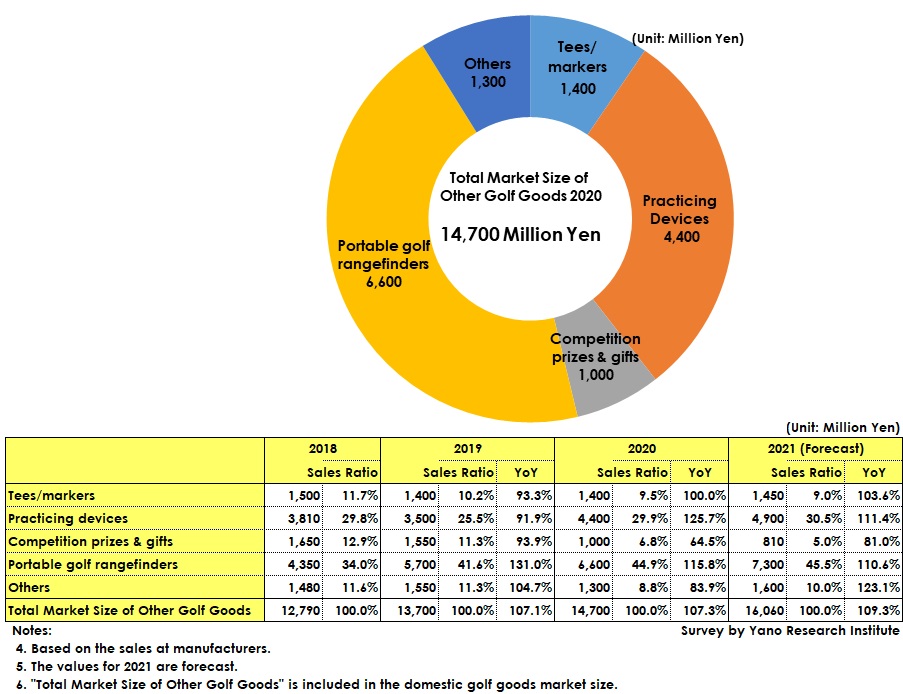 Market Overview
The domestic golf goods market size based on the sales at manufacturers declined to 232,120 million yen in 2020, 87.5 percent of that of the preceding year. 2020 was the year for the domestic golf goods market to have been made sport of by the COVID-19 pandemic. From March to May, including the period when a state of emergency was announced for the first time in April 2020, most of golf goods retailers suffered from incredible reduction in sales to an unprecedented level. Fortunately, the demand recovered quickly from July onward, but it was not enough to make up for decline in sales from March to May.

However, golf became recognized as an outdoor activity with a low risk of infections, which resulted in a slight decline that was safe to be described as healthy level when compared to other sports and leisure activities. The reasons for this are as follows:

- Golf has started being recognized as an outdoor activity that can avoid so-called "3 closenesses"
- This has brought about many golfers who had once refrain from playing golf due to the new coronavirus to resume playing golf at a relatively early stage.
- While other sports and leisure activities were physically impossible to implement, golf became a silver lining, which attracted many new- entrant golfers especially the young generations.
- Some of those "dormant" golfers who had stopped playing golf for a while resumed playing golf.
- As special cash payment was granted to the whole nation in 2020, some people used it for purchasing golf goods.

Noteworthy Topics
Trend of portable golf rangefinders
In the research, only category that saw positive growth in 2020 was "Other golf goods" which refer to tees/markers, practicing devices, competition prizes & gifts, portable golf rangefinders, and others.

The growth was driven by the portable golf rangefinders market, which leaped to 131.0 percent of the previous year in 2019. While many experts in the industry anticipated that the market would reach a peak by the end of 2019, the market continued growing to 6.6 billion yen in 2020, 115.8 percent of the preceding year, against such expectation.

According to some golf goods retailers, the growth of portable golf rangefinders is said to stem from the changes in role of the device for golfers. While golfers previously thought that their skills did not require golf rangers, because knowing the distance would not help the shots to go as expected, and also because it was embarrassing to miss a shot after accurate distance being indicated. Unanimous understanding among experts was that golfers' pride inhibited spreading of the device.

However, it has gradually become "natural" to use golf rangefinders when playing golf. As it were linked to such changes in the market environment, retailers that used to be hard to sell digital devices have started overcoming their weak points by proactive merchandising and by mastering sales talk. Such mental changes seem to be one of reasons for the market expansion.


Future Outlook
The domestic golf goods market size based on the sales at manufacturers for 2021 is expected to reach 273,080 million yen, 117.6 percent of the previous year. This is the highest figure after 2018. The market size forecast is calculated mostly based on the net sales forecast announced by each manufacturer. The figures show that each manufacturer clearly intends to increase the sales not only to the level before COVID-19 but a little more than that.


Research Outline
1.Research Period: May to August 2021
2.Research Object: Domestic enterprises dealing in golf goods (manufacturers, wholesalers, retailers, operators of golf courses and golf ranges, and golf-related organizations)
3.Research Methogology: Face-to-face interviews (including online) by the expert researchers and questionnaire via email or mailed
What are Golf Goods?
Golf goods in this research indicate those golf-related goods produced and sold for consumers by the companies dealing in golf goods. The market size in this research only includes in-house brand products shipped within the country, and excludes the sales of those made under OEM contracts and of bespoke golf clubs.

"Other Golf Goods" refers to the following items sold for consumers including 1) tees/markers, 2) practicing devices (including digital gadgets), 3) competition prizes & gifts, 4) portable golf rangefinders (laser/GPS), 5) others (umbrellas, name tugs, towels, etc., that are not included in the above 1) to 4). Measuring instruments and golf simulators installed at some retailers by golf goods manufacturers are not included.


<Products and Services in the Market>
Golf clubs (Drivers/Fairway woods, hybrid clubs, irons, putters, golf balls (for golf courses or for golf ranges), golf goods (golf shoes, golf cart bags, other bags and covers, golf gloves, golf clothing/apparel, other golf goods (tees/markers, practicing devices, competition prizes, and portable golf rangefinders, others)
Contact Us
©2021 Yano Research Institute Ltd. All Rights Reserved.
The copyright and all other rights pertaining to this report belong to Yano Research Institute.
Please contact our PR team when quoting the report contents for the purpose other than media coverage.
Depending on the purpose of using our report, we may ask you to present your sentences for confirmation beforehand.