Global Motorcycle Market: Key Research Findings 2021 Global Motorcycle Market Expected to Produce 65,760 Thousand Units by 2030, With the Rate of Electric Motorcycles to Occupy Maximum Around 20%
Yano Research Institute (the President, Takashi Mizukoshi) carried out a survey on the global motorcycle market, and found out the market overview by major country, the trends of major manufacturers. This paper mentions about the forecast of global market size until 2030, and of the occupation rate of electric motorcycles.
Forecast of Global Motorcycle Market Size and of Spread of Electric Motorcycles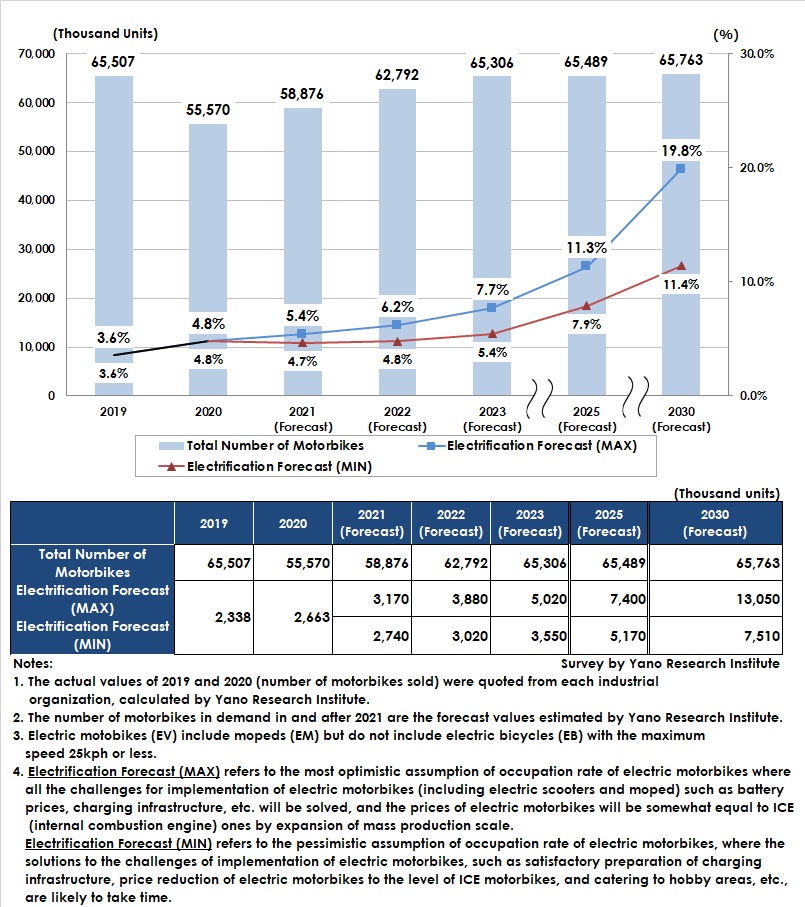 Market Overview
The global motorcycle market in 2020 saw a slump in consumer sentiment affected by COVID-19 pandemic which led to double-digit negative growth from the previous year in the major countries including India, Vietnam, the Philippines, and Thailand, let alone Indonesia having recorded a tremendous decrease by 43.6% on a YoY basis. The entire global motorcycle market size based on the sales volume ended up with 55,570 thousand units, a decline by 15.2% from the previous year.

On the other hand, Japan, the U.S.A. and European countries respectively showed a slight increase from the previous year because of the rising demand, as people needed to secure social distance and to entertain themselves in the COVID-19 calamity, generating a distinct difference from those countries with negative growth. That said however, the sales of motorcycles in such advanced countries have been very small from the global point of view, far from being resilience to the entire COVID-19-affected market. The countries that can be the market drivers are India, ASEAN countries, and other emerging countries with their motorcycle market in growth period such as Pakistan, Bangladesh, CLM (Cambodia, Laos PDR, and Myanmar), and African countries. Stringent new vehicle emissions regulations, SDGs, and governmental goals to encourage EVs have brought about an electric mobility paradigm shift in motorcycles just like a shift from ICE automobiles to EVs having been on the way.

Noteworthy Topics
Reasons Why Electrification Demanded in Motorcycles
One of the reasons why electrification is demanded in motorcycles is stricter environmental regulations. The progress of catalyst converters to reduce toxic gases and ECU (Engine Control Unit) tuning has maneuvered the motorcycle market to overcome exhaust gas regulations without relying on advanced technologies such as engine downsizing or hybrid vehicles, until recently. However, the time has come for motorcycles to move on to electrification, because of stringent new vehicle emissions regulations and of the discussions of banning the sales of ICE vehicles after 2030.

In addition, electric motorcycles are required from the viewpoints of mobility management (a transportation policy that promotes changes in the way people use transportation methods from excessive use of automobiles to adequate use of public transportation) and CSR (Corporate Social Responsibility). On the other hand, electric motorcycles have some challenges such as differences in prices and cruising distances from those of ICE motorcycles, shortage in charging infrastructure, and smaller attractiveness as a hobby than ICE motorcycles due to elimination of gearshift or of exhaust notes.

80% of the global population has been dominated by the emerging countries. For EVs to be widespread as sustainable mobility in such countries is not easy due to the cost and infrastructure. However, electric motorcycles may be accepted with more ease, which can globally expand the electrification of motorcycles.


Future Outlook
Although stricter exhaust gas regulations and environmental-friendly urban designs are likely to increase the sales volume of electric motorcycles in Japan and European countries, these countries cannot be the major market when considering the scale or denominator of the entire motorcycle market. The electric motorcycle market is expected to be formed mainly by China, India and ASEAN countries hereafter.

In China, the definition of electric motorcycles has been modified in 2019, which significantly increased the ratio of electric motorcycles to occupy about 5% of the whole motorcycles. This encouraged startup companies like Ather, GOGORO, and NIU to emerge. The global electric motorcycle market is forecasted to enter the growth period in around 2025, because of the following factors: India plans to introduce CAFE (Corporate Average Fuel Economy) in 2022; the announcement by some countries to focus on the electric motorcycle industry as their national policies; progress in separation of vehicle and battery, and good affinity between CSR (Corporate Sustainable Responsibility) and Battery Swapping System.

Electrification Forecast (MAX) in this research refers to the most optimistic assumption of occupation rate of electric motorcycles, where all the challenges for implementation of electric motorcycles (including electric scooters and moped) such as battery prices, charging infrastructure, etc. will be solved, and the prices of electric motorcycles will be somewhat equal to ICE (internal combustion engine) ones by expansion of mass production scale.

Electrification Forecast (MIN) in this research refers to the pessimistic assumption of occupation rate of electric motorcycles, where the solutions to the challenges of implementation of electric motorcycles, such as satisfactory preparation of charging infrastructure, price reduction of electric motorcycles to the level of ICE motorcycles, and catering to hobby areas, etc., are likely to take time.


Research Outline
1.Research Period: December, 2020 to May 2021
2.Research Object: Motorcycle manufacturers, suppliers, and related organizations
3.Research Methogology: Face-to-face interviews (including online) by the expert researchers, survey via telephone, and literature research
The Motorcycle Market
A motorcycle is defined as a 2-wheel vehicle with its propulsion usually provided by an internal combustion engine or an electric motor.

This report includes those using internal combustion engines and electric motors, i.e., motorized bicycles (up until 50cc), small motorcycles (51 to 125cc), mid-size motorcycles (126 to 250cc), large motorcycles (251cc or more), electric motorcycles, electric scooters, and "moped". Trikes and other three-wheel motorcycles, as well as two-wheeled motorbikes with sidecars are not included. Also, electric bicycles or e-bikes that need to be pedaled and electric mobilities with maximum speed at 25kph or less, such as the Segway, electric kickboard, etc. are not included.


<Products and Services in the Market>
Internal-combustion-engine motorcycles, electric motorcycles, electric scooters, moped
Contact Us
©2021 Yano Research Institute Ltd. All Rights Reserved.
The copyright and all other rights pertaining to this report belong to Yano Research Institute.
Please contact our PR team when quoting the report contents for the purpose other than media coverage.
Depending on the purpose of using our report, we may ask you to present your sentences for confirmation beforehand.