Sporting Goods Market in Japan: Key Research Findings 2021 Domestic Sporting Goods Shipment Values for 2020 Anticipated to End up with 89.2% on YoY
Yano Research Institute (the President, Takashi Mizukoshi) carried out a survey on the domestic sporting goods market and found out the market trend by product segment, trends of market players, and future perspectives.
Transition of Domestic Sporting Goods Market Size by Category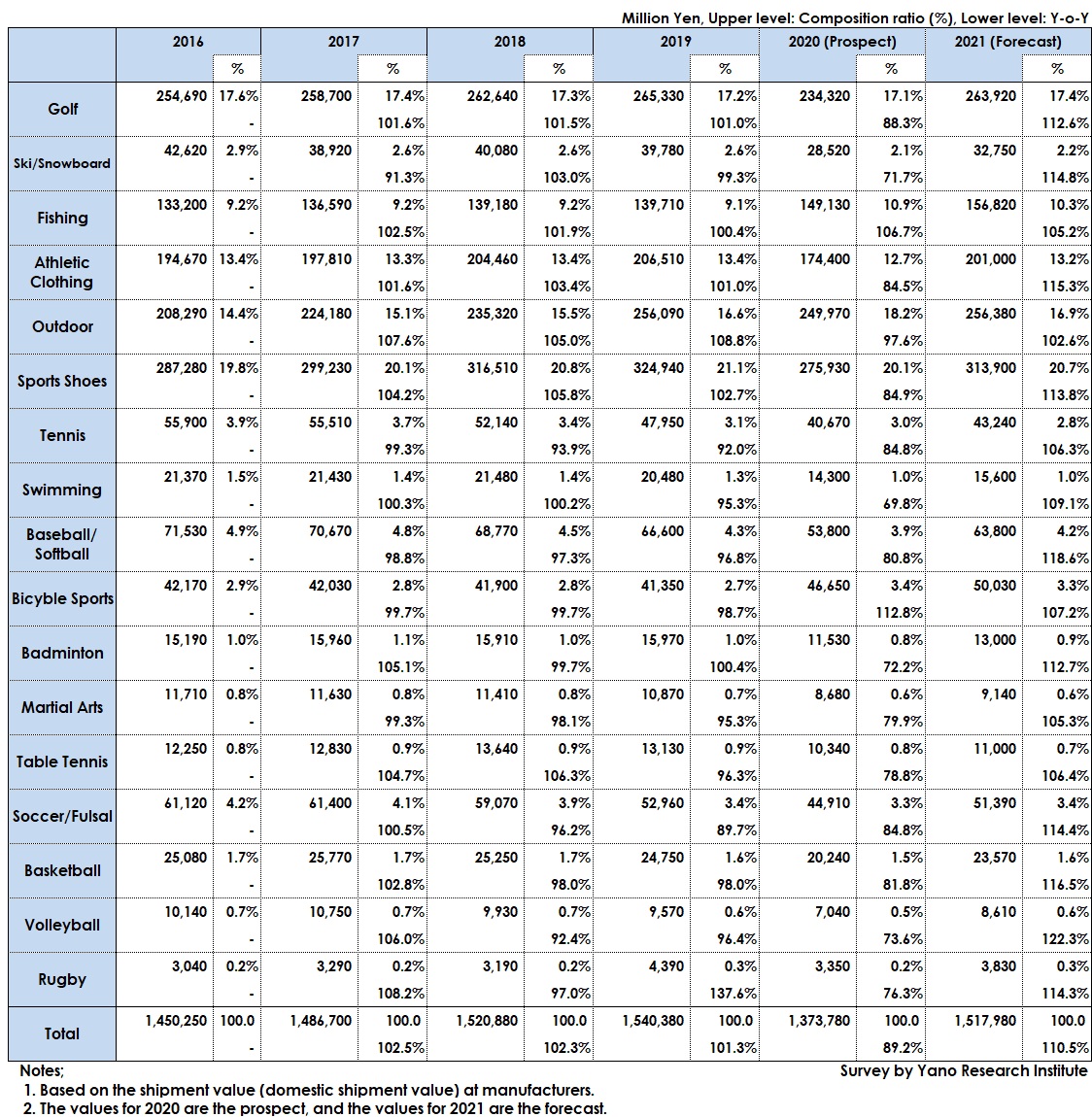 Market Overview
The domestic sporting goods market size in 2020, based on the domestic shipment value, is projected to decline to 1,373,780 million yen, 89.2% of that of the previous year. Because of spread of COVID-19 infections, the Tokyo Olympic and Paralympic Games were forced to postpone for a year and many sports events were compelled to suspend or defer, bringing about a heavy blow for the sporting goods market. In addition, rapidly increased sporting-goods manufacturers' directly-operated shops and other sporting goods retailers had to close temporarily or to shorten the business hours as a countermeasure against spreading of the infections, which considerably reduced the sales. A hard blow also stemmed from lack of sporting and athletic environment, as school club activities were temporarily suspended.

On the other hand, the exercises that can prevent "3Cs" and solve lack of fitness have drawn attention in the situation where people were asked to stay home as much as possible. In addition to golf goods and outdoor gear likely to maintain the reduction of shipment value at the minimum for 2020, fishing gear and bicycle sports items seem to increase the value from the previous year, indicating a pick-up for market growth in some categories. Therefore, the conditions of the sporting goods market in 2020 differed by category.

Noteworthy Topics
Upheaval in Sporting Goods Retail Market in COVID-19 Calamity Led Ecommerce to Become Lifeline for Older People
Ecommerce has become high profile in the sporting goods retail market in 2020, as people stayed home longer hours in the COVID-19 calamity. Rapid increase of ecommerce is not surprising, but what is worth mentioning is that the users have ranged even to older people. According to major retailers, resistance to online shopping by the middle and older age groups has almost disappeared and use of ecommerce by such people has been significantly increasing.

The middle and older age group people were thought to avoid ecommerce as they were inept at it, generating so called digital divide in the society. On the contrary, online shopping has become indispensable among such people as they have stayed longer hours at home in the COVID-19 calamity.

Because older people have higher risks of exacerbating the illness by new coronavirus, they are sure to continue staying at home as much as possible and their use of ecommerce is likely to accelerate now that they know the convenience.


Future Outlook
The domestic sporting goods market size in 2021, based on the domestic shipment value, is projected to rise to 1,517,980 million yen, 110.5% of that of the previous year. Upturn is expected in 2021 from the depressed market caused by COVID-19 infections.

However, when the pandemic spread once again, various sports events can be suspended, which can deteriorate the sporting goods market. When the Tokyo Olympic and Paralympic Games take place without an audience, the domestic shipment market of sporting goods may enjoy only limited benefit from the Games.


Research Outline
1.Research Period: January to March 2021
2.Research Object: Sporting goods/sports gear manufacturers, importers, wholesalers, and retailers
3.Research Methogology: Face-to-face interviews by expert researchers, and mailed questionnaire
The Sporting Goods Market
The sporting goods market in this survey refers to the market of equipment and goods used in the following 17 sports categories: Golf, Ski/Snowboard, Fishing, Athletic clothing, Outdoor, Sports shoes, Tennis, Swimming, Baseball/Softball, Bicycle sports, Badminton, Martial arts, Table tennis, Fitness, Soccer/Futsal, Basketball, Volleyball, and Rugby. The market size is calculated based on the shipment value (domestic shipment) at manufacturers.

Among the categories shown above, "Athletic clothing" includes clothing for training, lifestyle (casual wear), fitness, running and other field athletics. "Sports shoes" include running shoes, walking shoes, multi-purpose shoes (including casual sneakers), kids' shoes, training shoes (including fitness shoes), and sports sandals.


<Products and Services in the Market>
Golf goods, Ski/Snowboard gear, Fishing gear, Athletic clothing, Outdoor gear, Sports shoes, Tennis goods, Swimming goods, Baseball/Softball goods, Bicycle sports items, Badminton goods, Martial arts items, Table tennis goods, Fitness items, Soccer/Futsal goods, Basketball gear, Volleyball goods, and Rugby gear
Contact Us
©2021 Yano Research Institute Ltd. All Rights Reserved.
The copyright and all other rights pertaining to this report belong to Yano Research Institute.
Please contact our PR team when quoting the report contents for the purpose other than media coverage.
Depending on the purpose of using our report, we may ask you to present your sentences for confirmation beforehand.