Hospital Equipment and Supplies Market in Japan: Key Research Findings 2021 Domestic Hospital Equipment and Supplies Market for FY2019 Rose by 2.3% on YoY to 179,400 Million Yen, While That for FY2020 Forecasted to Decline by 2.6% on YoY to 174,800 Million Yen
Yano Research Institute (the President, Takashi Mizukoshi) carried out a survey on the domestic hospital equipment and supplies market, and found out the market size transition and forecast, the trends by product type and by function, and the influences affected by new product releases.
Transition and Forecast of Domestic Hospital Equipment and Supplies Market Size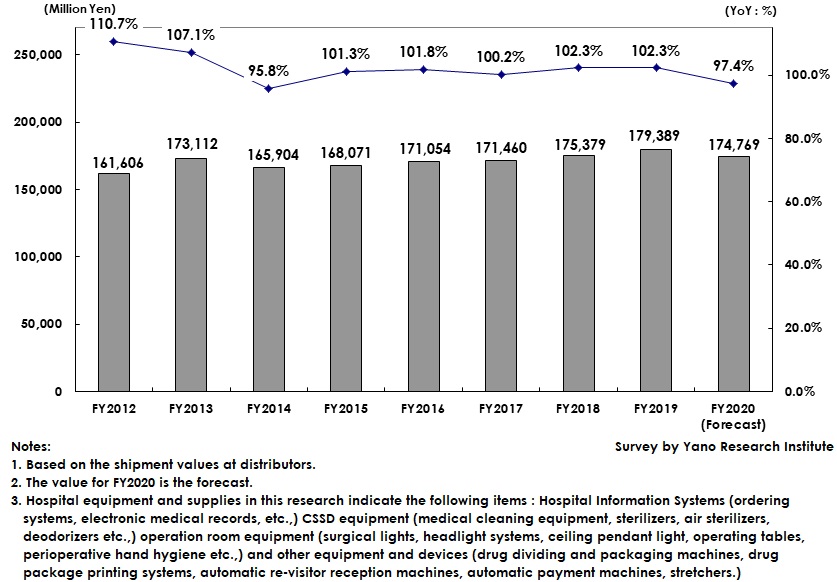 Market Overview
This research is about major hospital facilities and equipment used as HIS (Hospital Information Systems,) and those used at CSSD (central sterile services department,) operational rooms, dispensing, hospital wards, reception and etc., not including those instruments directly used for diagnosis and medical treatments. The cases of new constructions as well as extension and reconstruction of large scale hospitals have lately settled down, and such cases have shifted mainly to middle-scale hospitals with 200 to 400 beds. The entire number of hospitals to be newly constructed, extended, or reconstructed is currently on the decline.

The hospital equipment and supply market has been leveling off or slightly increasing since 2014, chiefly due to updating demand. The market size for FY2019 based on the shipment value at distributors is likely to rise by 2.3% on a YoY basis to 179,389 million yen, mainly because of last minute surge in demand just before the consumption tax hike.

For FY2020, the COVD-19 pandemic caused postponement in constructions and deferment in budget implementation, reducing the market size for almost all the products, except for desk-top autoclaves and air sterilizers which increased the demand. The hospital equipment and supply market for FY2020 is estimate to decline by 2.6% on a YoY basis to 174,769 million yen.

Noteworthy Topics
About Desktop Autoclave Market
The market of small-to-midsize desktop autoclaves had hovered around 10,000 units after FY2005. In addition to the number of newly established clinics and dental clinics having downturned, improved performance of autoclave products prolonged the updating period, which led the market to decline after FY2016.

However, last minute surge in demand just before the consumption tax hike in FY2019, and the subsidies for the infection-spreading control business taken as a measure against COVID-19 in FY2020 encouraged the adoption of and suddenly expanded the demand for autoclaves especially at clinics. Despite being at maximum production capacity at each manufacturer, obtaining an autoclave product has become difficult even at newly opened clinics.

The desktop autoclave market size rose to 3,022 million yen in FY2019 and is likely to reach 3,610 million yen in FY2020.


Future Outlook
According to the (Static/Dynamic) Survey of Medical Institutions and Hospitals for 2019 by MHLW, domestic number of medical institutions as of 2019 was 8,300, a decrease by 72 from the previous year. The declining tendency started since 1990 at which there had been 10,096 facilities. The number of general hospitals among the entire medical institutions in 2019 was 7,246, a decline by 68 from the previous year, accounting for 87.3% of the entire number of hospitals. As for details of the number of increase and decrease of general hospitals, those that newly opened were 57, those resumed 6, those discontinued 116, those suspended 12, and those that changed business activities were 3, which resulted in reduction of total 68 facilities.

Also, according to the statistics on construction starts by MLIT, there were 2,905 medical or health and sanitation facilities i.e. total 2,365,000 square meters in 2019. In 2020 there were 2,718 facilities or total 2,007,000 square meters, with the expense for construction planned amounted to total 636,142 million yen.

For FY2021, although there may be some cases of prolonged budget implementation stemming from the COVID-19 pandemic to be actually implemented, the market still faces difficulty because of the expenses for hospital equipment and supplies have still tended to be suppressed, due to rising unit price per construction.


Research Outline
1.Research Period: December 2020 to March 2021
2.Research Object: Domestic manufacturers of hospital equipment and supplies, and dealers of imported products
3.Research Methogology: Face-to-face interviews by the specialized researchers, survey via telephone, and literature research
What are Hospital Equipment and Supplies?
The hospital equipment and supplies in this research indicate the following: Hospital Information Systems (ordering systems, electronic medical records, etc.,) central sterile supply department (CSSD) equipment (medical cleaning equipment, sterilizers, air sterilizers, deodorizers etc.,) operation room equipment (surgical lights, headlight systems, ceiling pendant light, operating tables, perioperative hand hygiene etc.,) and other equipment and devices (drug dividing and packaging machines, drug package printing systems, automatic re-visitor reception machines, automatic payment machines, stretchers.)


<Products and Services in the Market>
Hospital Information Systems, central sterile supply department (CSSD) equipment, operation room equipment, and other equipment and devices
Contact Us
©2021 Yano Research Institute Ltd. All Rights Reserved.
The copyright and all other rights pertaining to this report belong to Yano Research Institute.
Please contact our PR team when quoting the report contents for the purpose other than media coverage.
Depending on the purpose of using our report, we may ask you to present your sentences for confirmation beforehand.