Bags & Purses Market in Japan: Key Research Findings 2021 Bag & Purses Market for FY2020 Expected to Sink by 17.7% YOY
Yano Research Institute (the President, Takashi Mizukoshi) has conducted a survey on the market of bags and purses in Japan, and found out the trends by product segment, the trends at market players, and the future perspective.
Transition of Bags & Purses Market Size in Japan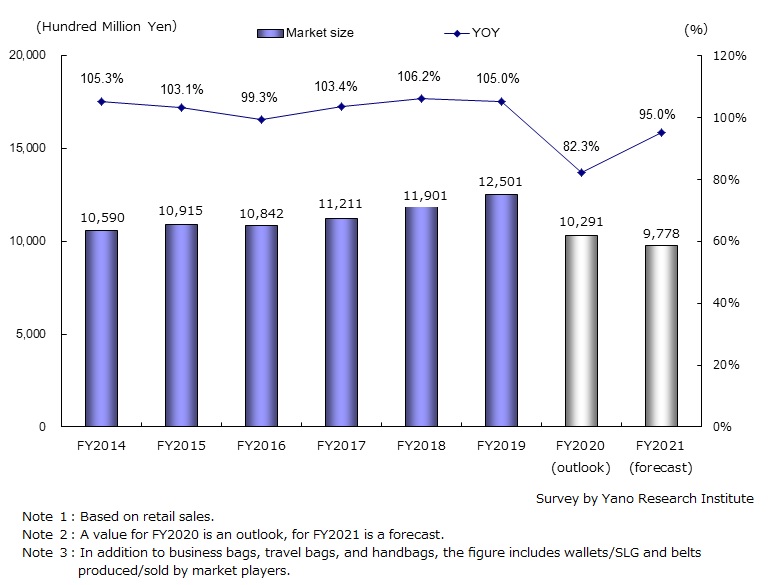 Transition of Import Brands Market of Bags & Purses (Imports from Europe/US)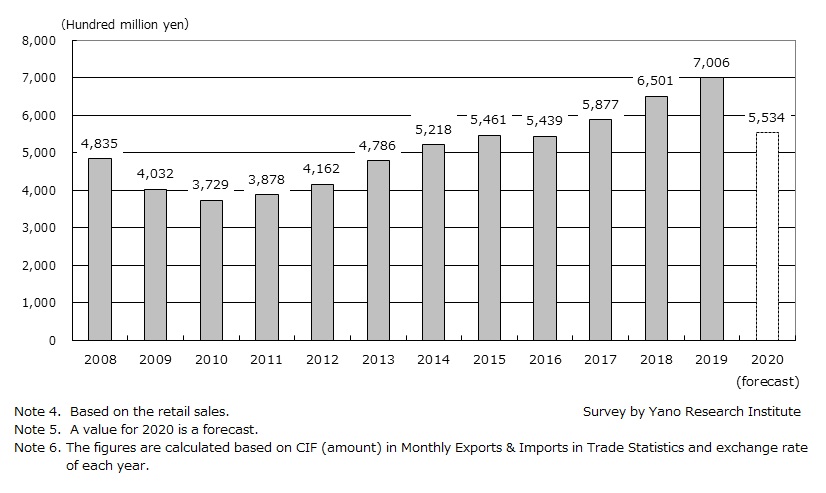 Market Overview
The market size of domestic bags and purses for FY2019 grew by 5.0% from the previous fiscal year to reach 1,250,100 million yen. Stable demand for luxury brands among high net worth individuals and success of strategies to attract millennial generation rose the bags and purses market of luxury import brands (imported from Europe and US) significantly; it attained 700,600 million yen in 2019. The growth was further stimulated by the expansion of online sales and increasing demand at airport shopping malls chiefly among inbound tourists (foreign travelers visiting Japan). Nevertheless, FY2020 anticipates scale down because of drastic decrease in inbound tourism demand due to COVID-19 pandemic. Department stores and brand-owned stores, which enjoyed good sales till then, are projected to face predicament.

*While there are various views to the term 'millennial generation', in this research it indicates the generation born between 1980s to late 1990s, those started to work around the year 2000. As of 2019, they are young people between the ages of early twenties to late thirties.

Noteworthy Topics
Retail Market of Travel Bags
Size of the domestic market of travel bags was 154,000 million yen for FY2019, up 1.3% from the preceding fiscal year. The market size grew steadily against the backdrop of growing demand for overseas travel; according to Japan National Tourism Organization (JNTO), in 2019, the number of Japanese travelers going abroad exceeded 20 million for the first time in history.
The market for FY2020 is projected to diminish considerably as stores are forced to shorten opening hours and as physical events to promote sales have been suspended as protective measures against COVID-19 infections. In addition to a downturn in the number of overseas travels, which directly triggers purchase of suitcases, the decrease of inbound tourists also shrunk demands. Although sales of some travel bags, such as a small suitcase for one person for domestic travels stayed strong, harsh situation is likely to continue.


Future Outlook
Size of the bags and purses market in Japan for FY2020 is estimated to drop to 1,029,100 million yen, down 17.7% from the previous fiscal year, and is projected to shrink further by 5.0% to yield 977,800 million yen for FY2021.
The market is projected to plunge for 2020 as sales opportunities decreased due to shorter opening hours and voluntary closures to prevent COVID-19 infections. In particular, fields including travel bags are damaged heavily by the drop in overseas travelers and loss of inbound demand.
Under the harsh circumstances, to generate demand, market players are actively developing anti-COVID-19 products and products that suit to new normal. New approaches, such as development of small suitcases for one person and products with antibacterial/antiviral functions, are expected to invigorate and underpin the market.


Research Outline
1.Research Period: December 2020 to February 2021
2.Research Object: Manufacturers, wholesalers, retailers, and other peripheral businesses of bags, purses, and belts for apparel (manufacturers, wholesalers, and suppliers of materials such as leather, fabrics, and synthetic leather), importers and related associations
3.Research Methogology: Face-to-face interviews by the expert researchers, survey via telephone/email, literature research
Bags & Purses Market
In this research, bags mainly indicate large-size bags for men, and purses refer mainly to handbags or sachets for women. The market includes business bags, travel bags, handbags, wallets, small leather goods and belts. The market size of import brands and licensed brands are totalized on calendar basis.


<Products and Services in the Market>
Shoulder bag, tote bag, rucksack, knapsack, backpack, weekender, duffle bag, messenger bag, waist bag, clutch bag, shopping bag, briefcase, handbag, cross-body, etc.
Contact Us
©2021 Yano Research Institute Ltd. All Rights Reserved.
The copyright and all other rights pertaining to this report belong to Yano Research Institute.
Please contact our PR team when quoting the report contents for the purpose other than media coverage.
Depending on the purpose of using our report, we may ask you to present your sentences for confirmation beforehand.