Hair Salons and Barber Shops Market in Japan: Key Research Findings 2021
Impacted by COVID-19, Hair salons and Barber Shops Market for FY2020 Dropped to 1,970,000 Million Yen, 92.7% of Previous Fiscal Year
Yano Research Institute (the President, Takashi Mizukoshi) conducted a survey on the domestic hair salons and barber shops market, and found out the market size, the market trends by prefecture, by treatment, and by market players, as well as the future outlook.
Transition and Forecast of Hair salons and Barber Shops Market Size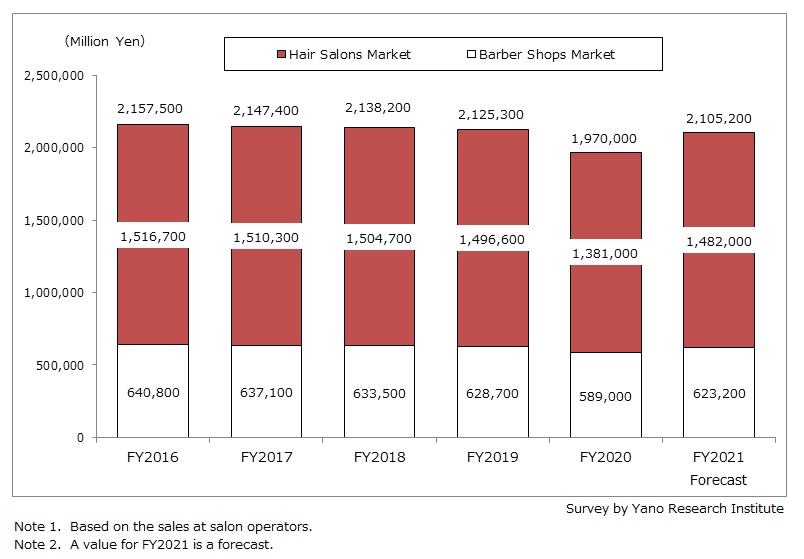 Market Overview
The hair salons and barber shops market for FY2020 attained 1,970,000 million yen, based on the sales at the salon operators (92.7% of the size of the previous fiscal year).
As the state of emergency was declared in April 2020 against the backdrop of global outbreak of COVID-19, it precipitated a severe economic downturn by restricting social and economic activities. Although a sign of recovery was seen after the declaration was lifted in May, with phased implementation of government policies providing fiscal stimulus to the economy, uncertainty remained due to raising fear of repeat outbreaks.
The spread of COVID-19 had a tremendous impact on the hair salons and barber shops industry likewise: Over fear of getting infected by coronavirus, consumers preferred cocooning or save money by dying their hair at home or by taking longer intervals between each salon visits. Under the harsh business environment, the market size for FY2020 declined sharply.

Noteworthy Topics
Hair Salons and Barber Shops Required to Take COVID-19 Safety Measures
Hair salons and barber shops have long been practicing high standards of hygiene in compliance with relevant legislation. However, to take social responsibility as a business of environmental hygiene and to protect well-being of consumers and staffs amid COVID-19 pandemic, they are required to promote tighter measures to minimize the risk of transmission particularly from the aspects of "salons/shops", "staffs", and "customers".
At salons/shops, they implement measures such as: (1) hand hygiene (wash/sanitize hands and fingers), (2) mask mandates, (3) routine ventilation, (4) cleaning and disinfecting the facility (door knobs/ chairs/ various electronic devices, etc.), (5) cleaning and disinfecting equipment (scissors/brushes/capes, etc.), (6) facilitate social distancing, (7) use physical barriers such as curtains/sheets to separate workstations, (8) arrange cubicles, (9) reduce business hours, (10) shorten time spent for each service/treatment, and (11) introduce air purifier/sterilizer.
From a staff safety aspect, they require: (1) temperature screening before starting work, (2) thorough hand washing and gargling, (3) wearing masks at all times, (4) disinfecting of personal belongings, and (5) wearing gloves (rubber or other material).
For customers, they (1) require temperature screening upon arrival, (2) provide hand sanitizer, (3) leave a gap between appointments to control the number of customers, and (4) provide service only to those pre-booked their appointments (refuse service to walk-in customers).


Future Outlook
On the assumption that influence of COVID-19 will somewhat ease compared to 2020 and business practices adapting to "with-corona era" become a norm among salon operators, the domestic hair salons and barber shops market for FY2021 is expected to yield 2,105,200 million yen (106.9% of the size of the previous fiscal year) based on the sales at the salon operators. Out of the total size of market, the barber shops market is estimated to attain 623,200 million yen, (105.8% on YoY), while the hair salons market reach 1,482,000 million yen (107.3% on YoY).
Shrinkage of the domestic hair salons and barber shops market is projected to continue by reason of population decrease, owing to declining birthrate and aging population. For this reason, in the big picture, market players will remain focused on the strategy of increasing market share.


Research Outline
1.Research Period: January to March 2021
2.Research Object: Franchises of beauty hair salons and barbers, shared beauty salons operators, and traders & wholesalers of beauty hair salons and barbers, manufacturers of cosmetics and equipment for beauty salons and barbers
3.Research Methogology: Face-to-face research by the expert researchers, surveys via telephone/email, mailed questionnaire, and literature research
What is the Hair Salons and Barber Shops Market?
The hair salons and barber shops market in this research indicates the total domestic market of hair salons (a.k.a. beauty salons) and barbers that provide haircutting, permanent waves, hair setting, and other services, as well as product sales at the salons and online. Home-visit services and non-store services are also included.


<Products and Services in the Market>
Services at hair salons and barber shops (haircutting, permanent waves, hair setting, hair dying and other services) and product sales at salons/shops and online
Contact Us
©2019 Yano Research Institute Ltd. All Rights Reserved.
The copyright and all other rights pertaining to this report belong to Yano Research Institute.
Please contact our PR team when quoting the report contents for the purpose other than media coverage.
Depending on the purpose of using our report, we may ask you to present your sentences for confirmation beforehand.