Rental Storage/Container Storage/Trunk Room Market in Japan: Key Research Findings 2020 Domestic Storage Service Market Size (Total of Rental Storage, Container Storage and Trunk Room Services) for FY2020 Estimated to Rise by 2.3% to Attain 77,470 Million Yen
Yano Research Institute (the President, Takashi Mizukoshi) carried out a survey on the domestic market of storage services (rental storage, container storage, and trunk rooms) and found out the current status and perspectives of each market.
Transition of Domestic Market Size of Storage Services (Rental Storage, Container Storage and Trunk Room)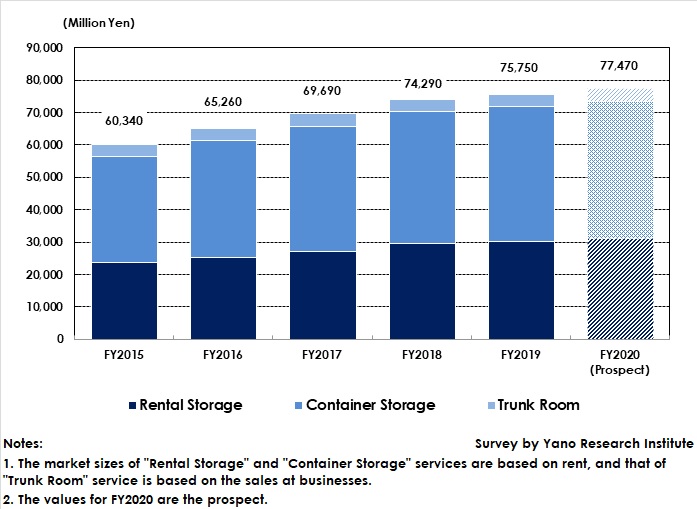 Market Overview
The domestic storage services market (total of rental storage, container storage and trunk room services) for FY2020 has rose by 2.3% to attain 77,470 million yen.

The market size has expanded to 1.7 times larger during the past 9 years from 45,550 million yen in FY2011. The number of bases from which to provide storage services has also been expanding year by year to over 13,000.

Noteworthy Topics
The market continues expanding, though the growth speed may slow down
After two years since the last research in December 2018, all the storage services have expanded stably, though the growth rate has somewhat slowed down.

Many rental storage services have developed and expanded at urban areas, especially in Tokyo and surrounding areas in which people and business concentrate. The market expansion also stems from diversification of the services, such as increasing number of small-size rental storage spaces newly built and opened at residential areas.

Container storage services have also been growing, but they have begun shifting their bases from local areas to urban areas, mainly in Tokyo and its neighborhood areas. Although suburban areas close to cities as well as local regions are promising to develop the business, the service providers have started enhancing the business at urban areas, aiming at maintaining stable occupancy rate as well as securing profitability, which are more achievable at urban areas where number of people and households is abundant and where highly profitable rent can be expected.

The market of trunk room services has been almost leveling off, but slightly on the rise. Improvement of the awareness of rental and container storage services developed in the neighborhood of residents has synergistically expanded the trunk-room users.


Future Outlook
For FY2019 and FY2020, new bases for storage services have been stably developed in both Tokyo metropolitan areas and regional areas. In addition, Kansai-area-based businesses have accelerated their advancement to Capital regions, which further increased the development in Tokyo and the peripheral areas. As can see from stable occupancy rate observed at service providers regardless of whether major or not, the entire market has been supported by steadfast demand.

As for FY2021 and later, in the status where storing service providers find securing of storing spaces difficult, as the real estate prices remaining high, the development of small-to-middle size new storing bases is likely to increase, as newly built rental storing spaces expanding in urban areas. This makes the storing services more familiar for the residents, which is expected to increase the awareness and generate potential demand.


Research Outline
1.Research Period: January to March 2021
2.Research Object: Leading companies and organizations in the business of storage services, the data of storage-service bases
3.Research Methogology: Face-to-face interviews by the expert researchers, surveys via telephone, field study, and literature research
What is the storage services (rental storage, container storage and trunk room) market?
The storage business in this research indicates a business that a user pays for storing his/her private belongings (basically those without any purpose to sell) at a place other than office or home. The business in this research is categorized into the following three services: 1) Rental storage services operated mainly by real estate agencies to lend indoor rooms and spaces, including those in storing-only buildings where individuals or corporate bodies can store things. Safe-deposit boxes operated by banks and baggage lockers located at railway stations and etc. are not included; 2) Container storage services, similar to rental storage services only that those rooms and spaces provided are not placed indoors but outdoor containers or those storage made of steel; and 3) Trunk room services operated mainly by warehouse companies to provide trunk rooms, needed to be certified by Ministry of Land, Infrastructure, Transport and Tourism, in which luggage and furniture of individuals can be deposited (limited to the use by the habitants, and therefore, storage of documents and the use by corporate bodies are not included.)


<Products and Services in the Market>
rental storage space, rental container storage, and trunk rooms
Contact Us
©2021 Yano Research Institute Ltd. All Rights Reserved.
The copyright and all other rights pertaining to this report belong to Yano Research Institute.
Please contact our PR team when quoting the report contents for the purpose other than media coverage.
Depending on the purpose of using our report, we may ask you to present your sentences for confirmation beforehand.