UPS (Uninterruptible Power Supply) Market in Japan: Key Research Findings 2020
UPS Market Supported by Demand at Datacenters
Yano Research Institute (the President, Takashi Mizukoshi) carried out a survey on the domestic UPS (Uninterruptible Power Supply) market and found out the product trends by segment, the trends of market players, and the future perspectives.
Transition and Forecast of Domestic UPS Market Size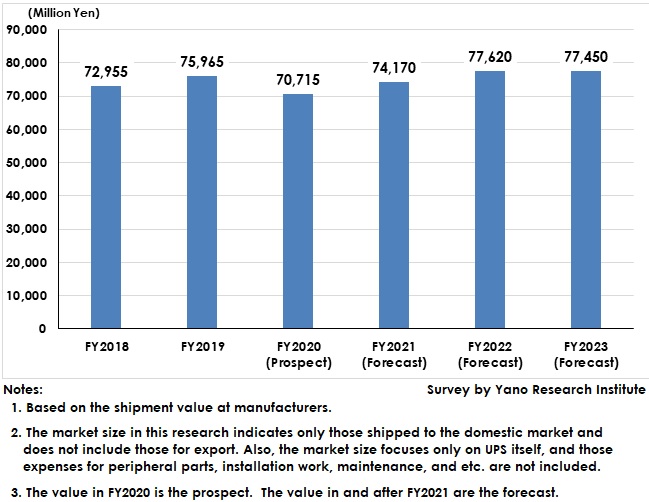 Market Overview
The domestic UPS (Uninterruptible Power Supply) market size in FY2019, based on the shipment values at manufacturers, has risen to 104.1% of the previous fiscal year to 75,965 million yen, but, is expected to decline in FY2020 to 70,715 million yen, 93.1% of the preceding year, due to COVID-19 pandemic.

Although the market of UPS with the capacity less than 100kVA has shrunk in FY2019, the strong demand for large-capacity UPS with 100kVA or more for datacenters has driven the entire market to expand. However, the UPS market of all capacity size is likely to diminish in FY2020, because the COVID-19 pandemic has limited the sales activities at UPS manufacturers and has delayed the updating work at user companies.

Noteworthy Topics
Commoditization of UPS in Progress, Leading to Price Competition
With regard to differentiation of large-capacity UPS with 100kVA or more, one distinguishable aspect may be reduction of running cost and maintenance expenses. However, either factor is not specific to UPS manufacturers, which makes it difficult for a UPS manufacturer to differentiate from others.

Without any specific technologies and knowledge that can lead to product differentiation, and as the technology almost matured, no technological difference in UPS with the same grade (of same specifications) can be generated among manufacturers. Therefore, decision of which UPS to adopt by user companies is dependent on the reliability and low price.


Future Outlook
The domestic UPS market size for FY2023 based on the shipment values at manufacturers is forecasted to be 77,450 million yen. While the shipment volume is on the decline, the tendency of greater capacity per product raises the unit price per product, retaining the market size to level off. Because there are not enough factors to expand the market of relatively small-capacity UPS for the time being, generation of new demand for each product with the capacity 99kVA or less needs more time. The favorable sales of large-capacity products with 100kVA or more is likely to continue driving the entire market growth.


Research Outline
1.Research Period: December 2020 to March 2021
2.Research Object: Producers and distributors of domestic UPS, and those enterprises having entered the market as distributors, etc.
3.Research Methogology: Face-to-face interviews by the expert researchers (online interviews included,) surveys via telephone, and literature research
What is an UPS?
An UPS (Uninterruptible Power System) in this research indicates an electrical apparatus that provides emergency power to the devices and systems to protect the devices and data within, when power cut or instantaneous voltage drop occurs. Note that voltage-dip compensators that can be available only for an instantaneous voltage drop are not included in this research. Because the application category differs by the capacity, UPS is categorized into 3kVA or less, more than 3kVA but less than 10kVA (i.e. 4 to 9kVA,) more than 10kVA but less than 100kVA (i.e. 10 to 99kVA,) and 100kVA or more. All the capacity sizes are included in the market size.

The UPS market size in this research indicates only those shipped to the domestic market and does not include those for export. Also, the market size focuses only on UPS itself, and those expenses for peripheral parts, installation work, maintenance, and etc. are not included.


<Products and Services in the Market>
UPS itself, and those expenses for peripheral parts, installation work, maintenance, and etc. are not included.
Contact Us
©2019 Yano Research Institute Ltd. All Rights Reserved.
The copyright and all other rights pertaining to this report belong to Yano Research Institute.
Please contact our PR team when quoting the report contents for the purpose other than media coverage.
Depending on the purpose of using our report, we may ask you to present your sentences for confirmation beforehand.