Trends of IoT Market Startups/Ventures in Japan: Key Research Findings 2020
A Total of 392 Startups/Ventures Entered IoT Market
Yano Research Institute (the President, Takashi Mizukoshi) has carried out a survey on the current status of IoT vendors (IoT vendors, AI vendors, analysis vendors and others) newly entering the IoT market, and found out their time of entrance and target industries.
Target Industries of 392 Startups Surveyed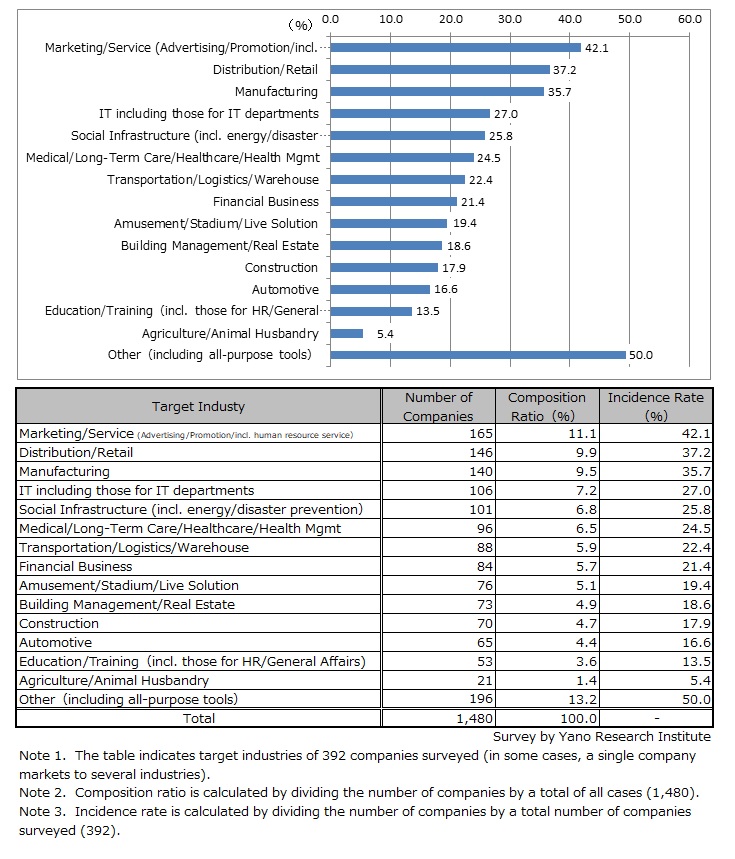 Summary of Research Findings
IT vendors surveyed in this research are those established after 1995, the year that Internet actually began to spread in Japan, with a capital less than one billion yen. Based on public information, current status of new entrants to the IoT market is examined, and it was confirmed that 392 vendors have started IoT business.
By categorizing the 392 companies surveyed, incidence rate is calculated by target industry (*total of 1,480 cases, as some companies markets to several industries). The incidence rate was highest for "marketing/service" (with an incidence rate of 42.1%), followed by "distribution/retail" (37.2%) and "manufacturing" (35.7%), each accounting for more than 30 percent. On the other hand, the incidence rates for "agriculture/animal husbandry" (5.4%), "education/training" (13.5%), and "automotive" (16.6%) were low.
Further, since a total of "IT (information telecommunication)" (27.0%), "education/training" (13.5%) and "others (including those for general purposes)" (50%) combines to 355 cases, it shows that quite a few vendors have entered the market as a provider of all-purpose tools that are not designed for specific industry, or as an in-house service.

Noteworthy Topics
Peak of Market Entry was "FY2011-2015" When the Third AI Boom Coincided with IoT Boom
Out of 367 companies with clear evidence of market entry period, the range of "FY2011-2015" (composition ratio of 30%) had largest number of market entry, followed by "after FY2016" (27.8%) and "FY2006-2010" (18.3%). Almost 60 percent of all startups entered the market after FY2011, and on a single year basis, the greatest number was seen in FY2016 with 35 entries.
In the face of headwinds from COVID-19 calamity, FY2020 witnessed 6 ventures starting business using AI technology development, automatic speech transcription, machine translation for comic books (manga), image recognition service, avatar robots, and XR (extended reality). It indicates that the number of new entry is declining significantly compared to years prior to FY2019.

Research Outline
1.Research Period: October 2020 to March 2021
2.Research Object: IT vendors established after 1995 with a capital less than one billion yen
3.Research Methogology: Collection and research of literature and public information by specialized researchers and survey by telephone
This research investigates current status of new market entries of IT startups in the IoT market, i.e. entries of IT vendors established after 1995 with a capital less than one billion yen, based on various public information.
Note that in case collected data regarding a company included capital reserve, or if the company is adopting consolidated/group-based accounting or is established before 1994 but actual start of business is after 1995, such company may be covered in this survey.
The IoT business indicates "IoT vendors (IoT platform, IoT solution, IoT device, IoT network, IoT starter kit, etc.)", "AI vendors (image analysis/image recognition, natural language processing/speech recognition, machine learning, deep learning, AI translation, optimization, simulation, etc.)", "analysis vendors (data analysis, speech/noise analysis, structural analysis, simulation, etc.), and "others".


<Products and Services in the Market>
IoT vendors, AI vendors, analysis vendors, other companies
Contact Us
©2019 Yano Research Institute Ltd. All Rights Reserved.
The copyright and all other rights pertaining to this report belong to Yano Research Institute.
Please contact our PR team when quoting the report contents for the purpose other than media coverage.
Depending on the purpose of using our report, we may ask you to present your sentences for confirmation beforehand.