Workation Market in Japan: Key Research Findings 2020
Workation Market Attains 69,900 Million Yen for FY2020
Yano Research Institute (the President, Takashi Mizukoshi) has conducted a survey on the workation market in Japan, and found out the attempts by market stakeholders (local governments, various associations, service providers, etc.) and the future directions. Here, the forecast on size of the workation market is announced.
Forecast of Workation Market in Japan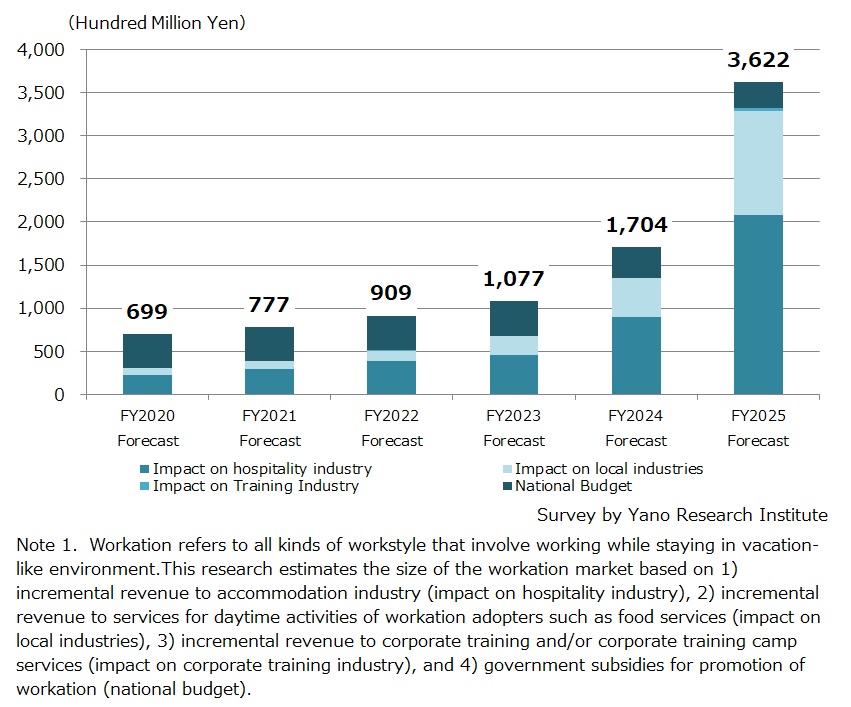 Market Overview
Workation is a term coined to denote a combination of "work" and "vacation". The workation market had been very limited to those who have latitude to decide on location of telework and for so-called digital nomads (those who work not from office but from anywhere else, such as coffee shops or co-working space). Nonetheless, demand for the market grew as many companies jumped to remote work because of COVID-19 crisis in 2020. Size of the domestic workation market for FY2020 is forecasted to reach 69,900 million yen.
While the number of local governments, associations and companies introducing workation multiplies, business operators providing workation-related services are also rapidly increasing and various attempts are being made. In accordance with this trend, the number of workers using workation services is also on the rise. However, due to a lack of system at employers to adopt workation, it is undeniable that foundation of the market is still unestablished.

Noteworthy Topics
Workation Market Garnering Attention from Various Industries
In recent years, workation is drawing all kinds of attention from all over the country. Although a primary meaning of workation is simply "teleworking in vacation environment away from regular location of work", it has developed in a unique way as an alternative tool to solve domestic social issues, including paid holidays not being used by employees and promotion of regional revitalization. Therefore, various industries are spotlighting the workation market as their business expansion opportunity.
The workation market used to be limited only to those who have latitude to decide on location of telework and to so-called digital nomads. Nevertheless, the market demand increased as telework spread at once by the outbreak of COVID-19 calamity in 2020. As telework is expected to prevail further as part of the efforts to improve diversity and promote workstyle renovation, it is possible that employers may relax their work rules regarding location of telework, allowing more flexibility to work.
Moreover, the government values potentiality of workation in migrating people from city areas to rural areas. Since the outbreak of COVID-19 crisis, anticipation for decentralization is growing, and for that the government is expanding national budget to show its willingness to make workation widespread.


Future Outlook
Under the current circumstances, the workation market is driven by "individuals", the workers who voluntarily practice workation. This situation is very risky, because presumably most of them are workationing without written agreement. In 2020, the year of rapid expansion of telework, many companies switched to teleworking from home to prevent prevalence of novel coronavirus. Despite the fact that the number of companies restricting location of telework to home only has increased in response to COVID-19 calamity, even firms which used to promote telework without specific restriction on work location, it is speculated that many workers are taking workation anyway. Establishment of an employment system to approve workation is the challenge to expand the market.
At many companies that have adopted telework after the outbreak of COVID-19, it is assumed that a combination of work at home and work at office will continue as a hybrid workstyle even after the pandemic ends. Then, as the situation of work from home and/or work at office continues, employees are likely to achieve freedom to choose work location. At that point, the future of workation market depends on whether the firms will be capable of allowing three or more options, i.e. not just office or home but some other place(s). Presupposing more companies will be open to the idea of workation, the market is expected to achieve a compound annual growth rate of 40% between FY2020 and 2025, reaching 362,200 million yen by FY2025.


Research Outline
1.Research Period: October 2020 to February 2021
2.Research Object: Local governments promoting workation, workation-adopting companies, workation service providers
3.Research Methogology: Face-to-face interviews by our specialized researchers, corporate questionnaire, and literature research
What is the Workation Market?
"Workation" is a term coined to describe a combination of "work" and "vacation". In this research, workation is defined as a workstyle in general which involves working in vacation environment. Size of the workation market is calculated as a total of service fee spent on accommodation for workation (economic impact to accommodation sector), service fee spent on daytime activities such as eating and drinking (economic impact to regional economy), service fee for trainings or training camps other than day to day regular work (economic impact to training sector), and budget provided by ministries and agencies pressing ahead with workation (national budget).


<Products and Services in the Market>
(1) Service fee spent on accommodation for workation (economic impact on accommodation industry), (2) Service fee spent on daytime activities such as eating and drinking (economic impact on regional economy), (3) Service fee for new services derived from workation (economic impact on training industry), (4) Government budget for promotion of services mentioned above (national budget)
Contact Us
©2019 Yano Research Institute Ltd. All Rights Reserved.
The copyright and all other rights pertaining to this report belong to Yano Research Institute.
Please contact our PR team when quoting the report contents for the purpose other than media coverage.
Depending on the purpose of using our report, we may ask you to present your sentences for confirmation beforehand.