Service Industry in Japan: Key Research Findings 2020
Out of 11Fields including 94 Markets of Service Industry, Approximately a Quarter (26 markets) Expects Further Growth
Yano Research Institute (the President, Takashi Mizukoshi) has conducted a survey on the trends of domestic service industry, and found out the current status and future outlook of 11 fields including 94 markets.
Share of Tertiary Sector in Gross Domestic Product (Nominal GDP) by Economic Activity (by Industry) [2018, calendar year]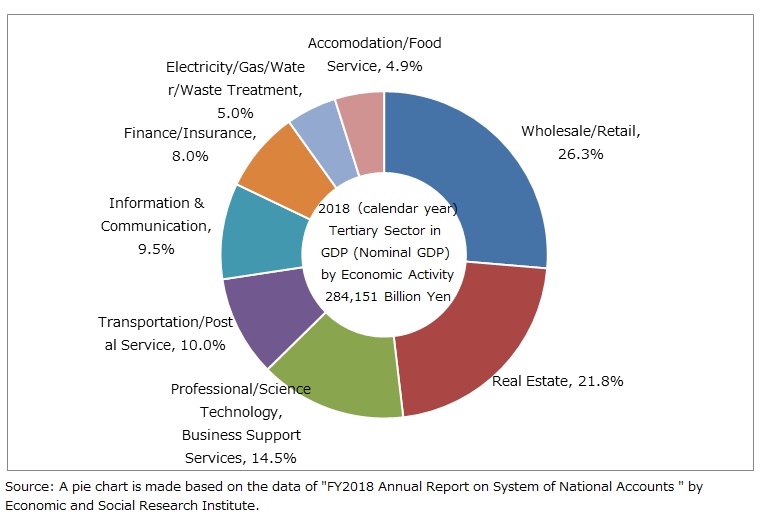 Transition and Forecast of Launderette Market Size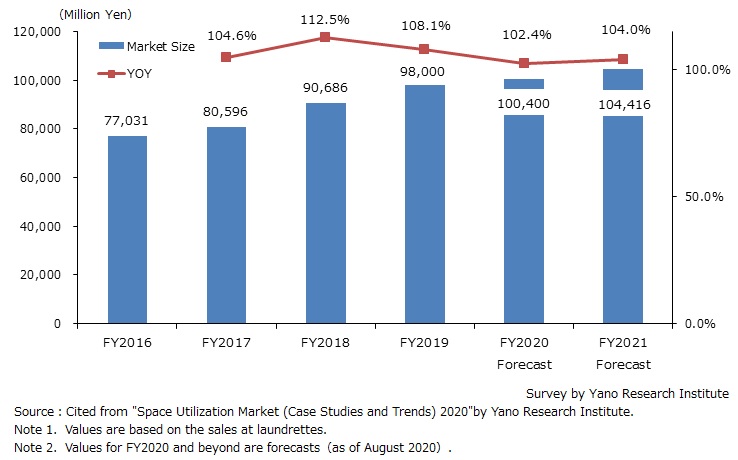 Summary of Research Findings
According to the GDP (nominal GDP) for 2018 (calendar year) by the Cabinet Office, share of the primary sector was 1.2%, which is equivalent to that of the preceding year. Likewise, the share of the secondary sector remained at 26.5%, almost the same as a previous year, while the share of tertiary sector rose by 0.1 point.
Viewing at the breakdown of the tertiary sector, it shows that wholesale/retail, real estate, professional/science technology, and services for enterprises account for large fraction. In terms of transition, while the share of infrastructure services such as electricity/gas/water/waste treatment had been flat in recent years, wholesale/retail dropped its share in 2018, and finance/insurance and transportation/postal services grew marginally. Real estate business stayed flat in 2018.
Meanwhile, public services including public duties, education, and health/social services (government sector market) accounts for 15% of the Japan's gross domestic product by economic activity. By value, trend of expansion has been witnessed since 1990s, and in 2018 it reached 86 trillion yen, up 2.1% from the previous year. Nonetheless, because public services essential for people's living, such as education, healthcare, police and fire, have difficulty making profits, there is an aspect that private enterprises hesitate from going into this market.



Noteworthy Topics
Launderette (Laundromat) Market Trends
Of the 11 fields including 94 markets in this research, 26 markets (composition ratio of 27.7%) are on the rise. Launderette market is one of the noteworthy growing markets in the field of living assistance services.
While a precise number of launderettes are unknown as launderette service is not obliged to file its opening or closing, it is assumed that there are approximately 20,000 launderettes in Japan today. In recent years, the number of launderettes continued to expand, under the influence of: a growing trend towards nuclear families and double-income households; changes in social environment and lifestyle including rising consciousness toward hygiene control; and launderettes garnering attention as a new target of investment, as an alternative to solar power generation or parking place (coin parking lots). Although the growth rate has lowered recently due to slowdown in craze for investment, it is assumed that the launderette service is still seeing a slight upward trend.



Research Outline
1.Research Period: October to November 2020
2.Research Object: 11 fields including 94 markets of major service industry
3.Research Methogology: Data compilation of market research information by our specialized researchers and literature surveys
Service Industry
In this research, the service industry refers to 11 service fields including 94 markets as listed below:
(1)Information/telecommunication service, (2) IT service, (3) infrastructure service, (4) service related to transportation/traffic, (5) medical service, long-term care and childcare, (6) education service/cram school, (7) lifestyle and living assistance service (8) food service (restaurants/diners), (9) travel and accommodation service, (10) leisure/sports related service, (11) service for enterprises.


<Products and Services in the Market>
(1) Broadcasts, newspapers, magazines/book publication, communications (fixed phones, mobile phones), internet service providers, e-books, (2) e-commerce, SNS/free calls/messenger apps, digital contents delivery service, portal service /online advertising /search engine, (3) electricity, gas, railways, aviation, (4) home delivery/mail delivery, taxi, highway express bus, rental cars/car share, parking service, moving service, (5) medical service, long-term care service, residential care service, retirement homes, group homes, home with services for elderly, assisting service for elderly, childcare service, (6) special education for gifted children, cram schools/university preparatory schools, schools for acquisition of qualification, e-learning, culture center, language schools, correspondence courses, driving schools, (7) hair salon and barber shop, aesthetic salons, haircare salons, dry cleaners, bank, brokerage, insurance, consumer finance, credit card, real estate agent, home renovation, home security, marriage-related services, funeral services, car maintenance, housekeeping service, launderettes, pet-related services, coin-operated lockers, storage services, (8) restaurants, ready-to-eat food, food delivery service, meal service, complex cafe [cafe providing Internet, manga browsing, etc.,], (9) tourism, hotels/Japanese inns, exclusive resorts, cruising, vacation rental ("minpaku"), (10) movies and cinemas, sports games/lives/entertainment shows, karaoke box, pachinko parlors, amusement and gaming facilities, amusement parks/theme parks, bathing facilities, fitness gyms, bowling centers, golf course/driving range, futsal fields, eSports, (11) leasing, advertising production/advertising agency, event planning/operation, store and trade show displays, general/specific work outsourcing, human resources business, security service, building maintenance service, linen supply service, enterprise system/software development, warehousing and storage, industrial waste treatment, law/accounting firms, share office/co-working space, rental conference rooms
Contact Us
©2019 Yano Research Institute Ltd. All Rights Reserved.
The copyright and all other rights pertaining to this report belong to Yano Research Institute.
Please contact our PR team when quoting the report contents for the purpose other than media coverage.
Depending on the purpose of using our report, we may ask you to present your sentences for confirmation beforehand.