Water Delivery Market in Japan: Key Research Findings 2021 Water Delivery Service Market Continues Expanding
Yano Research Institute (the President, Takashi Mizukoshi) conducted the survey on the market of domestic water delivery service and the periphery markets, and has found out the trends by segment, the trends of market players, and future outlook.
Transition of Water Delivery Service Market Size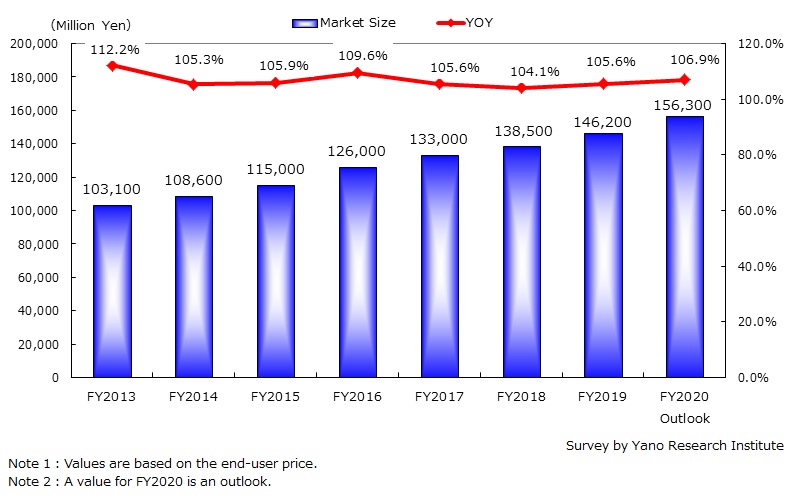 Market Overview
The water delivery service market for FY2019 (based on the end-user price) continued to expand to 105.6% of the preceding fiscal year, reaching 146,200 million yen. Although new customer acquisition has lost momentum compared to before, stable sales particularly at top companies fueled the market growth.
The market for FY2020 is expected to rise by 6.9% from the previous fiscal year to attain 156,300 million yen. As companies, particularly large ones, promoted work from home due to COVID-19 crisis, new sales struggled in water delivery service for corporate use and the amount of water consumption diminished. Meanwhile, increased time at home expanded the amount of water for home use. While it was difficult to acquire new customers through face to face sales promotions like demonstration at a shopping mall, customer development went well online. Telemarketing was also effective and efficient because it was easier to contact people who normally do not stay home. Still, some top companies continue to enjoy good sales with new customers through demonstration.

Noteworthy Topics
New Customer Acquisition by Enhancing Plans "for Moms" and "for Seniors"
As many customers start using water delivery service when they start parenting, many service providers offer plans with keywords like "moms" and "expecting mothers" to acquire new customers. In fact, the strategy has been motivating customers to apply to new services.
Meanwhile, there are also an increasing number of service providers that are targeting at seniors. Some of the attempts seen in the market include adoption of bottom loading servers and small-sized containers for seniors, and development of service for the seniors that tend to use small amount of water, a contract which specifies no minimum for contract period and/or for number of water jugs. In FY2020, spread of COVID-19 made seniors at higher risk of severe illness to hesitate from going out and think of not going to shop as often. Therefore, increase was witnessed in the number of seniors that apply to water delivery services, which may reduce their frequency of shopping and burden of carrying heavy water bottles.


Future Outlook
Although it has been said that the growth rate has been slowing down, the water delivery service market anticipates further expansion by acquiring new customers further in the geographical area with significant room for growth and in the senior populations, and by attempts such as focusing on a specific area to increase delivery efficiency. However, some companies may lose customers; whether it's a business that provides water delivery with disposable bottles or with returnable jugs, addressing to cost issues including increased delivery cost and stabilizing last mile logistics are the keys to continue business. Moreover, as similar services, such as the market of point of use (POU) water coolers and the market of water servers as water-supply types are growing, they may compete with the water delivery services.
In addition, service providers are struggling to generate revenue because of a rise in cost of customer acquisition per customer. As their competition is becoming harsher and series of cost increase are affecting their businesses, there are signs of business transfers and withdrawals in the market. It is highly probable that the market players will narrow down hereafter to top companies providing services with returnable jugs, top companies providing services with disposable bottles, and specialized companies, such as those targeting only at corporations.


Research Outline
1.Research Period: November 2020 to January 2021
2.Research Object: Water delivery service providers, etc.
3.Research Methogology: Face-to-face research by our expert researchers, surveys via telephone, questionnaire, and literature research
What is the Water Delivery Service?
Water delivery service in this research refers to a packaged business of delivering water bottles and lending a water server for home and for office. Those water delivery businesses without lending servers (i.e., servers directly connected with a tap, PET-bottled water delivery) are not included in this research.


<Products and Services in the Market>
Water delivery service
Contact Us
©2021 Yano Research Institute Ltd. All Rights Reserved.
The copyright and all other rights pertaining to this report belong to Yano Research Institute.
Please contact our PR team when quoting the report contents for the purpose other than media coverage.
Depending on the purpose of using our report, we may ask you to present your sentences for confirmation beforehand.