Seed and Seedling Market in Japan: Key Research Findings 2020
Seed and Seedling Market Shows Technological Innovations in Breeding
Yano Research Institute (the President, Takashi Mizukoshi) carried out a survey on the domestic seed and seedling market and found out the trend by crop type, the trends of market players, and the future outlook.
Transition of Entire Seed and Seedling Market Size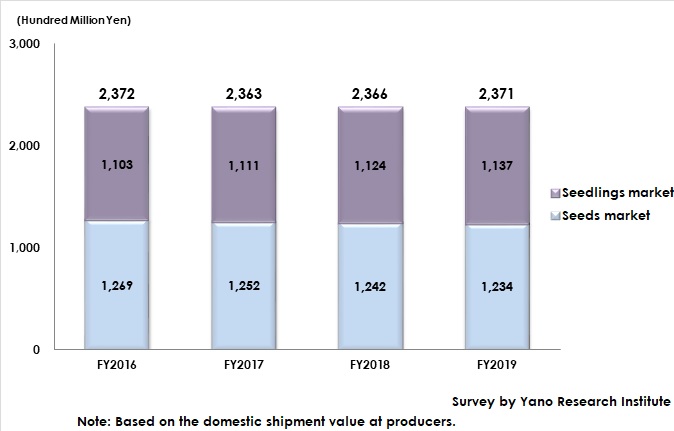 Market Overview
The entire domestic seed and seedling market size in FY2019 slightly rose to 100.2% of the size of the previous fiscal year, based on the shipment values at producers, to mark 237,100 million yen, among which the seed market occupying 123,400 million yen which was 99.4% of the size of the preceding fiscal year. The seed market continued being somewhat on the fall due to decreasing farming population and crop acreage, increasing lands in fallow, aging farming people, and lack of successors.

On the other hand, the seedling market in FY2019 attained 113,700 million yen, 101.2% of the size of the previous fiscal year. As labor saving and machine sewing/seeding have been in progress in agriculture and horticulture for growing vegetables and flowers, grafted seedlings*1, plug seedlings*2, and mericlone seedlings*3 have come to be used prominently well.

*1 Grafted seedling is a scion of one plant is inserted into a rootstock of another to make them into one. In general, a wound is created on a rootstock so each plant's tissues can grow together. Grafted seedlings acquire advantages of both plants, resistance to diseases/ pests/repeated cultivation damage, gain superior productivity, and are easy to grow.

*2 Plug seedlings are small-sized seedlings grown in seed trays filled with potting soil. Currently, plugs are used in transplant productions of many vegetables and flowers. Automatic transplanting of the seedlings from trays saves labor for vegetable production.

*3 Mericlone seedlings (in vitro): This cultural technique propagates seedlings by taking out a millimeter size of meristem from a new bud which is put into a germfree incubator. This enables to produce a large number of genetically identical seedlings in a short period of time.

Noteworthy Topics
Breeding Technology Making Rapid Progress
Rapid technological innovation has begun in global bio agriculture. Development of the next-generation sequencers that can read DNA at high speed has sequenced the genome information for more than 40 species of products in agriculture, forestry and fishery, including rice, soy, corn, grapes, etc. As the sequencing cost has been rapidly declining, big data on genome information for various species is highly expected to be created.

Marker-assisted seedling selection (MASS) uses DNA markers for efficient seedling selections, by identifying genetic base sequence information on traits that bring about good agricultural production, and has been deployed for various produce including rice and vegetables. Furthermore, genome editing techniques that can insert, modify, or replace DNA in the genome of a living organism has been attracting attention. This enables to generate the produce with aimed traits and functions in an accurate manner in a short period of time, by using genome editing nucleases such as CRISPR/Cas9.

Genome editing that does not add different types of gene is a different technique from gene recombination, as it does not bring about large-scale gene modification. Such genome editing is outside the target of "Act on the Conservation and Sustainable Use of Biological Diversity through Regulations on the Use of Living Modified Organisms", and has drawn attention as a new breeding method that may have solved the concerns over gene modifications.


Future Outlook
Although products have stagnated domestically as well as internationally in the COVID-19 calamity, the industry of seeds and seedlings has not heavily affected by the infections, at least in the short run. In the middle to long-term perspective, the uncertain future and global economic recession especially in the emerging countries may reduce the consumption of flowers and vegetables, and may increase the credit risks of business partners.

Also, apart from the influence of the pandemic, decreasing farming population and crop acreage have been in progress due to aging farming people and lack of successors. On the other hand, unlike farm produce that easily fluctuates in price depending on the market conditions, the seeds and seedlings market has a relatively stable price system and has expanded the supplies of value-added seeds and seedlings including grafted seedlings and processed seeds such as pelleted seeds. Furthermore, recovery of the market expansion is expected, by means of breeding of high-value added produce which can be achieved by new plant breeding techniques (NBT) such as genome editing.


Research Outline
1.Research Period: April to July 2020
2.Research Object: Manufacturers of seeds and seedling, organizations and government office concerned
3.Research Methogology: Face-to-face interviews by the expert researchers, survey via telephone and email, questionnaire, and literature research
The Seed and Seedling Market
The seed and seedling market in this research refers to the market of seeds and seedlings to grow domestic agricultural produce which includes vegetables, fruits, grains, flowers, turfs, grass crops, and etc. The market size is calculated based on the domestic shipment values at producers.


<Products and Services in the Market>
Seeds, seedlings of vegetables, fruits, crops, flowers, lawns and grasses, and grass crops
Contact Us
©2019 Yano Research Institute Ltd. All Rights Reserved.
The copyright and all other rights pertaining to this report belong to Yano Research Institute.
Please contact our PR team when quoting the report contents for the purpose other than media coverage.
Depending on the purpose of using our report, we may ask you to present your sentences for confirmation beforehand.