Energy Management in Smart City Market in Japan: Key Research Findings 2020
Energy Management System Market including CEMS Forecasted to Reach 28,600 Million Yen by FY2025
Yano Research Institute (the President, Takashi Mizukoshi) has carried out a survey on the smart city market in Japan, and found out the current status of energy management in smart cities, the trends of leading projects, and the future perspective. Here, the market size of energy management system installed by region or by city block is announced.
Transition and Forecast of Regional Energy Management System Market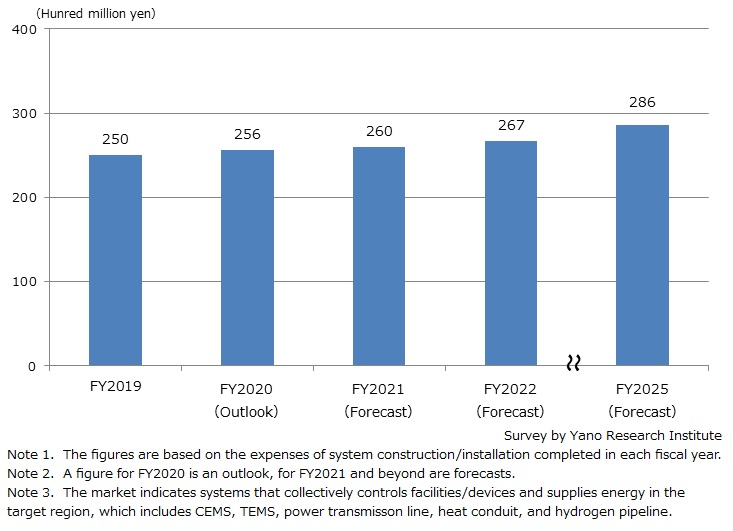 Market Overview
Mainstream approach of energy management planned or installed in smart city projects in Japan utilizes Energy Management System (EMS), smart grid/micro-grid and renewable energy to improve efficiency of the energy supply chain, reduce environmental burdens, and establish emergency electrical backup system during power outages by region. The trend has been ongoing since around 2010, when the term "smart city" became increasingly popular in Japan. In recent years, against the background of recurring natural disasters/meteorological calamities and the trend of global warming prevention, there is a trend of considering energy management as a means of preventing disasters and realizing low-carbon society in smart cities.
The market size of energy management system in domestic smart cities in FY2019 for regional energy management is estimated 25,000 million yen. The market is expanding as the number of local governments making smart city initiative are increasing, and pilot tests intending to optimize energy management for "locally consuming locally produced energy" are planned in various regions.

Noteworthy Topics
Smart City "Producing Power Locally and Consuming Locally-Produced Power"
A trend of energy management seen in smart cities is to make power local, establishing a system to "producing energy locally and consuming locally-produced energy" for reducing environmental burdens and developing a self-reliant energy supply system. Types of energy to be used are renewable energies including electricity made from solar energy, geothermal heat, and hydrogen. Some local governments have even devised a scheme to use electricity generated by local renewable energy plant such as offshore wind farms to produce hydrogen, which could then be supplied to the region or to surrounding regions.
The attempts of "producing energy locally and consuming locally-produced energy" may contribute to stimulation of regional economy. For instance, operation and maintenance of renewable energy power plant may create new employment opportunities, and startups may emerge as new businesses planner/developer using local energy.


Future Outlook
Not all smart city initiatives devised by the end of 2020 placed energy management as a top priority. However, as the government announced its direction of "carbon neutral by 2050" and "promotion to prevail electric vehicles", efforts to "secure low-carbon energy source", "upgrade efficiency in use of energy", and "promote use of electric vehicles" will gain importance for smart city projects going forward.
While these attempts proceed in smart city projects, plans for energy management by region or by city block are likely to increase. The energy management system market is expected to reach 25,600 million yen for FY2020, 26,000 million yen for FY2021, and 28,600 million yen by FY2025.


Research Outline
1.Research Period: September to December 2020
2.Research Object: Local governments carrying out smart city initiatives, smart city related companies, energy companies, etc.
3.Research Methogology: Face-to-face research by the expert researchers (including online interviews), surveys via telephone and email, and literature research
Energy Management System in Smart City
Defining smart city as "an urban city or district that uses different types of new technologies like ICT/IoT to collect and utilize data for solving various issues associated with cities", this research was carried out to find out about energy management systems in smart cities, including CEMS (Community Energy Management System), TEMS (Town Energy Management System), power transmission line, heat conduit, and hydrogen pipeline, which collectively controls facilities/devices for energy management and supplies energy in the target region.
*Reference:
Local Energy Management Business in Japan: Key Research Findings 2018
https://www.yanoresearch.com/en/press-release/show/press_id/2008
Biomass Energy Market in Japan: Key Research Findings 2020
https://www.yanoresearch.com/en/press-release/show/press_id/2416



<Products and Services in the Market>
Facilities/systems introduced for energy management of smart cities (energy management system, power transmission line, heat conduit, renewable energy creating system, etc.)
Contact Us
©2019 Yano Research Institute Ltd. All Rights Reserved.
The copyright and all other rights pertaining to this report belong to Yano Research Institute.
Please contact our PR team when quoting the report contents for the purpose other than media coverage.
Depending on the purpose of using our report, we may ask you to present your sentences for confirmation beforehand.