Paper and Paperboard Shipment Volume Drops to 23,000 Thousand Tons in 2020, Down 8% from the Previous Year
Yano Research Institute (the President, Takashi Mizukoshi) has conducted a survey on the paper and paperboard market at home and abroad, and found out the trends by product segment, the trends by market players, and the future outlook.
Transition and Forecast on Paper and Paperboard Shipment Volume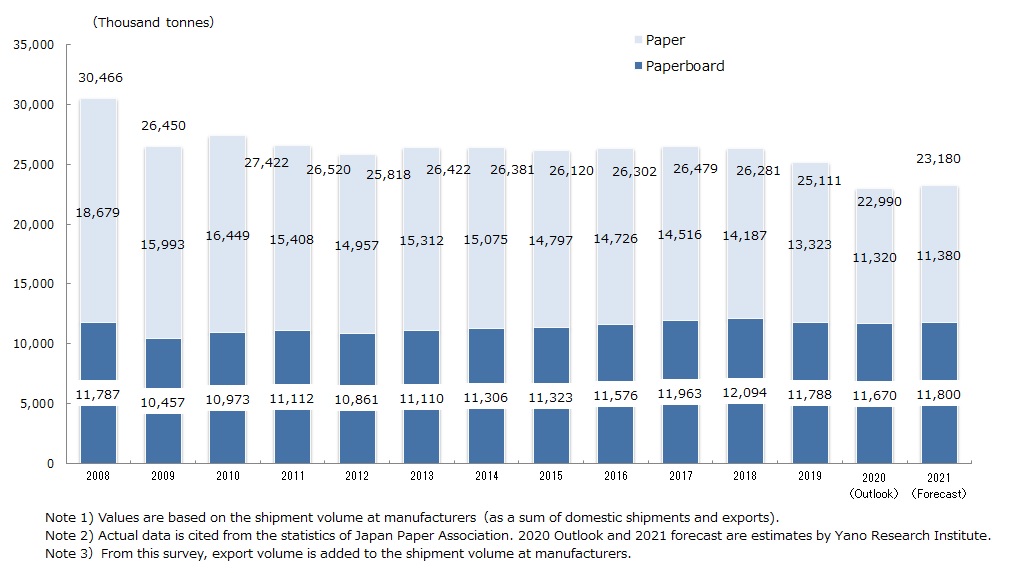 Market Overview
According to the statistics by Japan Paper Association, in 2019 (January to December 2019), domestic shipment volume of paper and paperboard (as a sum of domestic shipment and exports) decreased by 4.5% from the previous year to attain 25,110 thousand tons. Paper shipment volume has been diminishing for six years in a row.
In the paper market, price for printing papers/information papers was raised by 20 percent at the start of a 2019. As recurring troubles at leading paper manufacturer's plant created supply shortage in Japan, and since such scarcity of paper continued up to summer, the price rise pervaded in the market. Subsequently, in the latter half of 2019, demand-and-supply lost it balance because of an increase in stock of printing papers by a spot import and downturn in consumption after the consumption tax hike. Moreover, due to deterioration of the global market, the amount of exports at paper manufacturers plunged in 2019, and in general, paper shipment volume shrunk throughout the year.
Meanwhile, in the paperboard market, expansion in demand for online retail led to moderate growth in domestic demand for containerboard. Nevertheless, the market made a downturn in 2019 due to decline in the amount of export and influence of inclement weather such as continuous rain and typhoon.

Noteworthy Topics
Composition Ratio of Paper to Paperboard to Reverse at Last?
Viewing at the shipment volume at manufacturers (as a sum of domestic shipment and exports) for 2020, while newspapers and printing papers/information papers anticipate significant drop due to the influence of COVID-19, containerboards expect positive growth driven by a rapid expansion in export. For this trend, for the first time, it is assumed that the composition ratio of paperboard becomes equivalent to, or slightly exceed, that of the paper. In the COVID-19 calamity, the pace of change is accelerating in demand structure.


Future Outlook
For 2020, the shipment volume of paper and paperboard at manufacturers (as a sum of domestic shipment and exports) is projected to decrease by 8.4% from the previous year to attain 22,990 thousand tons. Due to the spread of COVID-19, economic activities were sluggish, and each type of products witnessed decline to a level not seen in years. The shipment volume is forecasted to experience a sharpest drop since Lehman Shock in 2009.
The shipment volume of paper and paperboard at manufacturers for 2021 assumes 0.8% rise to yield 23,180 thousand tons. While paper as information media anticipates reactional growth from the preceding year, because it is marginal, demand is not expected to return to the level before the coronavirus crisis. On the other hand, unless bad weather strikes, growth in global demand is likely to promote the increasing trend for containerboard, though the level of growth for the time being is predicted as minimal.


Research Outline
1.Research Period: October to December 2020
2.Research Object: Paper and pulp manufacturers, paper and paper product distributors, trading companies, newspaper companies, paper containers & paper product makers, and other related businesses
3.Research Methogology: Face-to-face interviews by our expert researchers, survey by telephone, questionnaire by mail, and literature research.
What is the Paper and Paperboard Market?
In this research, the paper market refers to newspapers, printing papers/information papers, wrapping papers, sanitary papers such as toilet papers, and other papers for industrial use (e.g. wallpapers, printed plywood) and household use (e.g. tea bags, grease paper). The paperboard market refers to the containerboards, paperboards for paper containers, and other paperboards for building materials and paper core. Actual data from 2008 to 2019 are based on the statistics of Japan Paper Association. A value for 2020 is an outlook, and for 2021 is a forecast by Yano Research Institute.


<Products and Services in the Market>
Paper/paperboard, raw materials (chip, pulp, recycled paper), paper chemicals (chemicals for information paper, sizing agent, surface sizing agent, strengthening agent, coating pigment/fillers, binder additions, etc.), domestic trends by sector (newspaper, publishing, printing, mail orders, corrugated fiberboards, paper containers, paper products), sales ranking of leading paper and paperboard agencies in Japan, paper/containerboard/pulp production and consumption in 55 countries worldwide
Contact Us
©2019 Yano Research Institute Ltd. All Rights Reserved.
The copyright and all other rights pertaining to this report belong to Yano Research Institute.
Please contact our PR team when quoting the report contents for the purpose other than media coverage.
Depending on the purpose of using our report, we may ask you to present your sentences for confirmation beforehand.